I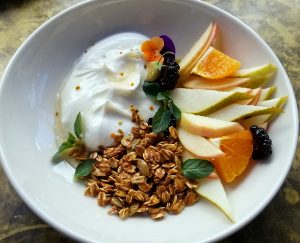 t's always nice to see a new restaurant become an instant hit. Such is the case with Lido Bottle Works, which opened nearly a year ago in Lido Marina Village.
Chef Joel Harrington created an eclectic chef-driven menu that highlighted seasonal vegetables and fresh seafood purchased from the dory fisherman near the Newport pier. 
Chef Harrington recently moved out of state to pursue new opportunities, but in his place is new chef Amy Lebrun, who has served as the Lido Bottle Works executive sous chef since the restaurant opened and will continue its mission to support local businesses and provide sustainable dining experiences.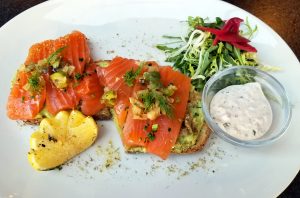 Chef Lebrun has been cooking locally for many years. Born and raised in Huntington Beach, Lebrun attended the culinary school at Orange Coast College before going on to the Culinary Institute of America in Napa Valley. She started her culinary career in 2001 at The Ritz-Carlton in Laguna Niguel where she worked with O.C. chefs including Harrington and Dee Nguyen of Break of Dawn. Over the years Amy has had leadership roles in several high-volume and corporate venues including The Ritz Carlton in Laguna Niguel, The Resort at Pelican Hill, 24-Carrots and Wyndham Avenue of the Arts.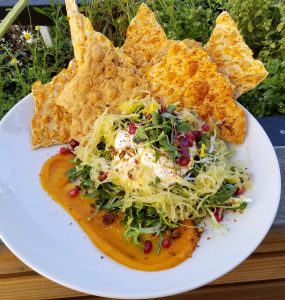 Chef Lebrun created the restaurant's popular weekend brunch menu, which I recently had the opportunity to sample at a media event attended by a handful of fellow food writers.
Among the dishes I tried: Burrata with roasted squash, pomegranate and candied pistachio ($15); seasonal fruit with Greek yogurt, homemade granola and blossom honey ($11); cold smoked salmon toast with rye, avocado mash, green olive relish ($14); chorizo hash with fingerling potatoes, poached egg, poblano hollandaise ($14); granola French toast with brioche, berry compote and coconut butter ($12); caramel apple cake with sweet soy ice cream and blackberry. There are other brunch menu items available such as smoked jidori chicken ($14) and steak frites ($23).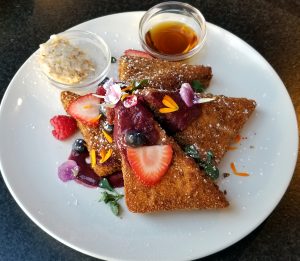 Because there were six of us at one table sharing a single dish at a time, I barely had a bite of each so I'll need to go back and try an entire dish or two, but what I sampled was good, and my tablemates seemed to enjoy their bites (and the plating looked gorgeous). Favorites included the French toast and the salmon toast.
Visit LidoBottleWorks.com.