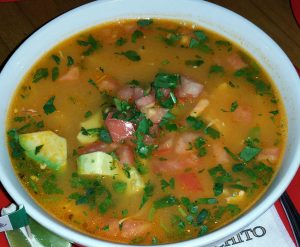 By Christopher Trela and Catherine Del Casale
Avila's El Ranchito Turns 50
Last year, Avila's El Ranchito in Newport Beach celebrated its 40th anniversary, but an even bigger milestone has arrived for the family-owned restaurant group: the 50th anniversary of Avila's El Ranchito, which was launched in Huntington Park in 1966 by Salvador and Margarita Avila with a $2,000 investment and a collection of Mama Avila's recipes.
Five decades later there are 13 family-owned and operated locations in Southern California, including the Newport Beach location on Balboa Peninsula (the first Avila's El Ranchito in Orange County) and one in Corona del Mar.
The Avila's El Ranchito Corona del Mar and Newport Beach locations are owned by Sergio Avila and operated by his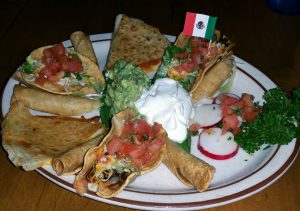 daughter Maribel.
"Our key to longevity is that we have stuck to the original food," Maribel told us when they celebrated the location's 40th anniversary last year. "There are a lot of gourmet, fancy restaurants around here, but people like us because we're affordable, you can take the whole family and not a huge hit to the wallet. You get a big plate of comfort food. And we're versatile. You can come with a group of friends and celebrate a birthday, we have families, a sports crowd, and regulars in their 80s. We have something for everyone."
That includes the signature Mama Avila's Soup, made with fresh chicken broth, hand-pulled chunks of chicken breast, rice and garnished with avocado, tomato, cilantro and lime, and served with warm tortillas.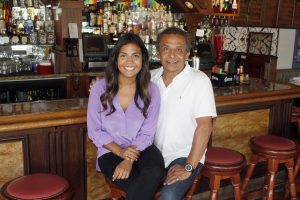 "If you can't decide what to choose on the menu, I suggest trying the Avila's El Ranchito appetizer platter ($12.95), as it gives you a taste of tacos, taquitos, quesadillas and more," said Catherine. "The appetizer platter can be shared between two to four people. I also love that you can get items a la carte since I'm not good at picking and choosing, I just want it all!"
Next week the community can have it all during a special 50th anniversary "Summer Fiesta" at the Newport Beach location (2800 Newport Blvd.) on Thursday August 11, starting at 5 p.m. The event features the same authentic food they've been serving for many year, plus drinks, live Mariachi music, 50th anniversary souvenirs, an opportunity to "spin the wheel" with every receipt to win a prize, and raffle drawings for a beach cruiser, $100 gift card, t-shirts, glassware, and other items. And if you order a margarita made with Corralejo Silver for $12, you get to keep the anniversary glass.
For more information, visit avilaselranchito.com.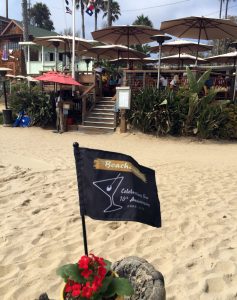 Beachcomber Turns 10
The Beachcomber Café in the Crystal Cove Historic District has been a popular dining destination since it opened 10 years ago, and it's easy to see why: fun food, creative cocktails, and an incredible ocean view.
Starting August 6, the Beachcomber Café will celebrate its 10th anniversary by serving all guests 21 and older mini "Martini Flags" as a souvenir of this milestone, while supplies last.
For those who don't know the back story, the beloved "Martini Flag" has been a Beachcomber staple since the cafe's beginning. Every day at 5 p.m., the martini flag is raised to the sound of a bugle horn to gather the Beachcomber guests.
"Over the last decade, locals and visitors alike have fallen in love with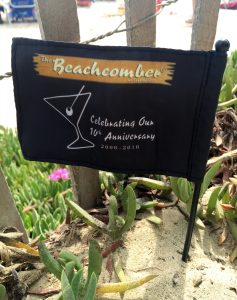 Beachcomber, and we appreciate their choosing Beachcomber for special occasions or just a casual day at the beach," said Doug Cavanaugh, founder and owner of the Beachcomber Café. "Beachcomber fans adore the Martini flag, and we wanted to commemorate the anniversary with a gift that would remind them of a time well spent with family and friends at the Beachcomber."
The restaurant will also feature a "Throw Back" menu this month highlighting some of the restaurant's favorites through the years, including the filet mignon Cobb salad served during lunch, ancho maple glazed salmon for dinner, and Tunisian pizza for an appetizer. The Beachcomber will also be serving a special anniversary martini made with Absolut raspberry, lemonade and watermelon juice, and served with an orchid.
For more information, visit thebeachcombercafe.com.