By Christopher Trela & Catherine Del Casale | NB Indy
We popped into Bayside Restaurant last Thursday evening to catch the always fabulous Ron Kobayashi Trio featuring Jerry Mandel on saxophone.
We were hungry, and asked owner Marc Ghoukassian, who came by to say hello, for his suggestions. He recommended the venison loin ($17.95) with pear, yam, cranberry, spiced red wine sauce, and the charcuterie and cheese board ($27) with imported and domestic selections along with condiments and grilled baguette slices.
As always, the food was fabulous. The venison portion was generous and tender, and the sauce was a perfect pairing with the meat. The charcuterie and cheese was also substantial.
As we listened to the live music in the classy Bayside ambiance, Marc came over and reminded us about the upcoming Bruichladdich Scotch pairing dinner on Thursday, June 16.
For $57 per person, diners can enjoy a four course menu with each course paired with a different Scotch.
The menu includes slow roasted American Kurobuta pork loin, tuna tataki, angus beef ribeye, and rum soaked dark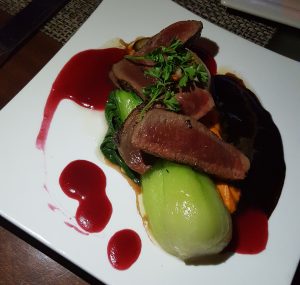 chocolate cake.
Marc has developed an impressive selection of Scotches at Bayside, and does occasional pairing dinners like this, so Scotch lovers should RSVP soon before it sells out.
More information at BaysideRestaurant.com.
And by the way, not only is Bayside offering a nice Father's Day brunch next weekend, but Bayside now offers Room Service delivery to your home. The delivery area is mainly limited to neighborhoods bordering Bayside, and is available every evening. Add a bottle of wine to your order and get 25 percent off the wine!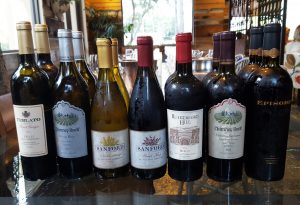 Cucina Enoteca and Terlato Wine Dinner
Christopher recently attended a media wine dinner at Cucina Enoteca featuring seven selections from the Terlato Wines collection, which included Sanford 2012 Pinot Noir from Sta. Rita Hills, 2013 Rutherford Hill Merlot, 2012 Chimney Rock Cabernet Sauvignon, and 2012 Episode.
The restaurant brought out plate after plate of food, from salads to pasta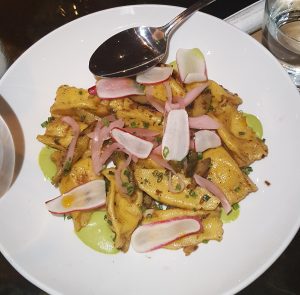 to entrees, while John Terlato poured his wines and talked about his concept of winemaking, from how his team harvests grapes from various vineyards to the types of oak barrels they use.
We'll be writing more about this dinner, and the wines, in an upcoming column, but wanted to offer our recommendation on the Terlato wines—particularly the Sanford Pinot, the Chimney Rock Cab, and the Episode (a blend of cab, merlot and cab franc).
Kevin's Kitchen Rocks San Clemente
We were fans of The Sliding Door restaurant that made a noble 16 month stand in Balboa Village—a tough place to survive in the restaurant business (although that should change soon with all the transformations coming to the Village).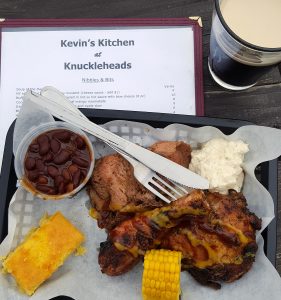 Chef and Owner Kevin Cahalan made culinary magic in a tiny kitchen, where he served everything from lobster mac and cheese to what many people called "the best burger in town."
He also crafted the sensational desserts, including his signature cheesecake.
The Sliding Door closed last year, but Cahalan has resurfaced in a most unlikely spot: Knuckleheads Sports Bar in San Clemente.
Cahalan is back in a tiny space, again working his magic under the moniker Kevin's Kitchen. He has elevated the typical bar food menu with his personal touch, and while at first patrons were probably wondering what was going on in the kitchen, they have embraced Calahan, and his cuisine.
Sample menu items: barbecued tri tip, Cubano sandwich, pulled pork fries, and of course lobster mac.
Christopher stopped by Kevin's Kitchen last weekend for Cahalan's Sunday barbecue, and between that and a slice of cheesecake, he was one happy guy.
Cahalan is in his kitchen at Knuckleheads Tuesday through Sunday, from lunch through dinner. Dining is inside at the bar or on the small patio that borders El Camino Real, but Cahalan said they're working on adding a separate dining area.