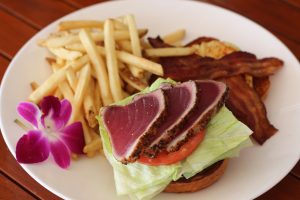 The Beachcomber Restaurant in the Crystal Cove Historic District has added new breakfast, lunch and dinner menu items in celebration of the spring season.
The dishes include pulled pork benedict (organic eggs, citrus braised pork shoulder, house-made buttermilk biscuit, roasted poblano peppers and carmelized onions with green poblano hollandaise sauce), mahi mahi Spring Rolls, roasted butternut squash salad, grilled Cajun trout, seared ahi sandwich, roasted chicken with huli huli glaze, honey maple glazed pork chop, and seared crusted yellow tuna.
And even though they're not new (and in fact are menu staples), we recommend adding an order of warm beignets to your meal. You can thank us later.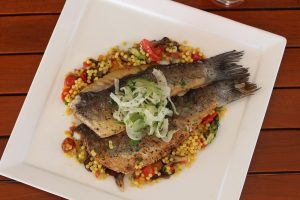 And for those unfamiliar with The Beachcomber, it's actually inside a historic cottage that has been reimagined into a restaurant just a few feet from the sand and a beignet's throw from the ocean. It features an open air deck and beachside views.
There is also the Bootlegger Bar on the side of The Beachcomber, which can create everything from a tropical slush to a classic Martini—which explains why they still hoist the traditional Martini Flag every day at 5 p.m.
Visit TheBeachcomberCafe.com for more information.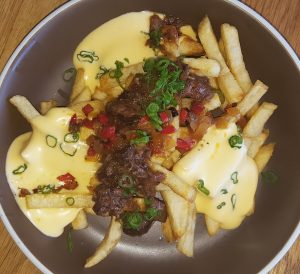 From Mix Mix to SCR
We caught an enjoyable production of "The Siegel" at South Coast Repertory last Sunday, and decided to finally check out the Mix Mix Sunday brunch menu before seeing the show.
As our readers probably know, we're fans of Chef Ross Pangilinan, who left his longtime position at Leatherby's Café Rouge last fall to open his own restaurant, Mix Mix Kitchen Bar, in downtown Santa Ana and about a 15 minute drive from the Segerstrom Center and South Coast Rep.
We started with champagne cocktails ($7) and mimosas ($5) as we perused the menu, which can change depending on what's in season.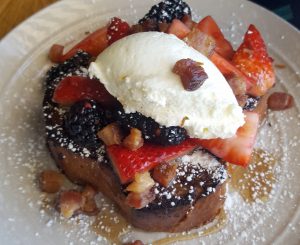 We opted to start with cheese steak fries with house made cheese whiz and short rib ($8), followed by cinnamon French toast with berries and candied bacon ($12) and a salmon benedict on brioche ($14).
"Wow" was all Christopher could say as he eagerly put bite after bite of the salmon benedict into his mouth.
"I love the cinnamon French toast—it's a nice mixture of sweet and savory with two large fluffy slices of brioche, big pieces of candied bacon, and berries drizzled in syrup, all topped with a giant scoop of Chantilly," said Catherine.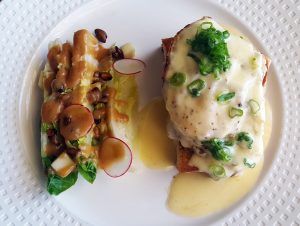 We've had the cheese steak fries several times in the past, and it's now our go-to appetizer.
We easily made it to South Coast Repertory in 15 minutes with plenty of time to spare.
"The Siegel" is a world premiere by Michael Mitnick about Ethan Siegel, who starts the play by asking Alice's parents for permission to marry her. One problem—they broke up two years ago, and she's seeing someone else. But this doesn't stop Ethan, who is convinced they are still made for each other.
"The Siegel" is loaded with quirky characters who make some odd choices that take their lives in unexpected directions—but that's where the comedy comes in. There are indeed some funny moments in this fast-paced, one act (90 minutes) comedic romp that's staged on a set featuring rotating set changes and props that drop from above.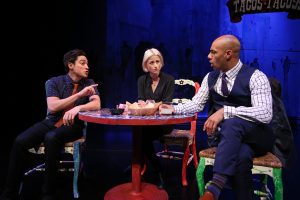 To tell too much about the play would be giving away plot secrets. Christopher admitted being a bit bewildered by the final scene, which to him seemed like an awkward denouement, but Catherine found the entire play enjoyable.
"My favorite character was the father, Ron, played by Matthew Arkin, who I thought brought a great amount of humor and realism to the stage," said Catherine. "His portrayal of a father and long-time husband to his wife really showed the real journey of romantic and familial love."
For information on Mix Mix, visit MixMixKitchenBar.com.
For information on South Coast Repertory, visit SCR.org.