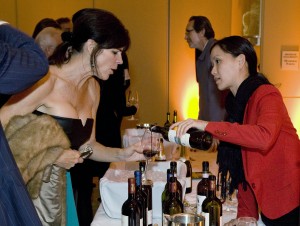 By Christopher Trela & Catherine Del Casale | NB Indy
Classical music and wine made a perfect pairing last weekend at the Pacific Symphony's 7th annual Pacific Coast Wine Festival, which drew a capacity crowd of more than 300 wine aficionados to the Island Hotel in Newport Beach.
The elegant evening began with a wine tasting reception featuring more than a dozen wineries pouring their best vintages. During the reception, guests had the opportunity to bid on hundreds of silent auction items, including rare wines, luxury trips, shopping excursions, and more, as they dined on appetizers that included chicken roulade with oven-dried tomato, smoked salmon pancakes and tomato on bruschetta, and artisan breads, cheeses, grapes and berries.
After the reception came a paired wine dinner featuring seared filet of beef with truffle sauce and custard potatoes as the main course, entertainment by students in the symphony's education programs, and a truly impressive live auction with lots going for far more than their stated value (which can happen when wine collectors try to outbid one another).
The event netted a record $372,000 ($150,000 more than last year), with proceeds going toward Pacific Symphony's artistic and education programs.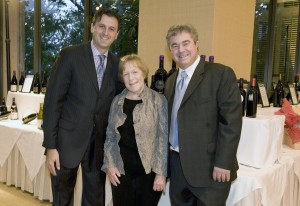 "Now we're established as one of Southern California's premier wine events," said Michael Kerr, festival founder and chair of Pacific Symphony's board of directors, in a statement after
the event. "We have remarkable wineries pouring their wines and donating items for our auction. We struggled to get people to the first festival; now for the third year in a row, we've been sold out. And we've got more and better everything—world-class wines to sample from all over the world, with nine countries represented, and amazing auction items, including the single most-prized wines from the U.S., Screaming Eagle, and from France, Domaine Romanee Conte. And we destroyed our goal! Yes!"
Sponsors this year included Land Rover-Aston Martin-Jaguar of Newport Beach, BNY Mellon, Phil and Mary Lyons, Pat and Bill Podlich, Sage and Pascal Houillon, and Fred and Wendy Salter.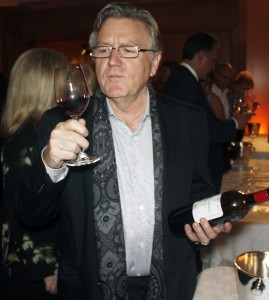 "I thought the night was put together really well," noted Catherine. "A lot of galas can get stale, but this one had a nice reception with auction items to choose from, and there was not an excess of wines being poured so you had a chance to taste most of them. Overall it was interesting and engaging."
"And I loved the auctioneer," she added. "He was fun, I loved his style. I've already recommended him to other organizations. He was engaging and helped with bidding wars."
"And we even won a silent auction item," I reminded her. "I got a bottle of my favorite Justine wine, Isosceles, and you got the gift certificate to the South Coast Plaza boutique."
Tristen Beamon and Kyle Meyer of Orange County's BestWinesOnline.com curated the tastings and help acquire many of the silent and live auction items, including a trip to France's Bordeaux wine region created exclusively for the festival. The package went to one individual and three couples for $16,000 each: Joel Sheiner; Ginny and Bill Davies; Maria and Ray Francis; and Suji and Reggie Gilyard.
Other top auction items included a trip to Napa Valley for an exclusive twilight tour and tasting experience for six people at Opus One Winery, won by Hezy Shaked for $10,000, who also issued an impromptu donation challenge that netted an additional $20,000 from the audience.
Kari and Mike Kerr bought the "Red Hot Rioja" trip to Spain package that went for $15,000 and included private gourmet meals and exclusive tastings at famed wine estates.
For more information on the Pacific Symphony, visit PacificSymphony.org.