By Christopher Trela and Catherine Del Casale | NB Indy
Chef Pascal Keeps Cooking
The iconic Ritz Restaurant in Fashion Island garnered headlines when it closed last month. Another Fashion Island favorite, Brasserie Pascal, closed last December when Chef Pascal Olhats was unable to renegotiate his lease.
A similar thing occurred last month when Chef Pascal had to close his Epicerie restaurant on Bristol Street.
However, according to an email he sent to his loyal customers, Chef Pascal will be opening a new location soon: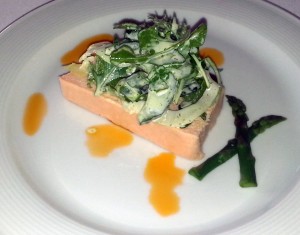 "I can share with you that we will be making a two-step move. First, we will move our operation, retail, dining and production catering kitchen to San Juan Capistrano with plans to open by May 2014. It is located at 31451 Rancho Viejo Rd., next to Marbella Country Club. This location will be a retail store (like Pascal Epicerie), plus have dinner service, a wine tasting room, and offer full event and catering services.
Second, we are also working to bring a location back to the Newport Beach area. Two prospective spots are bring considered—one is close to Bristol Street, the other on 17th Street. This second location is planned to be in operation by early 2015.
PS—you can also visit us at Café Jardin at Sherman Gardens in Corona del Mar, where we serve lunch Monday through Friday, Sunday brunch, and private events for up to 250 people."
And so Christopher (along with fellow Indy writer Shelly Zavalas) visited Café Jardin last week to see what Pascal was cooking.
We're happy to report that Chef Pascal has brought a bit of Brasserie to Café Jardin. His menu includes French onion soup, smoked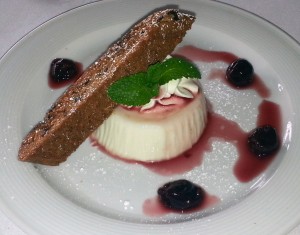 salmon mousse, short rib bourguignon sandwich, quiche Lorraine, airline chicken breast, grilled Spanish octopus, and duck leg confit. We tried the mousse, the octopus (with tender chunks of meat, black garlic oil, baby heirloom tomatoes and fingerling potatoes), the chicken, and a beautiful lavender panna cotta. These and other items are all part of his $25, three-course prix fixe menu, although he told us he's adjusting his menu to offer a two and three course experience.
We can't wait to go back and try his Sunday brunch.
For information, visit PascalNPB.com.
Chef Brian Hirsty of Bluewater Grill
We were shocked and saddened to learn that Chef Brian Hirsty of Bluewater Grill passed away this week.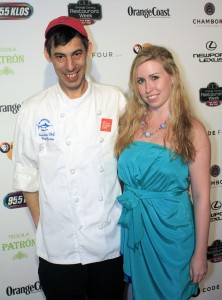 We always enjoyed talking to Chef Brian about his dishes. He could often be found roaming the Bluewater dining room in Newport Beach, talking to customers and making sure everything came out of the kitchen looking and tasting perfect. He was always cheerful and positive, and truly loved his job.
This is the info posted on the Bluewater Grill website:
"We are deeply saddened to report the passing of Bluewater Grill Executive Chef Brian Hirsty. Chef Brian died Monday March 10 after battling a rare bone marrow disease. His passing is a shock to the entire Bluewater Grill family. He is survived by his wife Amy, also a Bluewater staff member, and his son, Dylan and step-daughter Chelsea.
Brian joined us in 1996 to open our first restaurant in Newport Beach. He went on to being an integral partner in opening eight more restaurants. We will greatly miss Brian's compassion, gentle manner, friendship and passion for life. Our prayers are with his family and friends who will miss his extraordinarily generous spirit both in and out of the kitchen."
In lieu of flowers, donations can be made to the Dylan Hirsty Educational Fund, care of Joyce Martin at Bluewater Grill Newport Beach (630 Lido Park Drive, Newport Beach, 92663).
What's Cooking at the Library
Eating in the Newport Beach library is usually discouraged, but next Tuesday, March 18, food takes center stage when Chef Deborah Schneider of SOL Cocina restaurant in Newport Beach offers a cooking demo as part of the library's "What's Cooking at the Library" series.
We love Chef Deb's Baja cuisine and asked her what she'll be making at the library.
"I'll be making three dishes," she told us. "First is cucarachas, which are peel and eat shrimp with cotixa cheese, lemon & chiles. Then I'll make hot ceviche with goat cheese and chipotle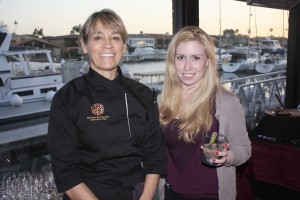 peanuts. For dessert, chocolate bread pudding, which we're famous for."
"I try and show a straightforward way to make the dishes," she added. "People always find it daunting to do some dicing for ceviche. The shrimp is one of the easiest things you can make. It's not like French food, where you have 10 different ingredients. I like simple and straightforward."
Chef Deb told us that the recipes from these dishes come from her cookbook ""Baja Cooking on the Edge," which has just been re-released and will be available for purchase at the library event.
Cost for the cooking demo is $20 per person and includes food. Register on the City of Newport Beach website at newportbeachca.gov, under Recreation Classes category "Library Programs."
For more information, contact the Library at (949) 717-3800, or visit newportbeachlibrary.org.
Table for Ten
Next Sunday, we're attending one of the top culinary events of the year: the 2014 Wells Fargo Table for Ten, presented by Disneyland Resort at Disney's Grand Californian Hotel.
More than two dozen of OC's top chefs are preparing cuisine tableside for ten guests, who will be sitting at intricately designed and decorated tables. Wines are paired for each course. The evening includes a cocktail reception and live auction showcasing dining experiences and trips throughout the world.
Many of our favorite local chefs and restaurants are represented, including Chef Pascal Olhats, Fairmont Newport Beach, Napa Rose, Anaheim White House, The Winery Restaurant, Balboa Bay Resort, Center Club, Il Barone, Tabu, and Chef Conrad Gallagher of Vanity Catering.
We recently sampled Chef Conrad's cuisine at a special media tasting at Hood Kitchen and were captivated and delighted with his dishes, which were meticulously prepared and beautifully plated. We'll be writing more about this impressive chef in an upcoming column.
For more information on Table for Ten, visit ifhomeless.org/table-for-10.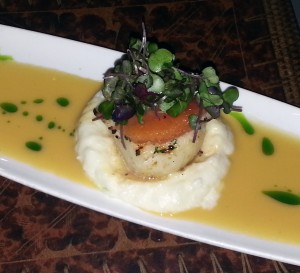 Dinner and a show in Laguna Beach
We love dining in Newport Beach, but we also look forward to making the short drive down the coast to Laguna Beach, which also has an impressive array of restaurants.
The town also has The Laguna Playhouse, an intimate 420 seat theater with professionally-produced plays.
Last weekend, we attended the opening night of "All the Great Books (abridged)", a fast-paced comedy presented by the Reduced Shakespeare Company that took the top 80+ books ever written and condensed them into a 98 minute theatrical roller coaster ride.
Prior to the play, we were invited to dine at Tabu Grill and sample several menu items.
We sat at the counter overlooking the kitchen so we could watch Chef Rayne Frey in action. We were amazed at the beautiful dishes that came out of the tiny Tabu kitchen.
"I recommend the grilled New England scallops," said Catherine. "They have an almost meat-like quality to them with a good amount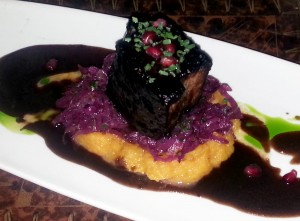 of smoky and grilled flavor. They're served in a sweet yet tangy tangerine beurre blanc with a potato puree and citrus salad."
"The Snake River Farms braised pork belly was melt in your mouth good," she added. "The pork belly was tender, with smoked onion and pomegranate pork jus. The meat was complemented by a sweet roasted butternut squash mash and red cabbage sauerkraut. I also liked the prime boneless short rib with roasted pineapple barbecue sauce."
Tabu is a 10 minute drive from Laguna Playhouse, so we made it to our seats with plenty of time to spare.
"I thought 'Great Books' was cleverly done with just the right amount of humor, intelligence and good acting," said Catherine.
"I agree, it's a smart play, and one of the funniest shows I've seen in a long time," Christopher added.
"The actors did a great job at improvisation and engaging the audience as they acted out the best parts of a multitude of books," noted Catherine. "Another perfect night of dining and theater."
For tickets to Laguna Playhouse, visit LagunaPlayhouse.com.
For information on Tabu, visit TabuGrill.com.