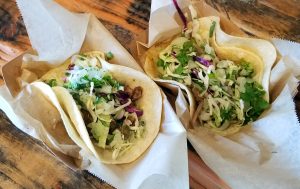 We love to discover new neighborhood restaurants, but our latest find is not new. It's a small, intimate fast-casual restaurant called Caliente Southwest Grill, and it's been on 17th street in Costa Mesa for 18 years.
Known for serving "healthy fresh-Mex with a Southwestern influence," the restaurant was opened in 1999 by Newport Beach local Ric Flanagan, who was motivated by wanting a quick and healthy spot to take his young daughter, Heather. After running the restaurant for 15 years, Ric turned the operation and ownership over to Heather.
We've driven past Caliente many times over the years but never ventured inside until recently. Christopher was invited for lunch, and after sampling several menu items and practically licking his plate clean, he brought Catherine back for dinner to see what she thought of Caliente.
"I really enjoyed the cheese enchilada with a side of rice, beans and corn cake," said Catherine. "Everything was so fresh and flavorful. The enchilada was made with jack cheese wrapped in a corn tortilla and topped with a red sauce and queso fresca. The black beans were a mix between mashed and full-sized beans with lots of flavor. I highly recommend getting an extra corn cake as they are sweet and delicious!"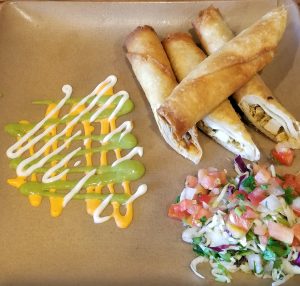 "The flautas ($7) are fantastic," raved Christopher. "You get four crisp flour tortillas filled with chicken and steak, with chipotle aioli and avocado sauce with sour cream pico. The aioli is insanely good, I would put this on everything and use for a dipping sauce. I've also tried the tacos—the shredded beef and the salmon are my favorites so far, but I'm still working my way through the menu."
We don't normally order sodas with a meal, but Caliente offers all-natural, fair trade sodas by Stubborn Soda, so we indulged.
"I was pleasantly surprised with the all-natural sodas," said Catherine. "I'm not a huge soda or flavored beverage drinker, so if I'm going to partake I order a standard Coke or Pepsi. I took a chance and tried the black cherry soda with tarragon and it was actually really good and something I would choose again."
"I agree, I had a mixture of vanilla and root beer, which gave me a faux root beer float," said Christopher.
We chatted with Heather, and she filled us in on some of her culinary secrets.
"The carnitas taco is cooked all day in a pot with banana leaves and oranges. I hate when you bite into something and it has a hunk of fat; this is very lean. I add cabbage, it cooks a white wine sauce so the cabbage is not dry. The burritos are mainly veggies and meat, no filler."
She told us the recipes have not changed much over the years, noting that "everyone is into clean eating now, I have been doing that for 20 years but never had a name for it. Normally you don't go to a hole-in-the-wall Mexican restaurant if you want to eat healthy, but we're doing something very different here."
Heather explained that although the restaurant is small (it seats maybe 20 people), they have a large kitchen because everything is prepped on site.
An interesting note—Caliente sells a variety of hot sauces, and Heather is creating hot sauce Christmas gift baskets, which should be hot sellers.
For more information, visit calientesouthwest.com. Caliente is at 271 East 17th St.