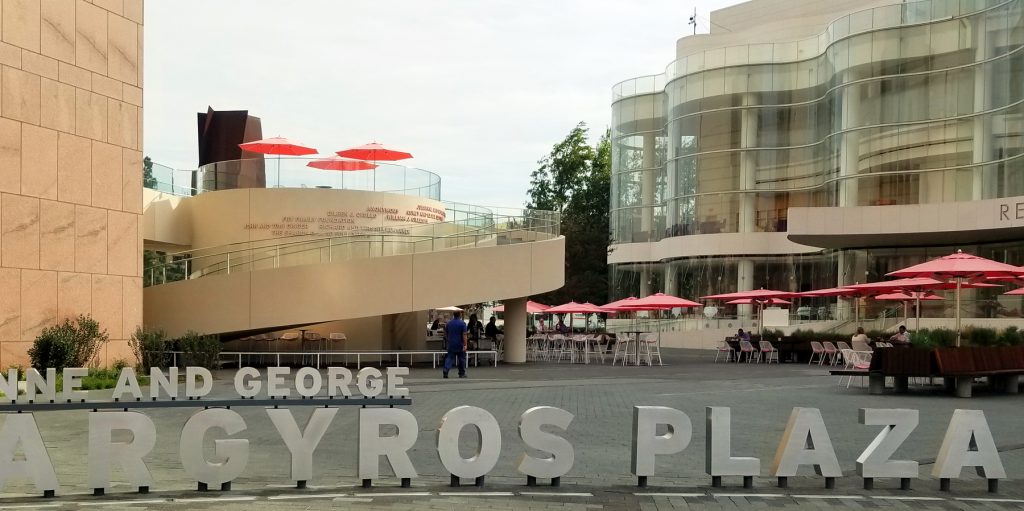 We love dining out before seeing a show at Segerstrom Center or South Coast Repertory, but sometimes our schedules don't allow us enough time to enjoy a leisurely meal at a nearby restaurant.
Problem solved: with the recent unveiling of the new Julianne and George Argyros Plaza in the area between Segerstrom Concert Hall and the larger Segerstrom Hall comes a new outdoor café: Center 360, aptly named because it is at the base of a large winding staircase that provides access to a second floor entrance of Segerstrom Hall.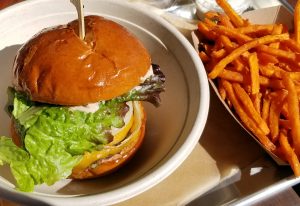 Open Monday through Friday for breakfast and lunch, and dinner on performance nights (which are frequent), Center 360 is a Patina Group bistro (as is its neighbor Leatherby's Café Rouge) and boasts a small but mighty menu that offers a variety of salads, sandwiches and even soup, plus a full bar.
The outdoor dining area is casual yet upscale, with communal seating and tables for two to four, most with heat lamps.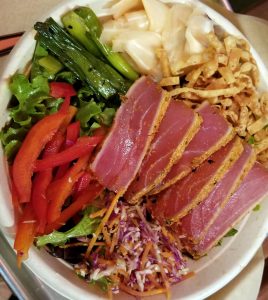 The restaurant opened two weeks ago, and we've already dined here three times, twice for lunch and once before seeing the delightful musical "Something Rotten."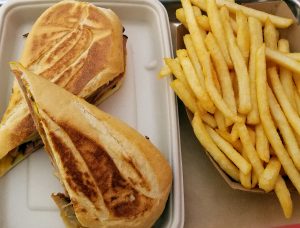 "The grilled cheese ($8) was fantastic with braised short rib, gooey gruyere cheese, a light spread of apricot jam all between two slices of crisped buttery country bread," said Catherine when we had lunch there earlier this week. "I loved the sweet and savory mix of flavors and the portions were perfect so that you didn't make a mess (or miss out on a bite)."
"The Cuban ($8.50) with roast pork, ham, swiss cheese, dill pickles, and mustard, served inside a grilled soft roll, is superb," stated Christopher. "And I'm not sure which fried I like better—the sweet potato fries or the traditional French fries ($2.75 each)."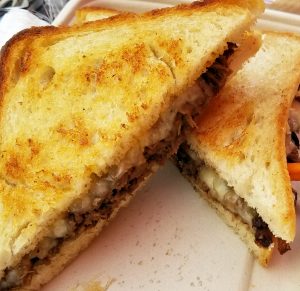 Other dishes we're tried here and liked: street tacos, hamburger, and ahi salad. The best thing is that your order is ready in a matter of minutes so you don't have to rush through your meal to make it to the show on time (we were actually early getting to our seats for "Something Rotten").
"It's a great spot for a quick lunch while you scroll through email on the free wifi and enjoy some sunshine, or the perfect place for a casual dinner and a drink before a show," said Catherine.
For more information, visit patinagroup.com/center-360.