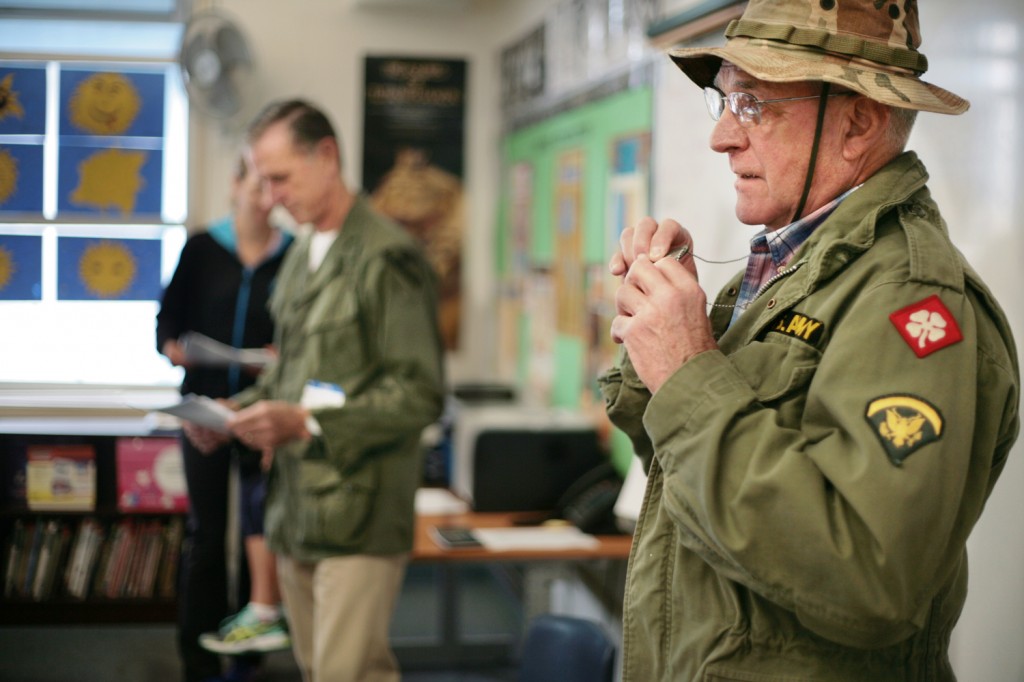 Students at Mariners Elementary School got a history lesson Monday from several of those who lived it.
More than two dozen veterans were honored Monday at Mariners Elementary School during their Veterans Day celebration.
Principal Pamela Coughlin gave a brief history of the holiday and led the ceremony.
Each veteran introduced themselves to a crowd of students, staff, parents and community members. The choir sang a few songs to honor the vets before everyone adjourned to their respective classrooms to hear the vets share stories.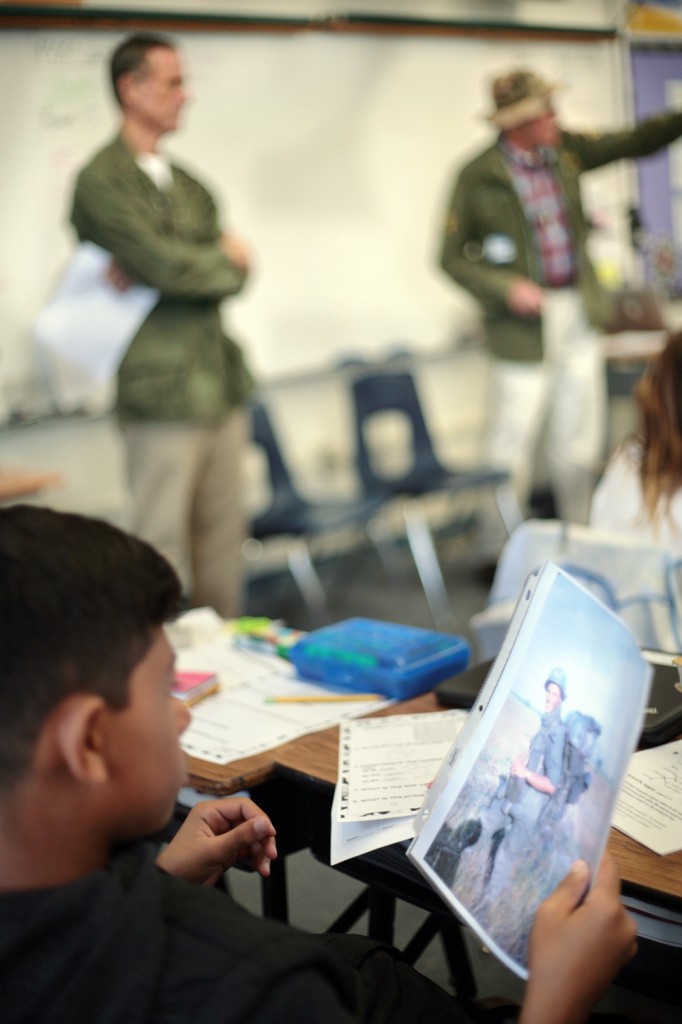 Among the participants were brothers-in-law Mike Dowd, 68, and Mike Flenniken, 72, both Vietnam veterans who served in the Army artillery.
Dowd served from 1967 to 1968. A month after he got home, Flenniken was sent over. He also served one year.
They were invited to participate by Flenniken's granddaughter, Mikayla Downey, 11, a sixth grader at the school.
During their visit, the two spoke about what life was like in Vietnam, sleeping and eating arrangements, dog tags, and more.
Flenniken passed around photos of their time in Vietnam, including several shots of camp.
"The facilities were real primitive," Flenniken said. "It's like camping out for a year. I used to like camping – until I went to Vietnam, then it's not as much fun."
Flenniken was a forward observer. He would scout the target and help the artillery zero in on the correct location.
Dowd was in the Fire Direction Center. He would be told the target location from someone like Flenniken and then have to figure out how to angle and aim the gun correctly.
Dowd used 175 and eight inch caliber cannons.
"You couldn't even hear where the rounds exploded," he said.
They could shoot up to 20 miles, he said. Some would go up so high they had to figure in the rotation of the earth, Flenniken added. He also had to consider the weather.
"You had to use your brain," there were no laptops in that time, he told the young group.
They also spoke about their dog tags, which included blood type in case the soldier got injured and a second tag in case he died.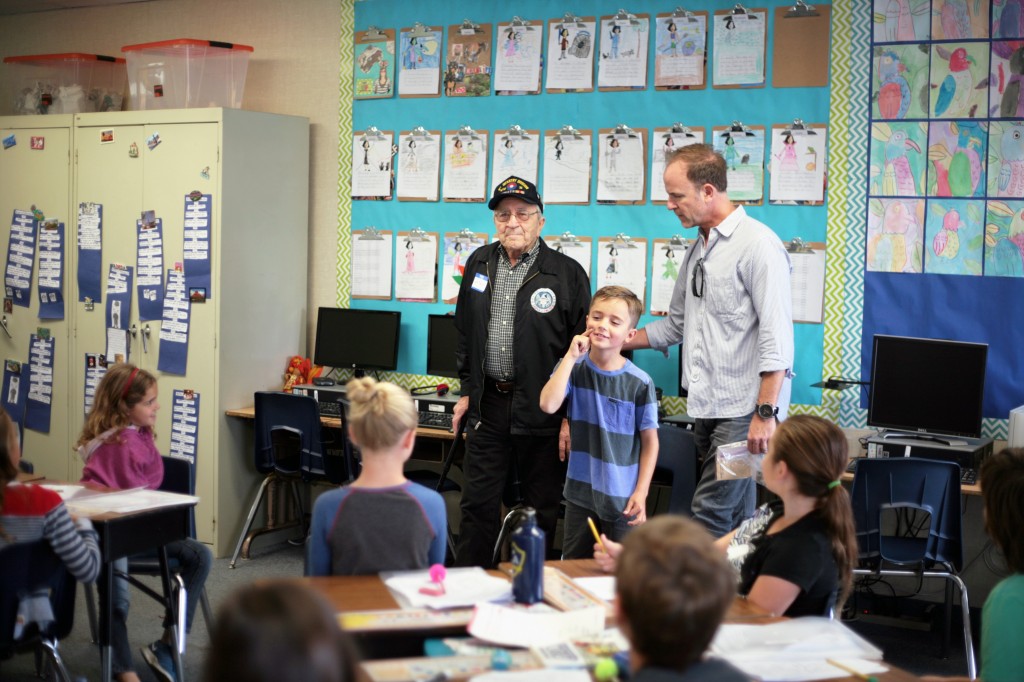 "That's the reality of what we were doing," Dowd said.
"It was very dangerous," Flenniken added.
They got lucky, they said.
Another lucky soldier who returned home unharmed is Louis Marini, 88, a WWII vet who served from 1944 to 1946.
Four of his brothers were also in the war. They were stationed all over the world, he said.
"None of us got hurt," he said. "We got lucky."
His fifth brother was drafted in Korea. He also made it home safe, he added.
Marini told the kids about his journey.
He spent four months in basic training before heading overseas on the Queen Elizabeth troopship. He landed in Glasgow, Scotland, and boarded a "troop train." His next stop was Southampton, England. He crossed the English Channel overnight and landed in Le Havre, France.
"From there we went into Germany," he concluded.
He was glad to get back home, he said.
"Sometimes we have to have war, whether we like it or not," Marini said. "Nobody wants to be in a war."
But sometimes there are bad people in the world, he explained to the second graders, and they have to fight for freedom.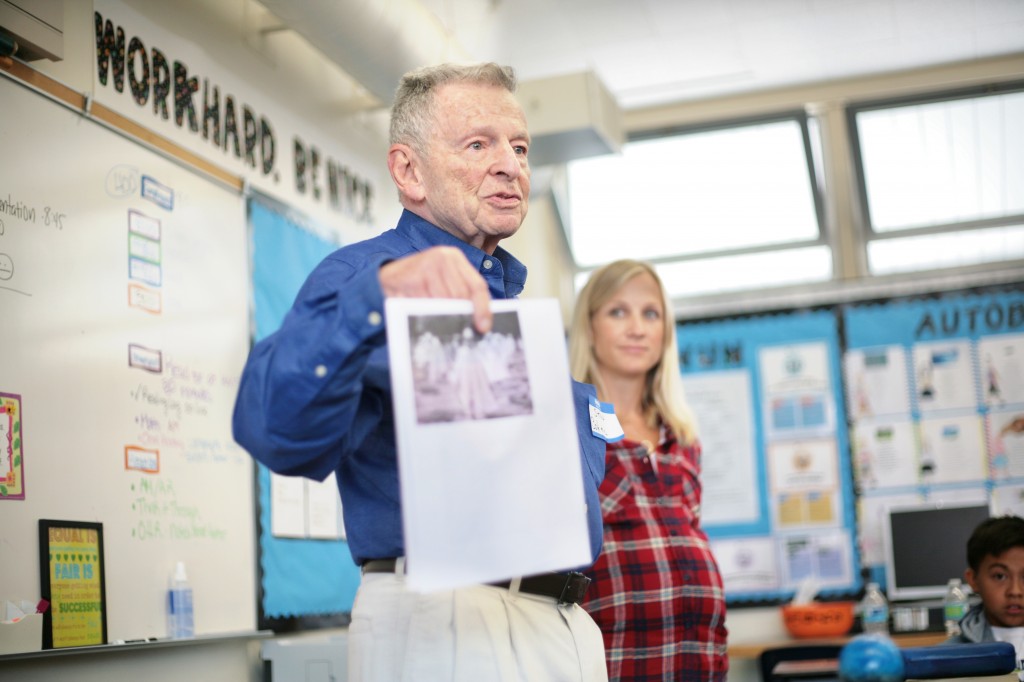 In another classroom on Monday, Korean War veteran Stan Cohen also spoke about his journey and the importance of fighting for freedom.
Cohen, who served in the Army Infantry for two years, told the kids about the Korean War Veterans Memorial in Washington D.C. It displays 19 larger than life soldiers dressed in full combat gear out on patrol.
"You see them walking toward you," in a field, in the mist, Cohen said, and think "'This is what it was like.'"
The memorial made quite an impact on him, he said.
"I stood there and couldn't leave," Cohen said.
"I looked into the faces of every one of those 19 statues," he continued. "Any one of those faces could have been one of the soldiers I trained with."
Cohen also spoke quite a bit about basic training. He remembered his bunk mate who loved to stash a candy bar in his boot for a morning snack, how he became an expert in shooting despite never having handled a gun before, and more.
A lot of his basic training buddies were injured, he added.
He had a bunk mate who was killed on his first day in Korea. A high school friend and track star who lost a leg. Another friend who got nerve damage and was never able to smile again.
"Those are sad things," said Cohen, who added that he "kissed the ground" when he got home safe and sound. "It was scary."
"War is ugly. It's tragic," Cohen said, "but sometimes it's necessary."