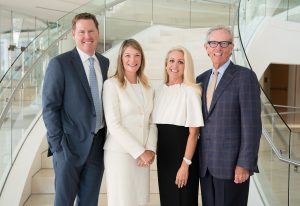 It seems impossible, but it's true: Segerstrom Center for the Arts celebrates its 30th Anniversary this year, culminating with the annual Candlelight Concert on Friday, December 2 in Segerstrom Hall.
The event is four months away, by plans for this extra-special occasion – which includes a dazzling dinner and a performance by four-time Grammy Award-winning singer/songwriter Carole King (her only West Coast appearance) – have been in the works for some time.
This year's Candlelight Concert will be co-chaired by Tracy and Roger Kirwan and Jaynine and David Warner. Roger is a former Center Board Chairman and current Board Treasurer and Chair, Investment Committee. Jaynine joined the Center's Board this year.
In a statement issued by the chairs, they said that "It's a pleasure for us to chair a Candlelight Concert. This will be a perfect occasion to acknowledge all that the early Candlelight Concert chairs and Center Founders set in motion more than 30 years ago and to demonstrate that the Center is more committed than ever to serving our community through outstanding artistic experiences and civic involvement."
The Candlelight Concert season began with a cocktail reception at the Kirwan home on July 28. In addition to announcing King as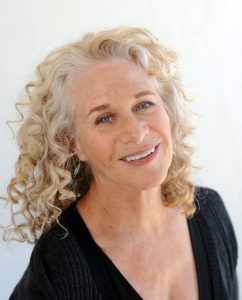 the evening's artist, they introduced Lugano Diamonds as Luxury Jewelry Presenting Sponsor and Wells Fargo, The Private Bank as Financial Services Presenting Sponsor.
Additional events will be held leading up to the Candlelight Concert, which is traditionally an evening of surprises. It begins with a red carpet entry and cocktail reception on the Plaza and Orchestra Level lobbies, followed by the concert in Segerstrom Hall, and dinner and dancing on the stage itself. Last year's entertainment featured an intimate performance by Diana Krall nd dancing to K.C. and the Sunshine Band.
The menu will once again be created by Patina Restaurant Group, which owns the adjacent Leatherby's Café Rouge.
Carole King is a perfect choice to perform at the Candlelight Concert. As one of the most celebrated and iconic singer/songwriter of all time, King has written hundreds of songs that have been recorded by more than a thousand artists. Her 1971 solo album, Tapestry, won four Grammy Awards (Record, Song and Album Of The Year, and Best Pop Vocal Performance-Female) and spent more than 300 weeks on the Billboard charts.
In 2014, "Beautiful: The Carole King Musical" opened on Broadway and won a Grammy for Best Musical Theater Album and two Tony Awards. The touring production of Beautiful" plays at Segerstrom Center this October.
Proceeds from Candlelight Concert support the Center's artistic programming, and the community engagement and education programs that serve more than 300,000 young people and students each year.
To learn more about the Center's Candlelight Concert, reserve seats or to reserve space in the commemorative Candlelight Concert journal, please contact Center Director of Special Events Irma Ramirez at 714/ 556-2122, ext. 4247.
Visit the Segerstrom Center's website at SCFTA.org.