About 50 people helped a Corona del Mar High School club's goal of making a child's wish come true over the weekend.
CdM Make-A-Wish Club held their first every Wish Day event on Saturday. Guests gathered on the track field on campus and enjoyed games, music, baked goods and more. There were also booths that reflect each of the four types of wishes: To be, to have, to go, and to meet.
For their first time ever holding an event like that, it went pretty well, said CdM senior and club co-president Rafah Ali, 18.
"It was great to see everyone come together," she said.
A lot of student volunteers helped.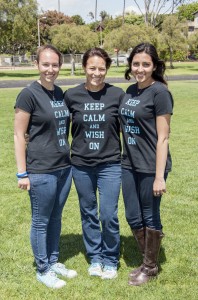 "It raised the morale of the club," added co-president Rachel Schonwit, also 18 and a senior.
The purpose of Wish Day was to raise awareness and funds for the cause and the club, Ali said.
It was a learning experience, both co-presidents agreed, about what works and what doesn't. They hope the club will host the event again, they said.
The club's goal is to grant one wish every school year for a local child from the MAW Orange County and Inland Empire organization.
"It goes right back into our community," Ali said.
All proceeds from Saturday's event go toward the club's wish fund. On average, it cost between $5,000 to $7,000 to grant a wish.
Wishes that club has granted include sending a 7-year-old boy with Duchenne to Disney World, giving a 5-year-old girl a shopping spree, and giving an 18-year-old music equipment. He found it therapeutic and wanted to share it with others, Ali explained.
It's not their "final wish," Schonwit emphasized. The wish does often restore their hope, gives them strength and brings them joy, she added. Their mental and physical state can improve, she said.
It's all student-run, said Dawn Kerrigan, CdM English teacher, surf coach and club adviser. It was a great learning experience for them, she added.
"They've done a fantastic job all year long," she said. "I've enjoyed watching the kids become leaders."
"It's really inspiring to see young kids want to help," Kerrigan said, "and understand that giving back can be very rewarding."
There are many options online to support the cause, both girls emphasized.
For more information or to donate, email [email protected] or visit ocie.wish.org.