Corona del Mar resident Marilyn Broughton, an active volunteer for the Newport Beach Fire Department's Community Emergency Response Team, died Saturday. She was 72.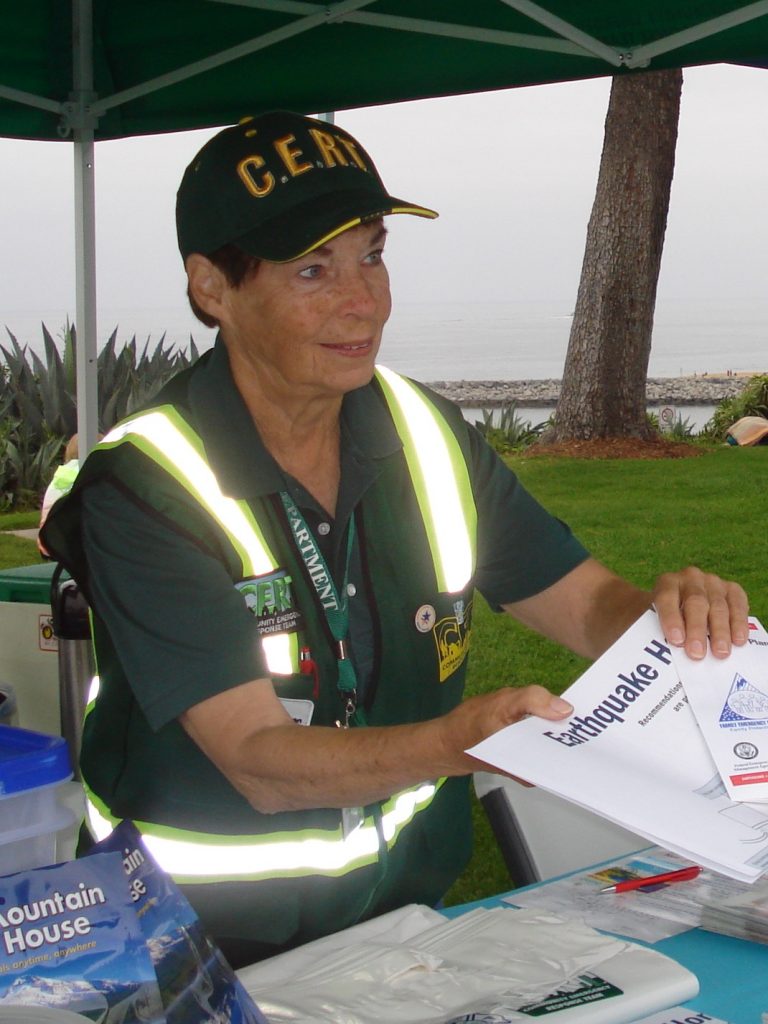 Friends and family describe Broughton as a wonderful person who was passionate about giving back to the community and was dedicated to teaching people how to help others.
"Get out, give back, be active and make it mean something," said her identical sister Evalie "Evie" DuMars. "That's what life is all about, and she gave so much, and that's such a beautiful thing."
Broughton and DuMars, also of CdM, have been two of the most energetic and involved volunteers in the program, noted NBFD Life Safety Specialist and CERT program leader Matt Brisbois.
"She was a really special lady," he said. "Marilyn was truly one of the most genuine and nicest people I've ever met in my lifetime."
Her positive attitude and outlook really radiated.
"She could really turn your day around," he said.
CERT was her passion, DuMars said, and they strongly believe in the program's goal to prepare individuals to help themselves, their family, and their neighbors in the event of a disaster.
"We're lucky to be part of it," DuMars said. "We love our CERT family."
The duo started taking classes in 2011 and quickly became more involved.
"It's been wild since then," DuMars said. "It's been a wonderful, wonderful ride."
Broughton and DuMars have together taught classes for adult and pediatric CPR, AED (automated external defibrillator) training, first aid and a 16-hour course wilderness class that takes place both in a classroom and outdoors.
"Because of everything she did, she saved a lot of lives," Brisbois said.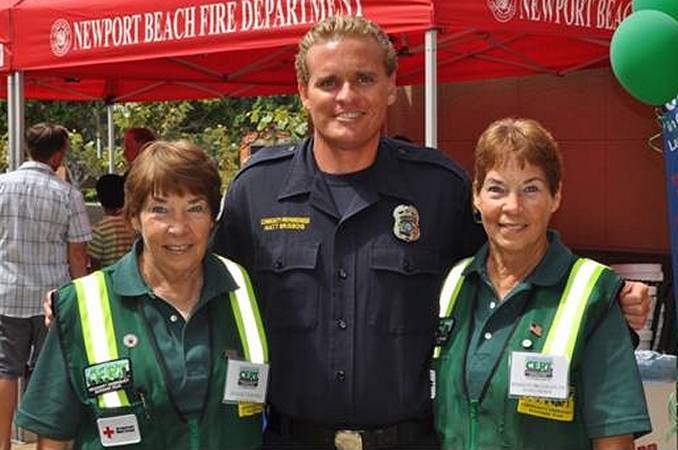 Broughton and her sister have been terrific teachers and great at going out and interacting with the public, he added.
"They really fed off each other, they really connected," he said.
The two are affectingly known as "the twins" among CERT members, city staff and the Newport Beach community (even though they were actually triplets with sister Ardith "Ardi" Chaffee of Tustin, who is graduating from the NB CERT program in a few weeks).
While Brisbois heads up the program, it wouldn't be possible without the help of volunteers like Broughton, he said.
Both sisters have donated more than 10,000 volunteer hours over the past several years assisting with the CERT program, disaster preparedness outreach, helping out with events, and more. They volunteer for more than 100 events a year, on average.
"They epitomize what I come to work for," Brisbois said.
Broughton loved doing inventory for CERT in the equipment shed, counting, labeling and organizing the gear.
The CdM local also took pride in caring for her home. There was always a place to sit and Broughton, always the hospitable hostess, would always offer food and a drink to her guests.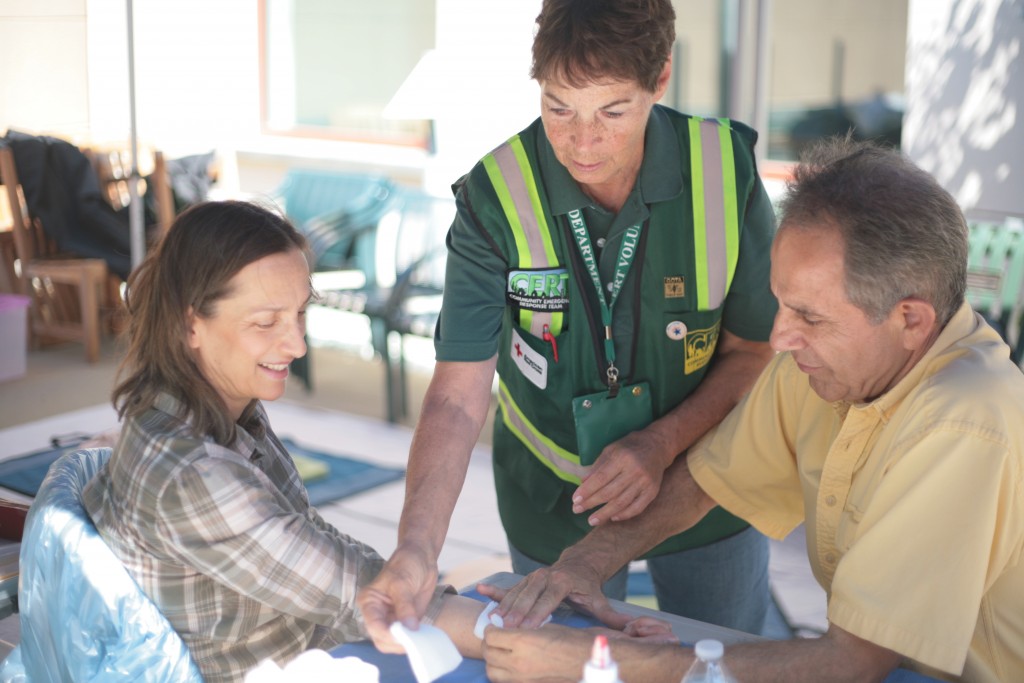 She also loved cats and had many cat-themed items in her home. She enjoyed southwest colors and style, and loved flowers. Broughton also had a fondness for Celtic music, Turner Classic Movies, and mystery shows and movies. Both she and her sister appreciated British television programs, like Father Brown. She also loved to bake and "Marilyn's Banana Bread" will continue, DuMars promised.
Broughton and her sisters all love animals and nature. Although Broughton jokingly called them "just flipping birds," she was getting better at identifying shorebirds, DuMars said.
As triplets, they share a special bond, she said.
"It's been a beautiful privilege to be a triplet," DuMars said. "We share so much, we've gone through good and bad together."
The CERT program has been a highlight, she added, and they'll get through this difficult time with the love and support of their extended family.
"Instead of sharing tears, we're going to share love and fond memories," DuMars said.
Even when the three were apart, like during college when Broughton attended Northern Arizona University in Flagstaff while DuMars was at University of California, Los Angeles, and Chaffee was at Michigan State, they always felt connected.
After college, all three sisters pursued careers in the medical field. Broughton became a nurse and focused on the electrical aspect of the heart. She was always nursing and caring for people.
It was the second love of her life,  DuMars said.
The first was her husband George, who passed several years ago. They were together for about a decade and in that time they traveled together, tried new things and continued their passion of getting involved and giving back.
"He was the love of her life," DuMars said.
DuMars will continue her hard work as a volunteer for CERT and Chaffee is excited to jump in.
Broughton was so passionate about the program and it was such a big part of her life, it would be an honor if she encouraged others to join, her sisters agreed, it's important to get involved and be prepared.
"We need a big green army," DuMars said.
A celebration of life will be held April 28 at 11:30 a.m. at Calvary Church, 1010 N. Tustin Ave., in Sana Ana. All Newport Beach CERT volunteers are welcome and, per request of the family, encouraged to wear their green vests.
Broughton's family has requested in lieu of flowers that all donations be made in her honor to the Newport Beach Fire Department CERT Program, 100 Civic Center Drive.