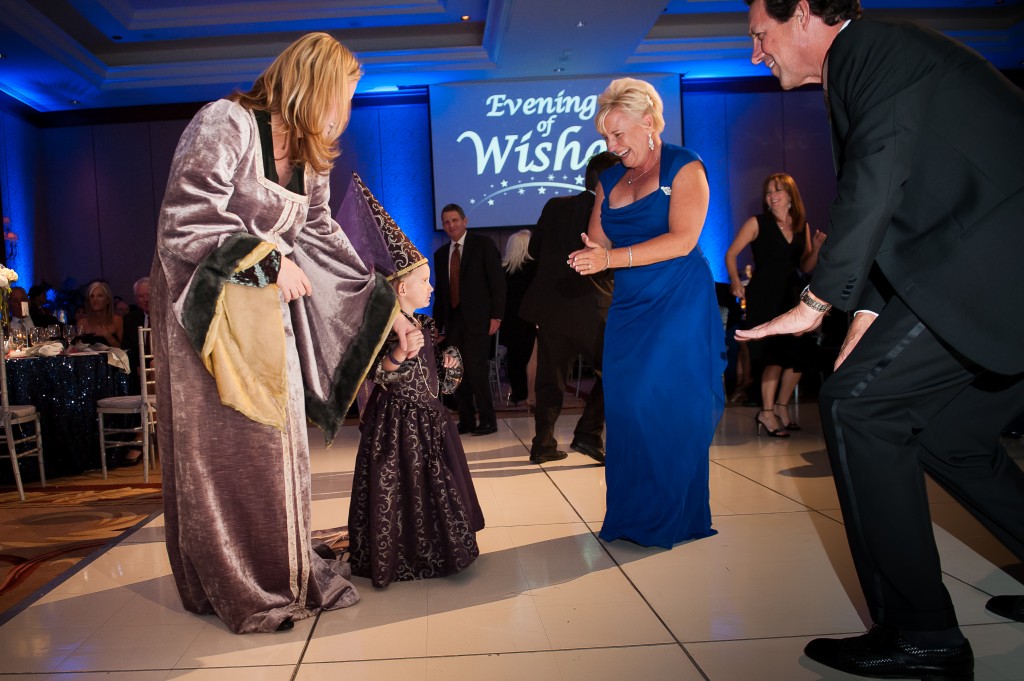 After 30 years of making thousands of wishes come true, the local chapter of a national charity celebrated at the Balboa Bay Club & Resort on Friday night and by granting yet another wish for a deserving little girl.
More than 200 guests attended the 30th anniversary of Make-A-Wish Orange County and Inland Empire "Evening of Wishes" event and watched as 3-year-old Avery's wish to be a princess came true.
"The ballroom quickly turned into a Renaissance-themed high court, complete with a throne and a Master of Revels, who announced the coronation of a new princess," a Make-A-Wish statement described.
"Members of the royal family were ushered in before attention was directed toward the side doors and an elegantly dressed little girl walked into the ballroom holding her mom's hand," it continued. "The high court bowed as she walked passed."
Avery, a cancer patient from Loma Linda, sat on her father's lap on the royal throne and was crowned princess.
"Many people do not get to experience a wish and what it can do," said Stephanie McCormick, president and CEO of Make-A-Wish Orange County and the Inland Empire. "We wanted to honor young Avery and share with our guests the true power of a wish."
The inaugural gala also featured a live and silent auction, which included a stay at Disneyland's exclusive Dream Suite, and an opportunity drawing for a diamond and pearl necklace donated by Black, Starr and Frost, valued at $4,000.
The event raised approximately $150,000. Proceeds will directly benefit local children.
The event also included a speech by MAW America founding member Frank Shankwitz.
Shankwitz spoke about granting the organization's first official wish for Frank "Bopsy" Salazar, which included a trip to Disneyland.
The wish "spurred a relationship between Disney and Make-A-Wish, and solidified strong ties with the Orange County community," according to a MAW statement.
He also described his experience with leukemia patient Chris Greicius, 7, of Phoenix, who dreamed of being a police officer, and became the inspiration behind the creation of the charity. With the help of the Arizona Department of Public Safety, Greicius was able to experience the life of an Arizona State Trooper.
Greicius "flew helicopter patrol, sat on a motorcycle and earned his merit wings by successfully maneuvering a motorcycle maze with his own small motorized motorcycle, which he used instead of a wheelchair. A uniform was designed to fit, which was Chris' most prized possession," the OC and Inland Empire MAW website explains.
"His delight and appreciation, and that of all who helped make this wish come true, inspired the group to create the Make-A-Wish Foundation," the site states.
The Orange County and Inland Empire chapter was founded a few years later, in 1983, with the fulfillment of 14-year-old Tamara's dream to see the clear blue waters of the Caribbean.
The chapter has since granted over 4,000 wishes to children in Orange, Riverside, and San Bernardino counties.
The chapter covers about 28,000 square miles and works with more than 400 volunteers.
Make-A-Wish grants the wishes of children with life-threatening medical conditions to enrich the human experience with hope, strength and joy.
For more information visit wishocie.org.