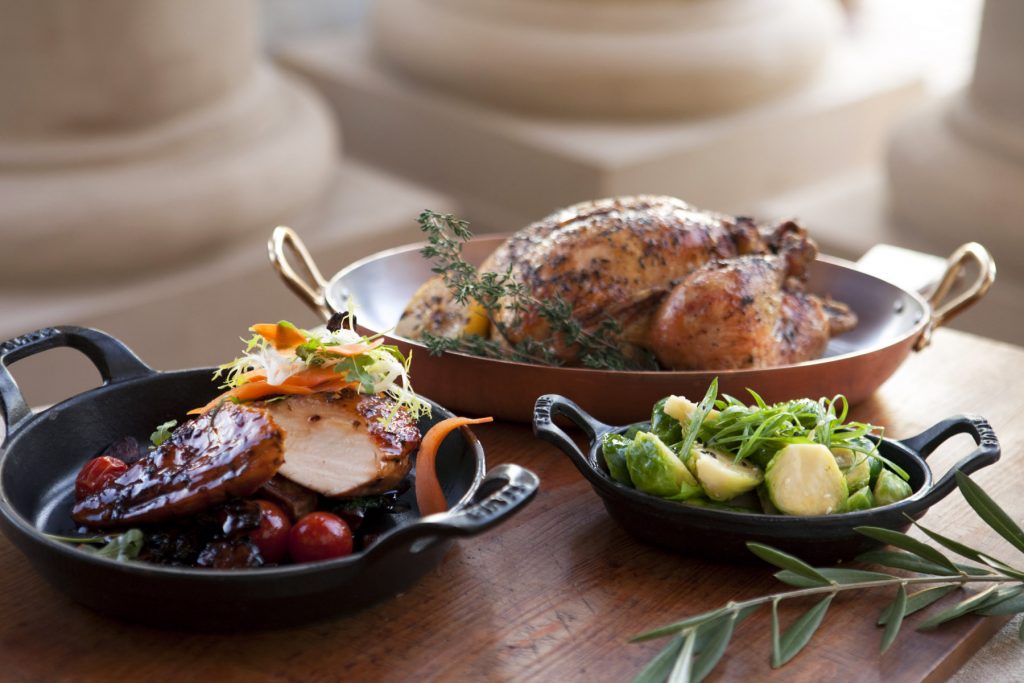 Compiled by Laura Wise | NB Indy
Back Bay Bistro
Enjoy your Thanksgiving with Back Bay Bistro's award-winning American cuisine, while taking in the quintessential panoramic view of the Back Bay Nature Preserve. This years' extensive buffet menu features a wide variety of fresh Thanksgiving favorites.  Open from 10:30 a.m. to 3 p.m. The price is $50 for adults and $25 for children under 10. For reservations, call (949) 729-1144 or visit NewportDunes.com/BackBayBistro
Balboa Bay Resort
Experience the rich tradition of Thanksgiving Dinner served in a relaxed ambiance along the waterfront at Waterline. Enjoy a delicious three-course dinner from 1:30 to 5:30 p.m. Cost is $86 for adults and $43 for children ages 4 to 12. Visit BalboaBayResort.com or call (949) 630-4145.
Bayside Restaurant
Bayside offers a three-course traditional Thanksgiving dinner from 1 to 8:30 p.m. accompanied by live music beginning at 4:30 p.m. The prix-fixe menu includes oven-roasted organic turkey with mushroom and caramelized onion stuffing, mashed potatoes, seasonal vegetables, gray, and cranberry sauce. Choose from a selection of appetizers and desserts. Cost is $50 per adult and $25 for children 12 & under. Call (949) 721-1222 or visit BaysideRestaurant.com.
The Bungalow
The Bungalow offers a three-course Thanksgiving Day menu served from 1 to 9 p.m. Choose from starters such as corn chowder or butternut squash ravioli, then move on to a choice of entrees, including pan roasted turkey breast with all the trimmings, prime rib, filet mignon, northern Australian lobster tail, or grilled vegetable plate. End your meal with one of four desserts. Prices are $45 – $65 depending on entrée. Children 11 and under have a special menu for $18. Call (949) 673-6585 or visit TheBungalowRestaurant.com.
Fleming's
Enjoy a three-course turkey dinner with all the trimmings inspired by your traditional favorites, starting at 11 a.m. at Fleming's Prime Steakhouse & Wine Bar at Fashion Island. Guests will haves choices for starter and dessert courses, and the main course is a classic herb roasted turkey breast served with all the trimmings. Cost is $50 per person. A children's menu will be available for $15. For reservations call (949) 720-9633 or visit FlemingSteakHouse.com
 Island Hotel
Join Island Hotel in the Ballroom for a delicious brunch feast from 11 a.m.to 3 p.m., including a seasonally-inspired menu featuring free-range turkey, prime rib, a seafood station, along with live music and children's crafts. $80 per adult; $20 for children ages 5-12. (949) 795-0808.
 Oak Grill at Island Hotel
Let Oak Grill host Thanksgiving this year. They're serving a mouthwatering four-course dinner including a Traditional Carved Turkey, Roasted Filet Mignon and Wild Salmon, plus traditional desserts. $90 per adult, $35 per child ages five to 12, excluding tax and gratuities. Free for children four and under. Reserve a spot online OakGrillNB.com or call (949) 760-4920.
 Pelican Hill Resort
The Resort at Pelican Hill has special Thanksgiving menus in all four of their restaurants. For Pelican Hill dining reservations, email [email protected], visit pelicanhill.com, or call (855) 315-8214.
Thanksgiving Ballroom Brunch – Executive Chef Jean-Pierre Dubray creates an exquisite Thanksgiving brunch buffet with classic dishes, accompanied by live entertainment and children's activities from 10:30 a.m. – 4 p.m.. Reservations recommended. $125 per adult; $65 per child under ages 5- 12; $20 per child under 5
Andrea Ristorante – Enjoy a rustic Tuscan holiday menu in the dining room or on the ocean-view terrace from 3 to 10 p.m. for $140 per adult, $200 per adult with wine pairing.
Pelican Grill – Chef Marc presents a delectable four-course California grill menu from 11 am to 10 p.m. plus live entertainment. $120 per adult; $170 per adult with wine pairing; $60 per child.
Coliseum Pool & Grill – A classic California breakfast buffet is available from 7 a.m. to noon. From noon to 10 p.m., a Thanksgiving à la carte dinner menu features turkey specials. Breakfast buffet for $60 per adult and $30 per child.
 Provenance
Provenance has a prix fixe menu available from 12 – 6:30 p.m. and includes four courses with a choice of entrée. All main dishes come with traditional sides. Thanksgiving menu is $48.50 per person. A children's menu is available for guests under 12 for $19.95. Limited seating, reservations are mandatory (949) 718-0477 or ProvenanceOC.com.