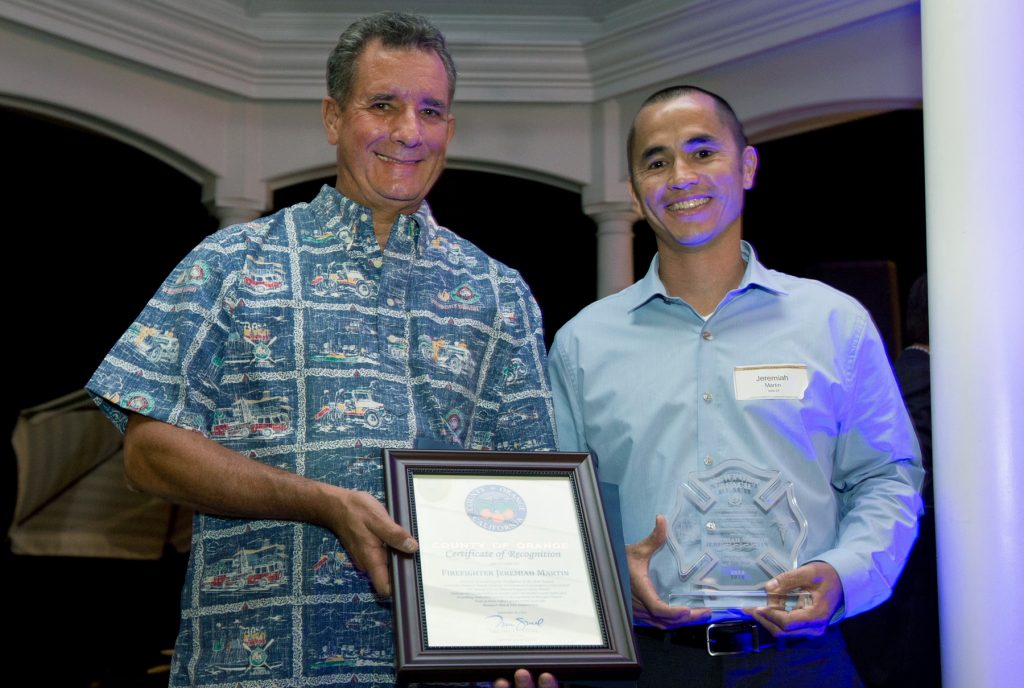 For the 19th year, the Commodores Club of the Newport Chamber of Commerce hosted its Fire and Lifeguard Appreciation Dinner last week at the Marriott Hotel, Fashion Island.
The sold-out event aimed to "recognize and honor not only the special honorees, but the entire Fire and Lifeguard Department," said Steve Rosansky, Chamber president and CEO.
Newport Beach Fire Department Chief Scott Poster provided a fact-filled review of the department, highlighting the round-the-clock lifesaving work by only 38 full-time firefighters assigned to the city's eight fire stations, as well as the 12 full time and three part time professional lifeguards whose efforts are bolstered by 200 seasonal guards that man 38 lifeguard towers, 10 patrol units and three rescue boats.
In total, he said, the department responded to more than 11,000 calls, 315 of which were fires. Lifeguards made more than 4,000 ocean rescues and attended to 2,700 medical emergencies. Fire inspectors conducted more than 1,300 inspections.  
"Sitting among you tonight are some of the highest trained professionals in the business, which go over and beyond every day under any circumstance in any situation," Poster said, prior to introducing the department's three main award winners.
Seasonal Lifeguard of the Year honoree Alex Brandt grew up in Irvine, and spent most weekends surfing in Newport with his father. He still had time to become an Eagle Scout, and graduated cum laude with a bachelor's degree in architecture from Cal Poly San Luis Obisbo. Brandt has worked as a seasonal lifeguard in Newport since 2007, having also won Division II Lifeguard of the Year in 2008, and Division IV Lifeguard of the year in 2013.
Lifeguard Supervisor of the Year Brian O'Rourke attended Orange Coast College, where he played water polo for two years. The team's assistant coach, retired Fire Capt. Brent Ranek, suggested that O'Rourke try out for the lifeguard service. He was assigned to rescue boats in 1989, then promoted to boat supervisor in 1994. In 2014, O'Rourke became the training captain, which included coordinating and supervising the city's Junior Lifeguard Program.
Firefighter of the year, Jeremiah Martin, "was not voted Firefighter of the Year based on formal achievements or accomplishments," Chief Poster said. "He was voted by his peers because of his character, attitude, positive encouragement towards others, integrity and kind-heartedness."
Poster emphasized Martin's willingness to take on any challenge or situation, saying he was "a true utility player," who can work in the firefighter rank, paramedic rank and engineer rank. Beyond the fire service, Martin serves as a Sunday school teacher and volunteers at church.