By Haylee Barber | NB Indy
Imagine visiting the United States for the first time. Even more, imagine flying on an airplane for the first time. The wheels go up, the attendants come by to say hello, and you're left to take it all in.
And then, as the pilot announces the descent into sunny SoCal, the place that was once a "dream" suddenly becomes a reality.
For Joel Misango, African native and Program Director for the local nonprofit organization With My Own Two Hands, his dream of visiting the United States became a reality this past weekend.
"I have come to California and to me it is such a miracle," said Misango. "I used to think it was a dream, but now that I am sitting in front of you, I realize it is now a reality."
On Sunday, July 13, Misango, along with the nonprofit's founder Lindsey Pluimer, hosted a red carpet documentary screening of "The Kids of Kekopay" at the Port Theater in Corona del Mar.
The event raised more than $52,000 for the nonprofit's newest project: the renovation of the Wholistic Caring and Counseling Centre in Ruiru, Kenya.
"The event was very successful," said Pluimer, "We had a goal of raising $50,000 and we met that goal which will allow us to fund the renovation entirely."
Orange County's finest attended the event to support the nonprofit's effort to build sustainable homes for children in Kenya. The Port was outfitted for the evening with a red carpet, Javier's appetizers, and plush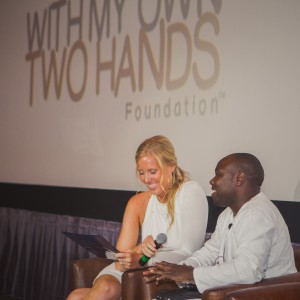 recliner seats.
Sponsored by Hyperice, a unique brand of compression ice products for athletes, the event saw support and attendance from athletes like Blake Griffin of the Los Angeles Clippers, and Mark Sanchez, who recently signed with the Philadelphia Eagles. Troy Murphy, Stan Verrett, Taylor Griffin, Marques Anderson and Andrea Boulder also attended.
But the night's real stars were Misango and Pluimer, who wore their hearts on their sleeves as they premiered "The Kids of Kekopay" documentary. The film, which was produced by Pluimer, tells the story of children at the St. Ann's Orphanage in Kenya. With My Own Two Hands previously raised over $40,000 to improve building structure and sustainability.
For Pluimer, heading the nonprofit comes from a place of passion. A former UCLA and professional basketball player, Pluimer founded the volunteer-based nonprofit in 2010.
Pluimer's latest endeavor is to renovate the Wholistic Caring and Learning Centre in Ruiru, Kenya, a school that helps orphaned children find a home and education
With the success of the documentary screening and experience of Joel's first time in the United States, Pluimer happily reflected on what initially inspired her to start the nonprofit.
"Watching Joel experience things for the first time is just a reminder of how fortunate we are," said Pluimer. "We get caught up in our life, we get caught up in the luxury of southern California, but it's good to be reminded of what we have."
The nonprofit will raise money at upcoming events this year including a yoga retreat in August and 5K run in October. Pluimer will head to Africa after the 5K to break ground on the renovation of the Wholistic Caring and Learning Centre.
On Misango's last day in California, the two visited Disneyland.
"It was an eye opening experience for him," said Pluimer. "He didn't know what a rollercoaster was and he just kept saying over and over that we have a beautiful country and we are very lucky."
For more information, visit withmyown2hands.org.