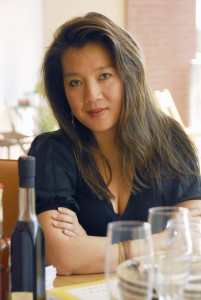 "Seoul Food and French Toasts," or "Kim-chi, Cajun Style," would both have been great working titles for Kim Sunée's new cookbook, giving readers a taste of the type of culturally diverse fare they would find inside.
Instead, she went with the much more lyrical "A Mouthful of Stars: A Constellation of Favorite recipes From My World Travels."
And, rather than travelling to sunny Southern California to deliver me a check for my fabulous book-titling skills, she'll be coming instead to Barnes and Noble in Fashion Island to discuss what went into making this beautiful new offering of both culinary and anecdotal delights.
Sunée's early life and a yearning to know where she came from would prove to color her personality and flavor her cooking.
Taken by her mother to a North Korean marketplace at the age of three, Sunée was left on a bench with a fistful of food and a promise that mommy would be right back. Three days later, she was collected by a police officer, now holding only a fistful of crumbs, and told that she had been abandoned.
Her subsequent adoption by a New Orleans couple, and life in France as the romantic counterpart of L'Occitane founder, Olivier Baussan, was chronicled in her previous memoir, "Trail of Crumbs: Hunger, Love, and the Search for Home."
In addition to taking her on a journey to discover her roots, Sunée's travels added an international flair to the palate of the girl who would, before penning her own cookbook, come to be the food editor for both Southern Living and Cottage Living magazines.
While living in Paris and Provence with Baussan, Sunée honed her cooking skills by caring for his young daughter and throwing large, lavish dinner parties for their group of friends.
Having to adapt to two ends of the taste-sophistication palate has made her a very well balanced cook, as well as an excellent instructor.
While many of her recipes seem to lean towards the more exotic (Avocado-Almond Ice Cream or Kachoombar Salad), they are simply explained with steps that less accomplished cooks can handle with ease.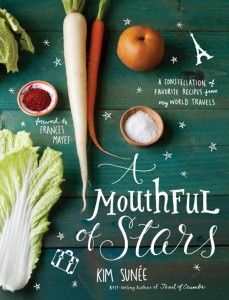 Although readers can expect their culinary tastes to be expanded some while reading this book, the collection of 80 recipes also includes more everyday fare, such as "Provencal Beef Stew" and "Roast Pork Tacos," making it a book that truly has something for every palate.
What makes the book so extraordinary however, is not the recipes themselves. More than just an instruction manual, "Mouthful of Stars" is a book that is also meant to be read and enjoyed.
Interspersed with the cooking how-tos are lovely photos, engaging stories of Sunée's travels, anecdotes about what inspired her recipes, and even the author's own poetry.
While some might assume that her transcontinental travels and life in French society may make Sunée seem a little pretentious, the assumption would be incorrect. Although it is true that her life has been at times glamorous to say the least, it began humbly, and included finding her way as one of only two Asian children in her community.
Even though her life's path has taken her far from that marketplace, and allowed her to find myriad ways to fit in with those around her, she has never lost that sense of humility, allowing readers to relate to her in ways they may not otherwise be able to.
Now, she will be here in Newport, to share her stories with interested readers in person. Appearing at Barnes and Noble, Fashion Island, on Monday, July 21, at 7 p.m., Sunée will discuss what went into the making of her new book, as well as sign copies. There is no charge to attend.
For more information on the event, call (949) 718-0109. Fore more information on Kim Sunée, visit kimsunee.com.
Edie Crabtree is an avid reader and the mother of three active boys. She can be reached at [email protected]