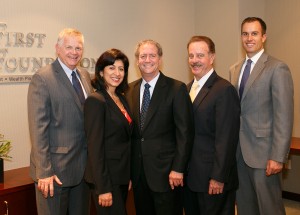 Like many Newport Beach residents, Doug Freeman believes in giving back to the community. In Freeman's case, the community extends beyond our city's boundaries into neighboring towns, and his generosity has a profound effect on the health of hundreds of nonprofit organizations.
As Senior Managing Director of First Foundation Advisors, Freeman recently announced that four Orange County charities are receiving cash grants and in-kind donation consulting services totaling $1 million through First Foundation's Supporting Our Communities program. 
The four organizations are Orangewood Children's Foundation, Court Appointed Special Advocates (CASA), The Prentice School, and Boys & Girls Club of Santa Ana.
"This is about working collaboratively with worthy causes in Southern California to help them grow and sustain their growth," said Freeman in a press release announcing the donation. "It means assistance in fundraising, donor cultivation, board building, development of critical policies and protocols, organizational planning and best practices in cash management and investment policies, procedures and strategies."
"We wanted to help where we thought we could make the greatest impact, which is capacity building," added Freeman during a recent interview. "They can't afford to get the help they really need. They are raising money for general operating costs, but it's hard to raise money for capacity building."  
Freeman noted that he's been doing that for a variety of charitable organizations for more than 40 years, and that experience has helped him focus on the best methods of assisting nonprofit organizations.
"It's an extreme makeover program for charities," explained Freeman. "We invited organizations to apply. We are donating time to help a small nonprofit become better organized
and managed.
This is part of the DNA of the community–we describe this as healthy families, healthy communities, and a healthy community requires a vibrant nonprofit sector."
According to Freeman, every one of the 180 employees that work in the First Foundation Advisors offices in Irvine, Los Angeles, Palm Desert, Imperial Valley, Pasadena, San Diego, and Las Vegas has what he calls philanthropy DNA.
"At our company, philanthropy is the DNA of our people. We're not imposing it on them. They want to do it."
The same can be said of Freeman, who has been a consultant to nearly 300 family foundations, support organizations and public charities throughout the United States.
He is the founder of National Philanthropy Day, proclaimed by Congress and celebrated throughout the United States since 1986.
Freeman is the past Chairman of the Board of Trustees of the University of California, Irvine Foundation and chairman of its $1 billion campaign, and is currently a member of the Executive Committee of the Board of Directors of Orange County's Pacific Symphony. He's also a member of the Board of Advisors of the University of Southern California Center on Philanthropy and Public Policy.
Freeman has always led by example, and welcomes like minded individuals who have the time, and talents, to further the nonprofit world.
"Organizations need leadership, good boards, strong committees," he stated. "We need talent to help them grow. We're not asking for money, we're asking for labor, brain, talent. I think if people knew there was a call for help and leadership, and they had the time and talent, that would be a terrific addition. If we can get those organizations talent, that's the best thing."
For more information, visit ff-inc.com.