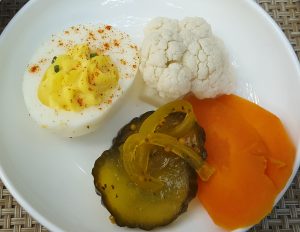 By Christopher Trela & Catherine Del Casale | NB Indy
Thinking of dining at Oak Grill on Sunday? If so, you'll be in a daze, but that's a good thing.
Oak Grill at the Island Hotel has kicked off the barbecue season with the launch of Slow Smoked Sundaze that takes place every Sunday from 5 to 9:30 p.m. in Oak Grill's dining room or, better yet, on the outdoor deck not far from the restaurant's smoker.
According to Oak Grill's Chef Marc Johnson, Slow Smoked Sundaze is a
terrific way to experience a range of barbecue styles and flavors.
"It's our interpretation on what we want to do for Sunday supper," explained Johnson when we visited Oak Grill for a media tasting of the Slow Smoked Sundaze offerings. "Having spent a little time in the South, Sundays are a day for families and friends to slow down. I lived in this old historic neighborhood in Huntsville. On Sunday, the neighborhood was filled with that slow smoked scent. This is a good, fun way to do Sunday supper."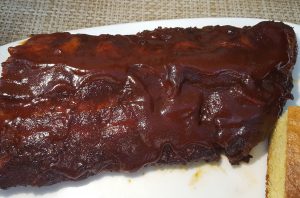 Johnson noted that they smoke everything in house, and they use their own house rub and house barbecue sauce.
"Barbecue is so subjective and so regional, from South Carolina to Kentucky to Louisiana to Alabama and Mississippi, everybody has their interpretation of what barbecue is," he told us. "I'm kind of pulling a little bit of each. We smoke our meat with our dry rub similar to what Texas does, and then our sauce is sweet and vinegar based, kind of like Mississippi and South Carolina sauce combined."
On the day we went, we were able to sample several items, starting with a plate of deviled eggs, a pickled plate and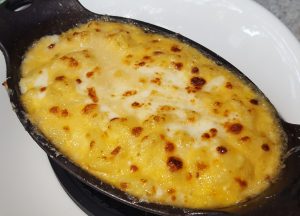 farmer's salad composed of field greens, beets, walnuts, corn, cranberries, goat cheese and honey lemon vinaigrette.
Next, we selected baby back ribs and beef brisket (other options include catch of the day, fried chicken, and cedar plank salmon). Each entrée comes with two sides, so we tried the potato salad, mac and cheese, cole slaw and cornbread—all perfect accompaniments to the barbecued entrees. We finished our meal with pecan pie and pizooki Sundaze (cookie topped with ice cream).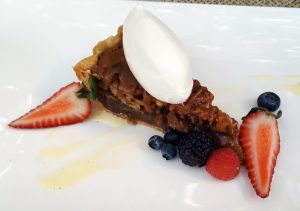 The brisket was superb—tender and packed with flavor. The baby backed ribs came with a generously slathered with sauce that was delightfully messy and so tasty.
We were impressed with the amount of food—between the starters, the entrees and sides, we were full and happy, and forgot that we still had dessert coming!
The Slow Smoked Sundaze dinner comes with complimentary Backyard Lemonade made with basil and fresh strawberries (Christopher said it might be the best lemonade he's had). Pickled lemonade with Tito's vodka is an additional $10.
Slow Smoked Sundaze is $34 for adults and $12 for children five to 12.
For more information, visit oakgrillnb.com.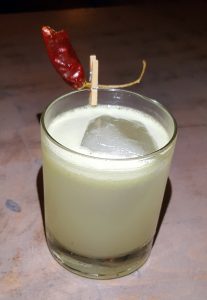 Getting Social with Cocktails
We've dined at Social in Costa Mesa several times, and recently heard they had updated their cocktail menu. This made us curious, especially after watching a documentary at the Newport Beach Film Festival about the New Orleans Sazerac cocktail. We wanted to try a Sazerac, and wondered if Social might be the place to do it.
We're happy to report that not only is Social serving some sensational cocktails, but new bar director David Valiante makes a mean Sazerac. In fact, the cocktails here are so good, we went two nights in a row so we could sample more libations.
"I'm really loving what they are doing with the drinks at Social," enthused Catherine. "This is really a place where you can expand your liquor knowledge and try something that is usually not what you would drink and yet will be pleasantly surprised by how much you enjoy it. I'm not usually a whiskey or scotch girl but I decided to try the Monkey Business cocktail which has scotch, sherry, banana, ginger, cinnamon and lemon. I was so impressed with how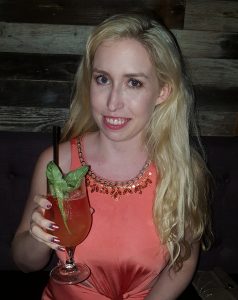 well the flavors blended together. The scotch didn't stand out as the main ingredient but just contributed to the overall taste. I also tried the Hoppy Daze, a gin based cocktail with aperol, pineapple citrus hop syrup, lemon and basil. This was another fantastic drink that didn't leave that dry aftertaste that you usually get with a gin-based drink. It was light and fruity, and a nice change from my usual vodka soda with lemon."
"I am loving this Sazerac cocktail, it tastes even better than I imagined," stated Christopher. "And the Alimony with St.
George chile vodka, lime, mint and cucumber is a perfect combination of flavors."
Among the many menu items perfect for sharing while enjoying cocktails are the 24-hour fries and the caramelized Brussel sprouts with bits of Tasso ham and hazelnuts mixed in, then topped with crunchy strings of sweet potatoes and drizzled with honey.
"The mix of sweet and salty is perfect, I could eat these all day," said Catherine.
For more information on Social, visit SocialCostaMesa.com.