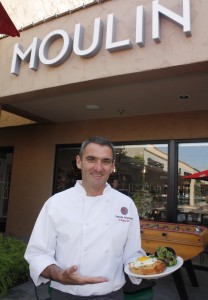 By Christopher Trela & Catherine Del Casale
We're always ready to take an exotic culinary journey, so we were thrilled when two new restaurants opened that offered gastronomic trips to France and The East Hamptons.
Moulin
Pascal's Epicerie on Bristol Street closed earlier this year, leaving those of us in Newport Beach who enjoyed the bistro experience to look elsewhere for their French food fix.
Now, a new French bistro-épicerie-café called Moulin has opened in the same spot, and it truly is like stepping into an authentic French bistro.
Laurent Vrignaud, the owner of Moulin, was born and raised in the Montmartre district of Paris, but has lived in the U.S. for the past 30 years, working in the action sports industry. However, he's been planning Moulin for many years, and has been collecting French furnishing for two decades.
Step into Moulin and you'll see those vintage furnishings including bistro tables and chairs, metal signs, light fixtures, and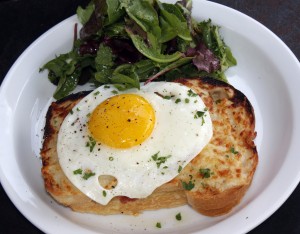 an antique butcher's block. The restaurants seats about 40 people inside, another 30 or so on a charming patio.
The menu, created by Vrignaud, is as authentic as you can get.
"If something has a French name and is known as such, then it is made in the original fashion," Vrignaud told us. "I am not changing something that has existed for 100 years. If you have been in Nice and had a salade nicoise, we make it the same way, we don't reinvent the wheel."
"I am doing two things here," he explained. "If you have been to France, I am giving you back what you had there. If you have never been to France, you can get it here. It's not my interpretation of France. That's why it's not a concept. Everything here is original. We are taking French to the extreme."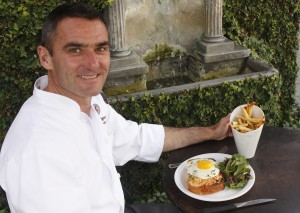 We agree—after visiting Moulin several times for breakfast, lunch and the special Tuesday night prix fixe dinner ($25 per person), we're now Moulin fanatics. Christopher loves the Croque Madame, and the flaky croissants, while Catherine was impressed with the dinner.
"I loved the squash salad and duck with potatoes au gratin. It was reminiscent of the dinners I had when I was in France; intimate setting, amazing food and well-priced," said Catherine. "It was the perfect amount of food to fill you up without leaving you stuffed. The flavors in each dish weren't competing for dominance but were balanced throughout."
Moulin is open 7 a.m. to 7 p.m. daily, except when they have special evening events, such as the Tuesday night dinner and new Thursday night "Tous au Bistro" event ($25 per person for a glass of French wine and a spread of cheeses, charcuterie and fresh-baked breads).
For more information and a complete menu, visit MoulinBistro.com.
Babette's
One of Christopher's favorite culinary-themed movies is "Babette's Feast," which won the Academy Award for Best Foreign film in 1987. In the film, the main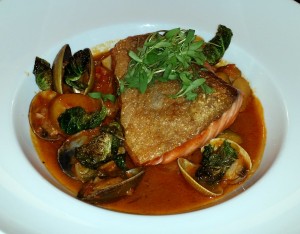 character (Babette) creates an exotic seven-course feast that included turtle soup served with Amontillado sherry, buckwheat cakes with caviar and sour cream (served with Veuve Cliquot Champagne), quail in puff pastry shell with foie gras and truffle sauce, and other delicacies.
So when we attended the opening of Babette's restaurant in Crystal Cove Shopping Center (sister restaurant to the Babette's in East Hampton), it all made sense when Babette's founder, Barbara Layton, told us she named her restaurant after the movie.
The restaurant décor and menu all offer twists on the familiar—in a good way.
"I never thought I would ever tell someone 'you have to try the tofu, it's fanstastic!' but I guess that day has come," laughed Catherine. "Babette's barbecued tofu has a great Asian influenced barbeque taste with black and white sesame, pickled ginger and wasabi. The texture of the tofu is firm but soft, not tough or chewy."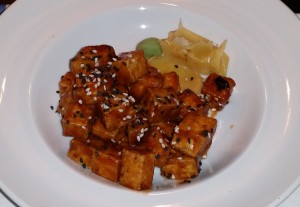 "That's one of the famous dishes from the Hampton's location," explained Chef Michael Powell. "I tried it and was pretty surprised by it. I changed it up with the barbecue sauce, but it's a replica of what they do in the Hamptons."
"I love the salmon with clams," enthused Christopher. "It's different than any salmon I've had."
"There's nothing normal on the menu," added Catherine. "Even the French fries are not normal. I also like the achiote orange marinated chicken with shredded orange chicken on top of a plantain patty with a spread of epazote black beans and topped with pickled red onion, avocado and cilantro. This dish reminds me of an elevated pulled pork sandwich."
We also enjoyed the creative cocktail menu, and the lounge with the high vaulted ceiling and hand-carved walnut bar.
Babette's is open daily for breakfast, lunch and dinner. Call (949) 715-9915 or visit BabettesOC.com.