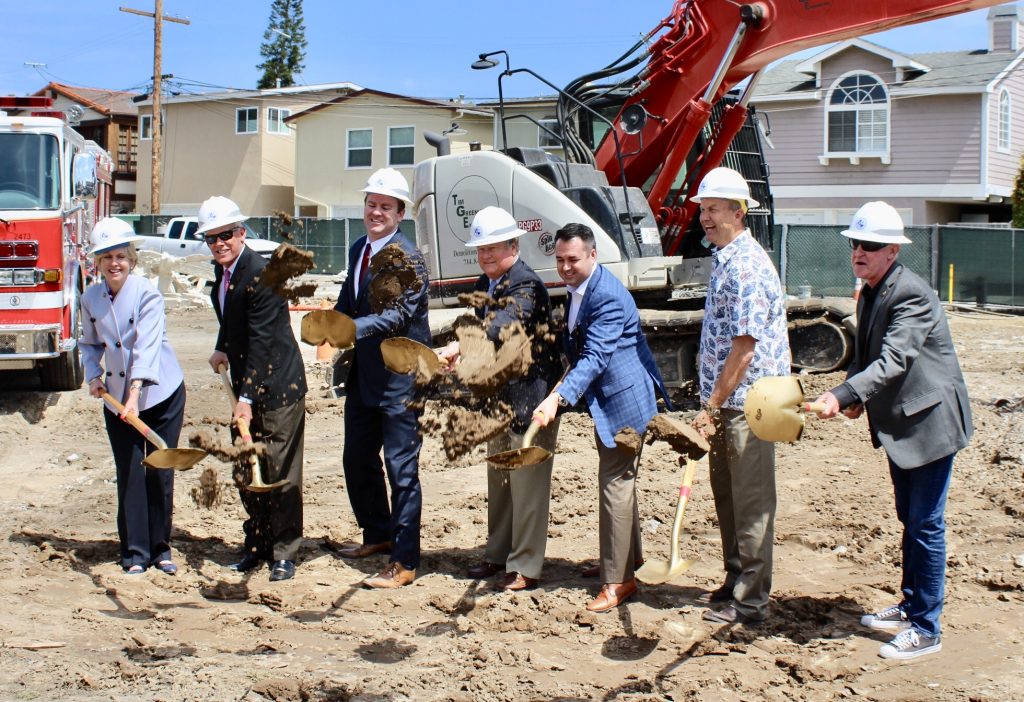 Nearly three years have passed since Newport Beach City Council approved a much-needed rebuild of the Corona del Mar branch of the Newport Beach Public Library and fire station #5, and this week, work has officially begun on the combination project that many have dubbed "fibrary."
On Tuesday, Council members dug in their ceremonial gold shovels beside a pile of foundation rubble and a large excavator.
"We are very, very happy this has finally happened," Mayor Marshall "Duffy" Duffield said to the crowd who gathered for the event, including residents, past mayors, library personnel, and city staff.
Fire Chief Chip Duncan, who was joined by several firefighters and fire station employees, also spoke. He was first assigned to the CdM station in 1987 in the early days of his career and is eager to see what it becomes.
An initial round of rejected bids and a decision to postpone the project in early 2017 contributed to the delays, but the library's Board of Trustees and groups like the Friends of the Corona del Mar Library rallied to support the rebuild..
Former mayor Keith Curry was on the Council that approved the work in 2015 and attended Tuesday's groundbreaking.
"I'm glad we could save this project and keep it going," he said.
Construction is already a week ahead of schedule, according to Deputy Public Works Director Mark Vukojevic, and is expected to be finished in 14 months.
Library Services Director Tim Hetherton, who oversaw the dismantling of the small library and must now prepare for a new one, said he's glad it's moving forward.
"It's a lot easier to tear these things down than to build them," Hetherton joked.