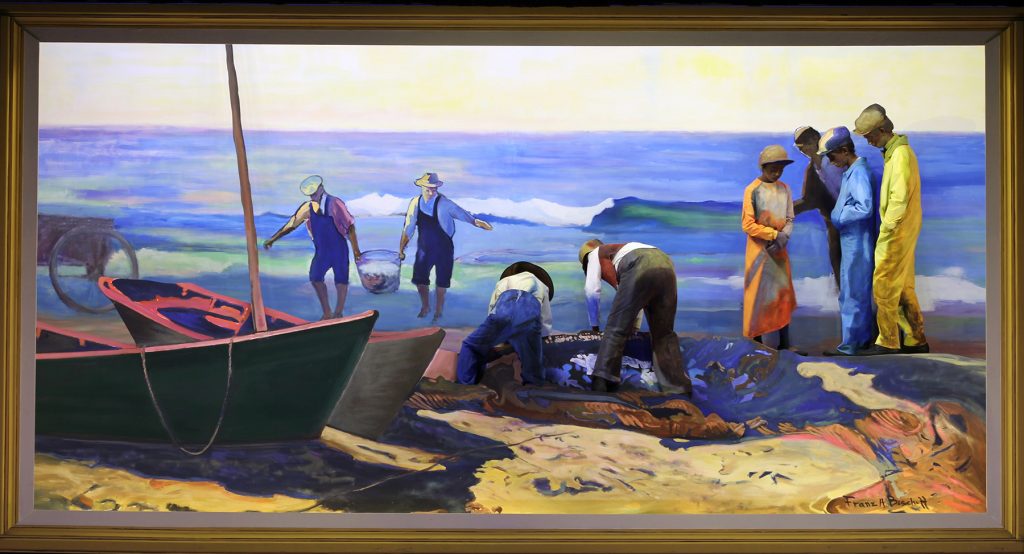 Two things you can always count on for summer: Pageant of the Masters and a Laguna Playhouse musical.
Fellow NB Indy scribe Shelly Zavala and I had the opportunity to attend both productions, and managed to squeeze in dinner before the shows.
French Cuisine and American Art
Held every year in the Irvine Bowl on the Festival of Arts Grounds, Pageant of the Masters is celebrating its 85th anniversary this year. It's an admittedly unusual theatrical affair: real people are painted and dressed like those in famous paintings and sculptures, then placed into backdrops and made to stand still for 90 seconds while thousands of spectators ogle and applaud their efforts to recreate great art as tableaux vivants ("Living Pictures").
We had tickets to the VIP preview night and, like we always do, opted for a pre-pageant dinner. Heading south to Laguna Beach on Coast Highway is the best way to access the Pageant of the Masters from Newport Beach, so we reasoned that a restaurant in the Crystal Cove Shopping Center would allow us to dine at our leisure before making the short drive to the Pageant.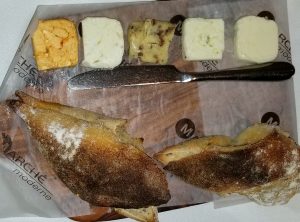 We've been to Marché Moderne for dessert, but Shelly has never enjoyed dinner there (although I constantly rave about the cuisine), so we made a reservation for 5:30 p.m.
Florent and Amelia Marneau opened Marché Moderne inside South Coast Plaza in 2007. The restaurant quickly earned a reputation as one of the best French restaurants in Southern California.
Florent (executive chef) and Amelia (pastry chef) closed their restaurant in early 2017, and last September reopened Marché Moderne in the Crystal Cove Shopping Center in Newport Coast, inside the old Tamarind of London space.
The cuisine, and the chefs, seem reenergized by the new space, and diners are flocking to Marché Moderne for its classy atmosphere and traditional French cuisine.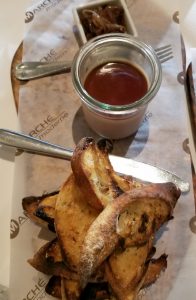 We started with a tasting of five different butters ($9) served with fresh baked rustic bread. Each pat of butter had unique flavors that made this simple start to our meal a culinary adventure.
More treats were to come. I ordered the inhouse mousse de canard with 10 year tawny port gelee and toast ($13). It came in a little jar and made my palate smile as I eagerly spread the decadent mixture on the toast points.
Shelly thought the wild Spanish octopus with chorizo emulsion ($17) was possibly the best she has ever tasted.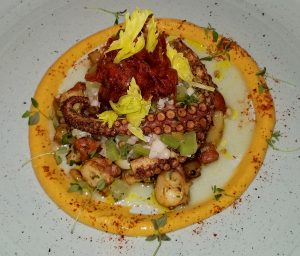 "The uniqueness and contrasts of the flavors they were using—it was so tender and reminded me of the best restaurants in Spain," said Shelly. "They have such a great way of mixing flavors. Everything is such good quality."
For entrees, Shelly ordered roasted Scottish salmon ($31) with potatoes, onion hash and a quail egg, while I opted for braised short ribs ($29), served in a small copper pot and ladled on to my dish by our server. The sauce was thick and rich, the meat tender enough to cut with a fork.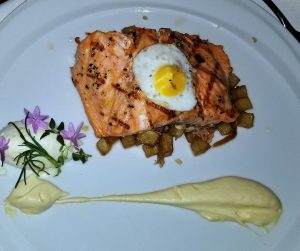 We were full and running short on time so had to skip dessert (we did return the following night for some of Amelia's creative delicacies, but that's another story).
We found parking a short hike from the Pageant and easily made it to our seats before the lights went down.
This year's theme is "Under the Sun," a phrase which Pageant producer-director Diane Challis Davy said comes from Ecclesiastes.
"I think it serves us very well. I wanted the theme to express an awareness and appreciation of the beauty of nature, to focus on artists who choose to paint in the 'open air' and to acknowledge how French impressionism influenced artists around the world to record their own personal reflections."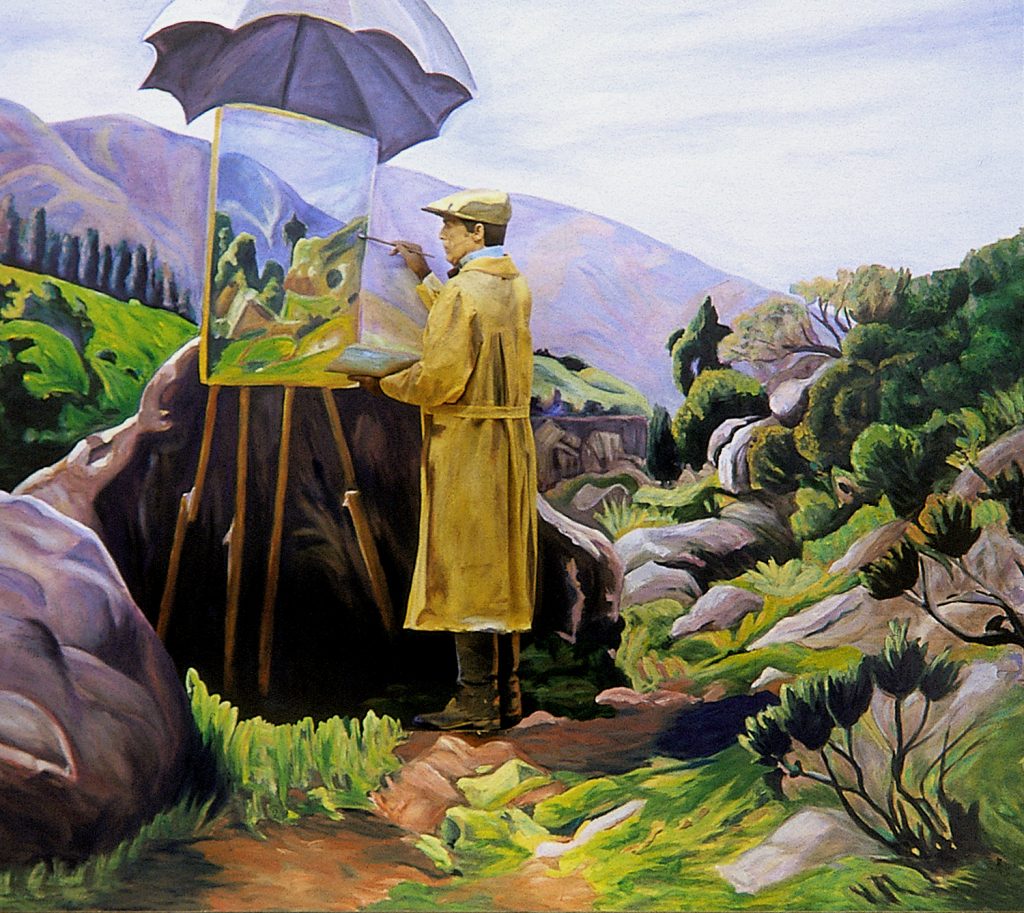 The evening included works by many of Laguna's early masters, including Anna Hills, William Griffith, Rex Brandt, Julia Bracken Wendt, and Joseph Kleitsch.
Act one clocks in at over an hour and is packed with artwork that tells the story of how Laguna Beach came to be an arts colony.
Pageant scriptwriter Dan Duling said "we're taking a cue from two anniversaries this summer: the Centennial celebration for the Laguna Art Museum, and the 85th anniversary of 'living pictures' here at the Festival of Arts. So, the history of Laguna's art colony, first gallery, and Pageant traditions will get special attention."
The script, voiced live by SCR Founding Artist Richard Doyle, illuminates the history and places the artwork in the proper context for audiences.
Act two is much shorter and makes a detour to Europe before ending with the traditional closing tableaux, "The Last Supper" by da Vinci.
The pageant has been adding more live movement over the years, and rather than detracting from the traditional presentation, the action adds another dimension and a sense of fun to the evening.
Pageant performances are nightly through September 1. Tickets start at $15. For more information call (800) 487-3378 or visit PageantTickets.com.
For reservations at Marche Moderne, visit MarcheModerne.net.
Terra and "Million Dollar Quartet"
December 6, 1956. Four musical icons – Elvis Presley, Carl Perkins, Johnny Cash and Jerry Lee Lewis – gather for an impromptu jam session at Sun Records, a one-room recording studio in Memphis, Tennessee where they all launched their careers.
This historic musical meeting of the "Million Dollar Quartet" is the inspiration for the 2018 jukebox musical of the same name, which runs at Laguna Playhouse through July 29. The show features 21 timeless classics, including "Hound Dog," "Blue Suede Shoes," and "Great Balls of Fire," performed by actor-musicians who invoke the spirit, and mannerisms, of the original singers.
Fellow Indy writer Shelly Zavala and I saw a performance of "Million Dollar Quartet" last Friday night, and decided to dine next door at the new Terra restaurant on the Festival of Arts grounds before the show.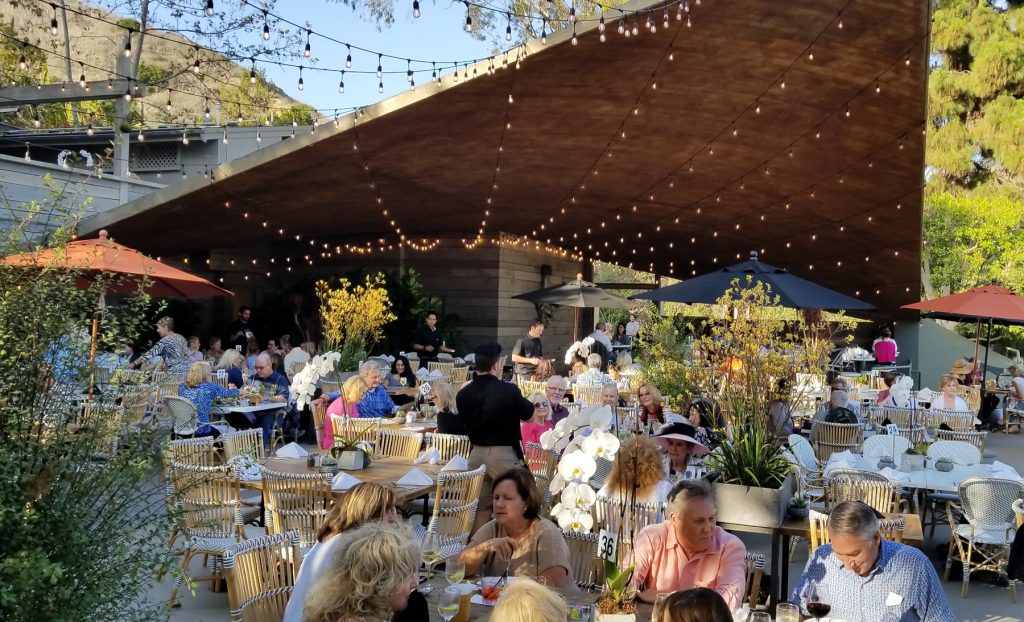 You can only dine at Terra if you have either Festival or Pageant of the Masters tickets, but fortunately we had been to the Pageant the week before and still had our tickets, which provide Pageant attendees free admission to the Festival of Arts all summer.
Terra replaces the iconic Tivoli Terrace restaurant that had been at the Festival of Arts for many years. Terra has a refreshed look and a new menu courtesy of Executive Chef Jenny Messing.
The menu is succinct: four salads, six entrees, five desserts, and a cheese and charcuterie board for sharing. No appetizers or sides, which made ordering simple.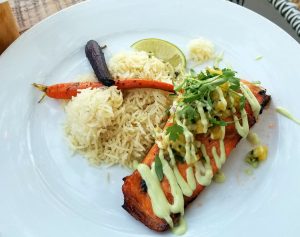 Shelly had trouble deciding between honey-lime seared salmon, slow braised lamb shank and maple brined pork shank. She settled on the salmon ($29), which was topped with a sweet-spicy pineapple and ginger citrus salsa and avocado cream drizzle, served over a bed of herbed basmati rice.
Not one to normally order a salad as an entrée, I changed my mind when I read the description of the grilled chicken, shaved fennel and zucchini ribbon salad ($22) which included goat cheese, heirloom tomatoes, basil, pine nuts, and lemon vinaigrette.
While waiting for our dinner, we ordered drinks: a lemon drop martini for Shelly, and a glass of Cambria pinot noir for me. Shelly loved her martini, but the wine was served warm (not the preferred 55-60 degrees cellar temperature), disappointing for a nice $15 glass of wine.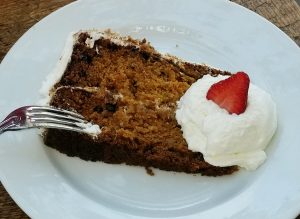 We enjoyed our entrees and, having time before the show, ordered dessert: Viennese spiced carrot cake ($8) for Shelly, and rosemary-lemon olive oil cake with fresh berry trifle ($10) served in a glass goblet for me. We devoured our desserts—the olive oil cake was particularly noteworthy in that the flavors invoked a summer garden.
After dinner we strolled the arts grounds and then made our way next door to Laguna Playhouse.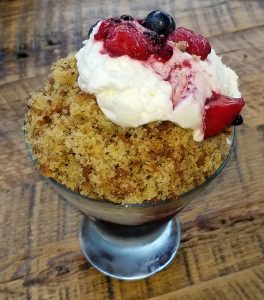 "The Million Dollar Quartet" was all we had hoped for, and more. The story revolves around Sam Phillips, founder of Sun Records, and how he launched the careers of Presley, Cash, Jerry Lee and Perkins while fighting off advances from larger record companies and trying to stay afloat by nabbing the next big hit.
The actors who embodied the rock legends are first rate musicians. Austin Hohnke as Carl Perkins is an excellent guitarist and singer. Peter Oyloe as Johnny Cash may not have replicated Cash's baritone delivery, but he had the Man in Black's musical mannerisms down, including the way Cash held and strummed his guitar.
Daniel Durston as Elvis Presley wisely did not try to emulate Presley's distinct vocal style, but his gyrations and delivery invoked the spirit of Presley.
Billy Rude as Jerry Lee Lewis is a revelation. Not only did he seem to channel Jerry Lee's buoyant personality and anxious charm, but his exuberant and delirious piano playing was spot on.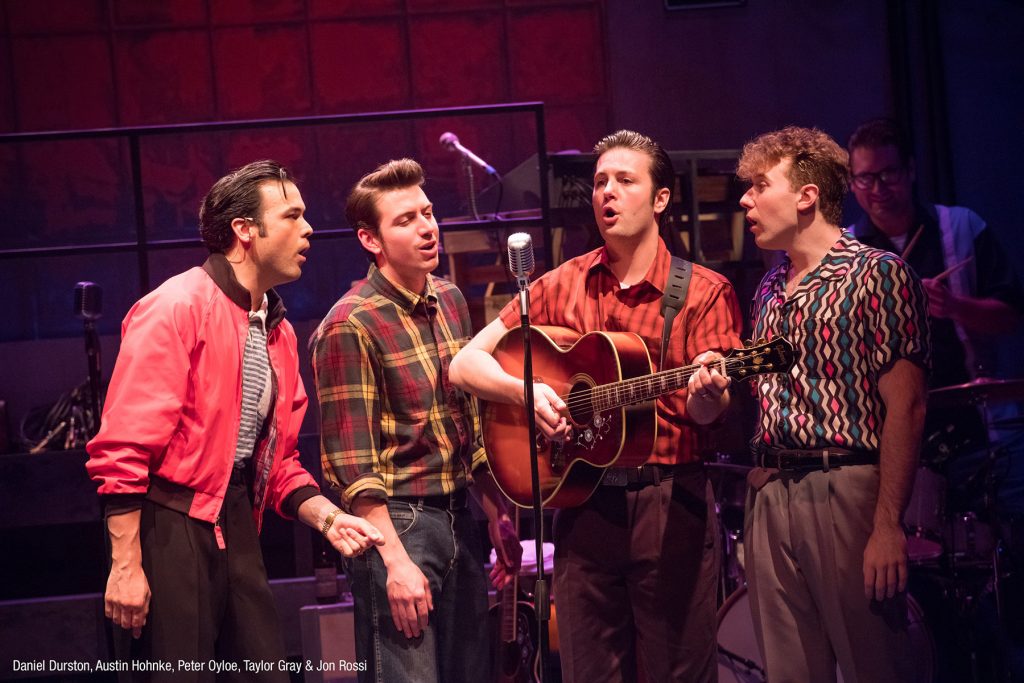 Hugh Hysell more than held his own as the hopelessly upbeat Sam Phillips.
Backing musicians Jon Rossi on drums and Bill Morey on bass proved to be accomplished musicians—Morey twirled and slapped his bass like a man possessed.
This thoroughly enjoyable romp had the audience on its feet for the finale. Whether you lived through that musical era or are just hearing about it, "Million Dollar Quartet" is worth every penny.
Visit LagunaPlayhouse.com for tickets.
For Terra Restaurant, visit terralagunabeach.com (no online reservations so send an email or call).