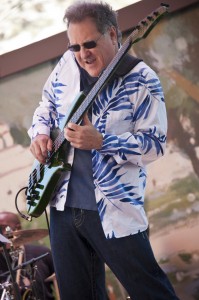 If you enjoy, art, jazz, wine and chocolate, the Festival of Arts in Laguna Beach has just the thing—it's appropriately called the "Art, Jazz, Wine and Chocolate" series, held every Thursday from 5 to 7 p.m. on the Festival grounds.
For $15, attendees can sample a variety of Kendall-Jackson wines expertly selected to complement and enhance the nuanced flavor of high-end chocolates from XAN Confections.
To accompany the wine and chocolate tastings, The Festival has booked some well-known jazz musicians.
On Thursday, July 31, Grammy-nominated Brian Bromberg and his band will serenade the audience. Bromberg is a bassist, composer and producer who has released some of the most critically acclaimed instrumental albums in contemporary jazz. From acoustic bass to electric bass, piccolo bass to synthesizer bass, Brian brings the art of bass playing to a new level where the bass moves beyond simply being a rhythm instrument and brings it up front to be the lead voice.
Steve Oliver is the featured performer on August 7. With his fascinating mix of melodic, acoustic guitar, driving grooves, soulful lead singing and infectious, seemingly extraterrestrial talents as a human drum and vocal soundscape master, Steve Oliver has become one of the genre's most unique creative geniuses!
Pretzel Logic, a Steely Dan tribute band, winds its way to the Festival on August 14, followed by
Trumpeter Tony Guerrero and singer/songwriter/keyboardist Bill Cantos on August 21.
Closing thee series on August 28 is singer Billy Valentine, whose voice was heard every week on the television series, 'Boston Legal' – from the theme song right thru to the end of each episode. He's performed in clubs and concert venues around the country.
Concerts are free with Festival of Arts admission. Wine and Chocolate pairings (for those 21 and over) are $15 in addition to Festival of Arts admission. Limited concert seating is available in the reserved section for an additional $25 per person, which includes Festival admission.
For more info call (800) 487-3378 or visit LagunaFestivalofArts.org.