Who is unmoved by "Death Of A Salesman?"
Certainly no one who ever worked for a living. Or grew up in a family. Or had a father. Or doubted one's choice of career.
Willy Loman is growing weary after too many years on the road peddling women's stockings. He is washed up, with almost nothing to show, in an America where a man who is "not just liked, but well-liked" is all-but guaranteed status, security and respect.
It is Willy's tragedy to have believed in the middle class myth. He dreams that his oldest son Biff will carry on in pursuit of the American Dream; will be "magnificent" where Willy somehow fell short. 
But Biff's tragedy is to smell the awful aroma of self-deception on his much-worshipped father. and it destroys him. We watch a family implode.
We see the tragedy of a man's pride overpowering a man's love.
It is a deathless piece of theatrical writing–timeless and timely, political and personal. It is stunningly effective.
What a disappointment, then, that SCR — an organization passionately and famously committed to American playwriting — seems oddly not up to the job in their production of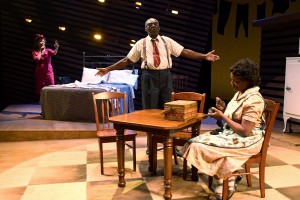 "Salesman" that runs through September 29.
Under Mark Masterson's direction, there is an air of tentative confusion here; of choices half-made.
Start with the theater's politically-correct pronouncement that the production is "ethnically diverse." With the exception of some very small roles, this is an African-American company. Why not embrace that fact? Having made a choice that promised fresh insights into a great, but 66 year old play, why shy away from pursuing them?
Why, for example, the bizarre and spectacularly distracting choice to have the two brothers speak in a thick would-be "Brooklynese," as if it were central to Miller's stylized speech (it's not).
Why ignore the obvious racial undertones when the insufferable young white executive fires Willy?
Why leave unexpressed the chilling irony that Willy's idolized older brother Ben is making his fortune blatantly exploiting the diamond mines of South Africa?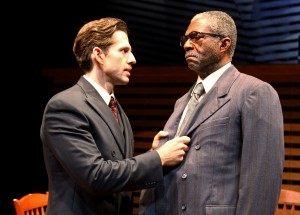 There is no law, of course, that says African-American casting "demands" an "African-American" interpretation (whatever that may mean). But Masterson seems to have made a tantalizing choice and proceeded to cut it off at the knees.
Even more fatal is theoverwrought attack on scene after scene. There is far too much shouting and not nearly enough nuance and listening going on here. The effect is, frankly, exhausting. Masterson seems to feel the need to remind us that this stuff is "heavy," selling out  in the process Miller's superbly subtle scene construction– not to mention his understanding of Stanislavski (he met Marilyn Monroe at The Actor's Studio, don't forget).
Finally, no discussion of  Salesman can ignore the presence of the actor who plays Willy. The role is huge (larger, famously, than Lear). It requires Olympian stamina and Herculean courage. 
Charlie Robinson is an actor of presence, depth, heart and power. There is a profoundly good Willy Loman inside of him. What a shame, then, that this unfocused production oppresses its full fruition. Here's an ardent hope he'll have another shot someday.
For ticket information, visit SCR.org.