A quartet of provocative plays take the stage at local theatres this month. One is an Ovation-nominated musical, another is a world premiere, a third is a west-coast premiere, and the fourth is a comedy that had its world premiere at South Coast Rep in 2004 and is being revived in Newport Beach.
"Having It All" at The Laguna Playhouse
Three decades ago, Helen Gurley Brown wrote a book called "Having It All: Love, Success, Sex, Money," which espoused the concept that women could balance a career and home life, and indeed have it all.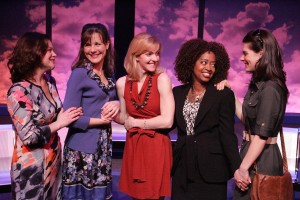 That concept has been translated into a musical called "Having It All," which premiered two years ago in Los Angeles and is having an encore staging at The Laguna Playhouse through March 31.
Most of the original cast has returned for the Laguna production, as has director Richard Israel. That's a good thing, because "Having It All" received rave reviews for its L.A. production, including praise for the music, lyrics and acting.
According to the press material, "Having It All" is about five women, each with her own hopes, secrets and desires, who find themselves trapped together in a boarding area at JFK airport. Endless airport delays force them to get to know each other, and as they share their stories and dreams, they discover that they may in fact already be having it all.
For tickets, call (949) 497-2787, or visit LagunaPlayhouse.com.
"The Whale" and "Smokefall" at South Coast Repertory
South Coast Repertory serves up some small town drama with larger-than-life themes this month in an intriguing duo of plays set on the hearths – and steeped in the mores – of America's Midwest.
Directed by Martin Benson, Samuel D. Hunter's "The Whale" opens March 10 on the Julianne Argyros Stage; the award-winning Hunter, who won the 2011 Obie Award for Playwriting for "A Bright New Boise," is also a former Idahoan who brings his own honest insights to the humor and pathos that infuse his works.
Who hasn't wanted to hide out at home in these tough economic times? For Hunter's protagonist Charlie, the reasons why are a coagulation of physical, emotional and spiritual crises that have kept him a virtual shut-away. He teaches writing online and masks his 600 pound physique from his students with a microphone instead of a web cam. With only an overzealous nurse and a Mormon missionary for a support group, he reaches out to his estranged teenage daughter when a "cardiac episode" leaves him with only days to live, with the hope that through his teaching, and her writing, he can forge a new bond and maybe pass on a few life lessons along the way.
By contrast, the world premiere of "Smokefall"- in a co-production with Chicago's Goodman Theatre- on March 29 begins with the imminent blessing of a birth. Written by Noah Haidle, who has previously premiered two other plays at SCR ("Mr. Marmalade" and "Princess Marjorie"), and directed by Anne Kauffman, this fantasy tale brings the charming eccentricities of one Midwestern family into their own magical light. As the three generations gather to reflect on the past, worry for the future, and hope for the best, they anticipate the changes to be wrought with the entrance of their own beloved Violet's twins.
For tickets, call (714) 708-5555, or visit SCR.org.
Brooklyn Boy at Newport Theatre Arts Center
Playwright Donald Margulies (Pulitzer Prize for "Dinner with Friends") penned "Brooklyn Boy" back in 2004, when it had its world premiere at South Coast Rep. It's being revived by Newport Theatre Arts Center in a staging directed by Gigi Fusco-Meese that runs March 29-April 28.
According to press material, the play follows the career of Eric Weiss, a writer whose novel hits the bestseller list the same time his life begins to unravel. It's a funny and emotional look at family, friends and fame.
For tickets, call (949) 631-0288 or visit NTAConline.com.