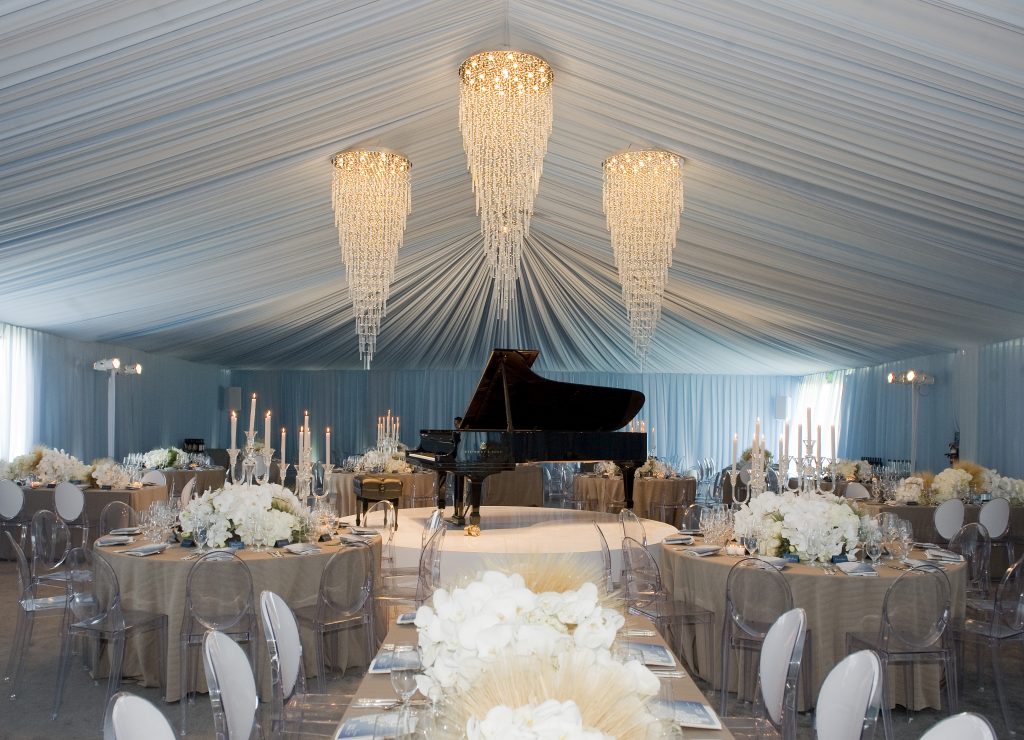 It was a dazzling evening of fabulous cuisine and spectacular music as The Philharmonic Society of Orange County presented its 2016 benefit gala featuring multi-Grammy Award-winning artist Yo-Yo Ma and pianist Kathryn Stott on Saturday, May 14, at Segerstrom Center for the Arts.
The evening began with a cocktail reception inside an elegant tent erected on the future site of the Orange County Museum of Art next to Segerstrom Concert Hall.
Guests strolled down a carpeted, tree-lined pathway to the reception, where they enjoyed flutes of Veuve Clicquot champagne.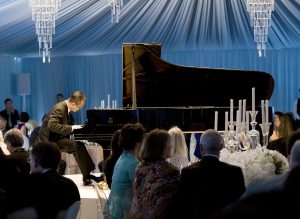 Once the main part of the ten opened, the 200+ guests entered a beautiful faux ballroom filled with flowers, chandeliers, draping and table-scape by White Lilac.
In the middle of the room was a Steinway grand piano set atop a white stage, upon which pianist Rueibin Chen, a renowned concert pianist, performed a trio of pieces between dinner courses.
And speaking of dinner, the event was catered by House of An, which locally owns AnQi restaurant in South Coast Plaza.
The dinner began with an amuse-bouche of cornet with lemongrass crab and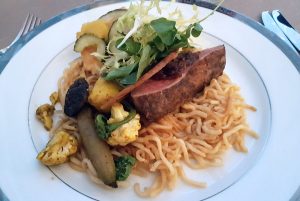 ostera caviar, followed by an opening trio: espresso of summer corn gazpacho with lobster, AnQi Bistro's signature tomba tuna taco and a quail egg tart with osetra caviar ramen aioli, paired with a chardonnay courtesy of Heitz Cellars.
John Mangum, president and artistic director of the Philharmonic Society, welcomed guests and thanked the gala's leaders for making the evening a tremendous success.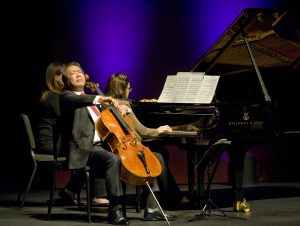 After Chen performed, the main course was served: a pan kissed Chilean sea bass with orange tsunomono salad, slow roasted duck breast, and organic summer vegetables paired with – what else – An's famous garlic noodles.
After dinner, guests strolled next door to Segerstrom Hall for a recital by world-renowned cellist Yo-Yo Ma and pianist Kathryn Stott, part of the Henry T. Segerstrom Legacy Series.
Although Segerstrom Hall can hold 3,000 people, Yo-Yo Ma made the room feel intimate and warm as he performed pieces by Bach, Sibelius, Debussy, Schubert, and several others composers. The performance garnered a well-deserved standing ovation.
After the concert, guests returned to the tent for a decadent dessert bar and post-concert drinks, plus the chance to talk to Ma and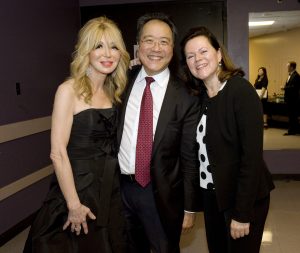 Stott.
The gala evening came courtesy of honorary gala chair Elizabeth Segerstrom and gala co-chairs Elizabeth An, Gloria Brandes, Katharine Brandes, Ishani Dhillon, Debra Gunn Downing, Barbara Hiller Johnson, Donna L. Kendall, Agnes Lew, Britt Meyer, and Andrew Sharp.
Gala sponsors included South Coast Plaza, Elizabeth Segerstrom, and William and Sakura Wang.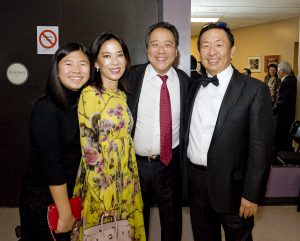 Proceeds from the evening benefitted the Philharmonic Society's artistic and youth music education programs. A portion of the funds raised from the evening will help support the Philharmonic Society's "Strike Up the Band!" program, which puts much-needed new musical instruments into Orange County schools and directly into the hands of schoolchildren to foster their passion for music.