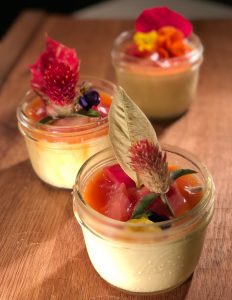 This is the time of year when sweet treats are everywhere you look, making it hard to resist nibbling that extra cookie or sampling another helping of pie. It also makes it hard to stay in shape!
That's why this week, we went in two different directions: Christopher attended a dessert tasting at Provenance Restaurant, while Catherine went the healthy route at Bowl of Heaven.
Just Desserts at Provenance
Executive Chef and Restaurateur Cathy Pavlos always seems to have something new and fun up her culinary sleeve. This month, it's desserts—and dessert cocktails.
Christopher invited fellow Indy writer Shelly Zavala – an admitted chocaholic – to a dessert tasting at Provenance to sample five new desserts: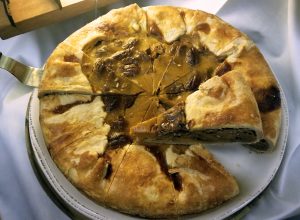 Apple Pie a la Mode on the Beach: Caramelized Granny Smith Apples, Bourbon-Candied Pecan Sauce, Spiced Cookies, Caramel, Vanilla Bean Ice Cream, Cinnamon Sand
Vanilla Bean Budino, Passionfruit and Rhubarb Compote, Edible Flowers
Old Fashioned Gingerbread Waffles, Brandy Spiced Poached Pears, Toasted Walnuts, Burnt Honey, Crème Anglaise
Pumpkin and Pecan Country Galette, Butter-Pecan Ice Cream
Dark Chocolate Tart, Torched Bananas and Marshmallow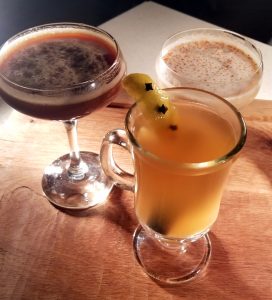 We also got to sample three new seasonal cocktails: Not Your Mother's Milkshake with bourbon, banana cordial, peanut butter stout reduction and whole milk ($14); Naughty Toddy with 1776 James E. Pepper rye and green apple cordial, served hot ($13); and black walnut espresso martini with Van Gogh vanilla vodka, Lavazza espresso, back walnut liquer cream ($13).
But before the decadent treats, we ordered a lovely beet salad, and one with tomatoes and cauliflower. Both were creative with ingredients, and tasted like they were fresh from the garden.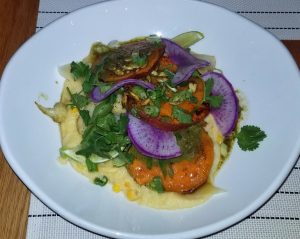 Then we were on to the sweets, and cocktails. Naturally we tried all of the desserts, and had our favorites: the vanilla bean budino (Italian for pudding), a beautiful presentation and a straightforward taste complemented by the passionfruit and rhubarb compote, and the gingerbread waffles with brandy spiced poached pears (we topped them with crème anglaise and also maple syrup).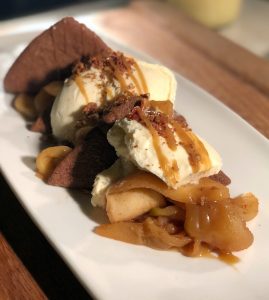 We loved all three cocktails. Christopher's favorite was the milkshake, which he said was the perfect seasonal drink, while Shelly savored her black walnut espresso martini.
For more information on Provenance, which is located in the Eastbluff Village shopping center, visit provenanceoc.com.
Heavenly Smoothies at Bowl of Heaven
After Thanksgiving, Catherine realized she needed to compensate for all the indulgent eating with a strict diet of veggies and fruit so, as she put it, "I can lose the waddle in my step I seemed to gain overnight."
One of my favorite ways to achieve that goal is with an açaí bowl from Bowl of Heaven on Bison Avenue.
"The bowls include a thick smoothie blend of superfoods, veggies and fruits with the option to add a plant protein," explained Catherine. "One of my favorite parts is the hemp seed granola which gives it a perfect crunch without being bulky, and they include some at the bottom of the bowl so you don't just end up with granola on top that disappears in minutes. The bowls are topped with your choice of bananas, honey, organic hemp flax seed granola, strawberries, coconut, blueberries or kiwis. My personal favorite is the North Shore Original Bowl, which blends organic açaí, strawberries, bananas, blueberries, apple juice and MAQ 7 for the smoothie and tops it off with organic hemp flax seed granola, fresh bananas and honey. For those that don't know, MAQ 7 is a blend of seven of nature's most exotic and powerful antioxidant rich super fruits and berries."
For more information, visit BowlOfHeaven.com.