With so many terrific restaurants in the greater Newport Beach area, we don't often venture far from home for our dining excursions, but sometimes it's nice to leave your comfort zone and visit restaurants across the county line.
We were invited to dine at Chianina Steakhouse and Michael's on Naples, both located within a block of each other in the Naples neighborhood of Long Beach.
Chianina and Michael's will both be serving their distinct cuisine at the inaugural Pacific Wine & Food Classic at Newport Dunes Aug. 19 and 20, and a month later at the Newport Beach Wine & Food Festival at the Newport Beach Civic Center, so we thought it would be fun to get a preview of what these restaurants have in store for us later this summer.
After dining a Chianina and Michael's on back-to-back nights, we understood why these restaurants are the talk of the town.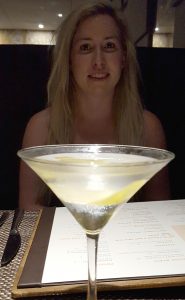 Chianina
Sounds like it could be an unusual dog breed or perhaps an exotic flower, but Chianina is actually a breed of cattle from Central Italy that dates back more than 2,000 years.
As the Chianina website explains, "The first time we tasted our namesake Chianina steak, we fell in love. It was unlike anything we'd ever tried. This was it. This was the steak we had to serve; nothing else would do. Because it's nearly impossible to find outside Italy, we knew we needed to raise Chianina cattle ourselves. It's the best steak you'll ever have, and this is one of the only places in the country where you'll find it."
But before we got to the steaks, we perused the cocktail list.
"My eye was drawn to the Black Cow Martini, which used a premium English vodka made from cows milk," said Catherine. "The drink was simple with a dry vermouth rinse and choice of olives or a twist of lemon. I choose the lemon twist and fell in love with the vodka, which was extremely smooth and almost creamy."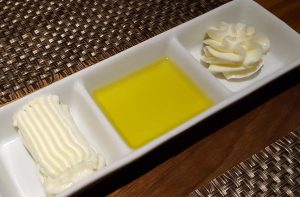 "The meal was off to a great start when the bread was delivered to our table along with an array of spread choices: mascarpone butter, olive oil and a regular butter," noted Catherine. "I love having the variety and tasting the different choices. My favorite was the salted honey roll with the mascarpone butter."
Our server opened the bottle of 2014 Riverain Syrah we brought with us (winery owners Laurie and Dean Gray live in Newport Beach) as we perused the menu and noted a variety of beef selections, ranging from a 40 oz. porterhouse Chianina beef steak ($260) to a Black Angus prime beef filet ($42).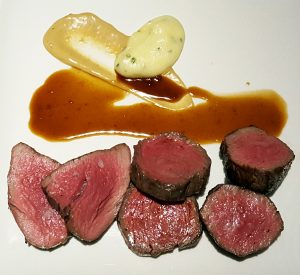 However, we were delighted to see a beef tasting option for $115 that included 4 oz of Chianina beef, 4 oz of prime Black Angus, and 4 oz of American Wagyu.
"This is a great way to compare and contrast the different types of beef they offer," said Catherine. "I loved the taste of the Chianina beef, it had a consistent tender and smooth texture in each bite. I was especially blown away by the American Wagyu which practically melted in my mouth but still had a distinct crisp edge to it."
"I agree, a perfect way to sample three distinct styles of beef," said Christopher. "And this wine is opening up nicely, and goes well with the beef."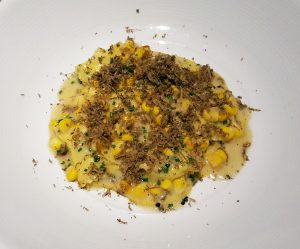 New to the menu was the Polenta Agnolotti ($22), which features yellow corn, summer truffle and goat cheese, so of course we had to order that.
"The corn was sweet and crisp, while the pasta was creamy, flavorful and all-around delightful. My taste buds sang with every bite. I also loved sipping the Vermentino 2015 Bolgheri that they brought us to try, it went perfectly with the agnolotti."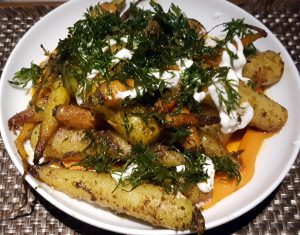 "I don't often find carrots as a full side on a menu, but I was excited when I saw heirloom carrots ($10) listed on the Chianina menu;" added Catherine. "The heirloom carrots are done in a vadouvan with yogurt. The carrots are cooked but still have a crispness to them. The herbs and spices in the dish really make this a treat reminiscent of curry dishes. I wish all vegetables could taste this amazing!"
"And I love the mushrooms ($12) that are farmed and foraged, and mixed with thyme," said Christopher. "They are sautéed but still tasted light and fresh."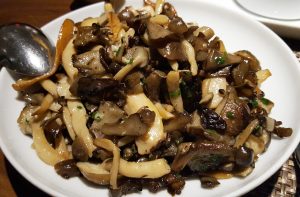 Somehow we managed to save room for dessert: chocolate caramel cake ($12) with cocoa nib brittle and caramel.
The service at Chianina was efficient and friendly, the ambiance upscale without being stuffy, and best of all the acoustics made it possible to carry on a conversation at normal volume.
Chianina was definitely one of our favorite dining experiences of 2017.
For more information, visit Chianina.com.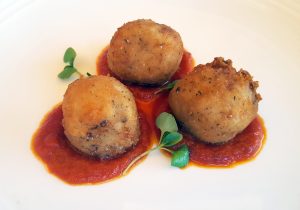 Michael's on Naples
After a wonderful experience at Chianina, we returned to Naples for dinner at Michael's on Naples, a block away from Chianina (we learned that they are both part of Michael's Restaurant Group, which owns both concepts along with Michael's Pizzeria and Working Class Kitchen,).
Michael's is consistently rated as the top Italian restaurant in Long Beach, and we soon discovered why.
We heard that the third Monday of every month is Meatball Monday, so we were looking forward to seeing what Michael's had in the way of meatballs and other Italian dishes.
We discovered that Michael's is two restaurants in one. Downstairs is a more traditional dining area with booths and tables, while upstairs is more casual and lively—which is where Meatball Mondays is held.
The special meatball menu featured Michael's meatballs and lamb meatballs ($12 per order of three meatballs), and arancini ($10) with forest mushroom risotto and mozzarella.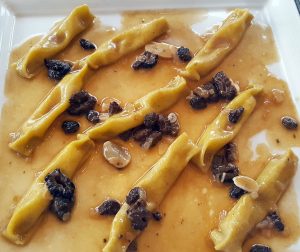 We ordered the Michael's meatballs and arancini, then perused the dinner menu. Catherine selected the Scarpinocc al Funghi ($22), which was a Taleggio cheese stuffed pasta with morel mushrooms and a brown butter sauce.
"The dish had the perfect amount of pasta so that you could enjoy it along with a couple of other course in true Italian style," said Catherine. "The brown butter sauce was a good consistency, it wasn't too light, and added a lot of flavor to the dish."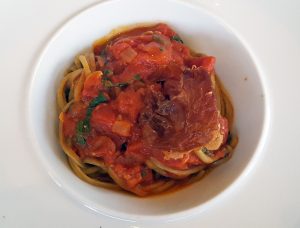 "The Michael's pasta ($18) is speaking to me," said Christopher. "It has prosciutto, tomatoes, onions, garlic and basil—a simple yet flavorful preparation."
Our knowledgeable server helped us selected the perfect Italian wine pairing for each dish.
"I was very impressed with the dessert list, which had both interesting desserts and their perfect pairing recommendation," said Catherine. "I choose the Pasticcino all Fragola ($12), a strawberry shortcake dish with creme friache biscuits, strawberry mint and vanilla whipped cream. It paired very well with the Brachetto d'Aqui with its light fruit and floral notes, and just a touch of fizz."
"They also have a great range of digestivos, a drink served at the end of the meal to aid in digestion, which was something I always enjoyed when dining in Italy and Greece," added Catherine.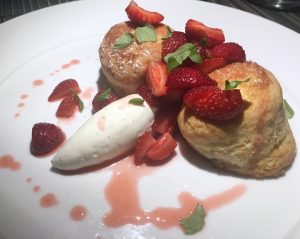 We both enjoyed the atmosphere on the rooftop, including the live music. Everyone around us was having a wonderful time, and we felt like we had discovered a fun local hangout that just happened to serve exceptional cuisine in an upbeat environment.
For more information, visit MichaelsOnNaples.com.
Michaels Meets Chianina
After our exceptional dining experiences at Chianina and Michael's on Naples, we learned that Chef Eric Samaniego of Michael's On Naples is holding his monthly Chefs' Dinner on June 28, and he's invited Chianina Chef Bryant Taylor to join him in the kitchen.
According to the info we were given, the two chefs will be "armed with a set of knives, local organic ingredients and their culinary talents as they create a nearly impromptu five-course dinner for 45 guests."
The cost is $70 per person and excludes alcohol, tax and gratuity.
"Chef Taylor and I are always talking shop," said Chef Samaniego. "Our restaurants are located two blocks from one another, and we're in constant contact with each other. I admire his talents and look forward to actually working side-by-side together. It's odd to say that, but it's a rare opportunity for the both of us."
Guests have come to expect the unexpected with Chef Samaniego's Chefs' Dinner.  It's a spontaneous evening where the menu isn't really determined until a day or two before, and is very much dependent on what the local farmers' markets have to offer along with Farm Lot 59, the popular Long Beach urban garden that caters to chefs.
"This should be a lot of fun, and I enjoy the creative aspect of it," said Chef Taylor. "Chianina is completely different from Michael's On Naples. We're a steakhouse that specializes in a very different kind of beef, Chianina, which is an Italian breed of cattle. I work with a lot of seafood as well. Michael's On Naples is northern Italian fare and, with the two of us working together, I have no idea what the end results will be."
You can find out the end result by attending the dinner. For reservations to the upcoming Chefs' Dinner, visit michaelsonnaples.com or call (562) 439-7080.