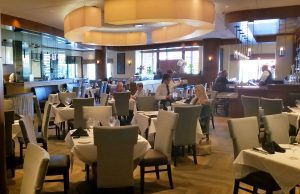 Newport Beach Restaurant Week started Monday, Jan. 15—how many restaurants have you been to?
I managed to visit five restaurants earlier this week to sample their special prix fixe lunch and dinner menus, ranging from upscale (Bayside and Fleming's) to casual (Dori Deli and CampusJAX) so something in the middle (Lighthouse Bayview Café).
A roundup of my Restaurant Week adventures:
 Monday lunch: Fleming's in Fashion Island.
I've been to Fleming's several times but never for lunch (they just launched lunch service), so their $25 Restaurant Week three-course lunch menu sounded enticing. It starts with a soup or salad, filet mignon or salmon fillet, and choice of dessert. An impressive price for food this good. I brought Laura Wise, the NB Indy calendar editor, with me so we could order one of each and compare notes.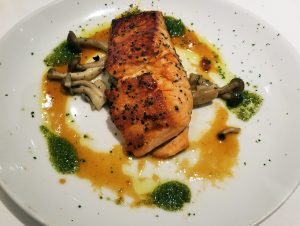 After enjoying bread with butter sprinkled with merlot salt, we started with the seasonal soup for me (a hearty seafood chowder) and a modern Caesar salad for Laura. Next came the porcini-crusted filet mignon (a petite six ounce cut with beech mushrooms and gorgonzola cream sauce) for Laura, and barbecue Glory Bay salmon fillet with beech mushrooms and barbecue glaze. Laura loved her filet, which she ordered medium rare, and I relished the salmon, which had a nice crispy outer layer and a soft, flaky interior.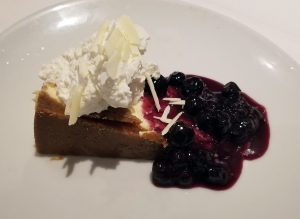 Dessert was a slice of New York cheesecake with graham cracker crust, blueberry sauce, and white chocolate shavings, which we shared. We agreed it was one of the best cheesecakes we've had in a long time. The other dessert was a gift box of Fleming's housemade truffles, which I let Laura take with her—after sharing one with me. The truffle was delightfully indulgent and decadent.
During lunch, we marveled at the restaurant's recent makeover. To prepare for its 20th anniversary in 2018, Fleming's underwent an extensive six month-long remodel. In addition to the larger patio, the changes include a new bar and a complete renovation of all wall and floor treatments, new furnishings, lighting, and detailed touches inside and out. The result: a lighter, more open, contemporary coastal ambience.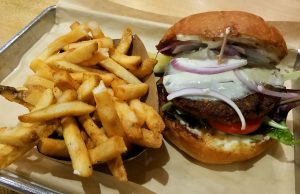 Monday dinner: Dory Deli.
Located near the Newport Pier, Dory Deli has a $10 Restaurant Week lunch menu that includes a choice of five entrees (including the Impossible Burger—a meatless burger that's impossibly good) and five sides. The $20 dinner menu is the same, but you can add house wine, beer or a cocktail.
I ordered the Impossible Burger from the Impossible Food company, so-called because it's made from ingredients such as wheat, coconut oil, potatoes, and heme, a basic building block of life on Earth, including plants, that's abundant in meat and makes it taste, well, like meat.
I was disappointed that the choice of beer was a Bud light (the house wines were not much better), but I ordered it anyway because beer belongs with burgers. The fries were a hit with my palate, as was the Impossible Burger.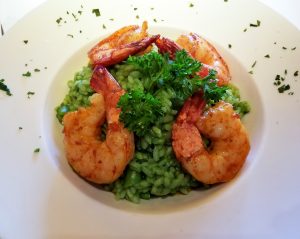 Tuesday lunch: Bayside.
One of my favorite spots to dine, Bayside has an impressive three-course lunch menu for $25 with choice of three starters, six entrees and two desserts. I opted to begin with the soup of the day, which was a lovely tomato bisque.
For an entrée, I selected a dish I've had at Bayside and loved—the tiger prawns atop a generous portion of Bayside's famous green risotto with snap peas. The shrimp are large, and the risotto with the snap peas is both flavorful and fun to eat. I finished with one of the desserts (always good at Bayside).
The $40 dinner menu is similar but with elevated entrees, and you can enjoy live music as you dine at dinner (Thursday nights features live jazz with Ron Kobayashi on piano and Jerry Mandel on sax).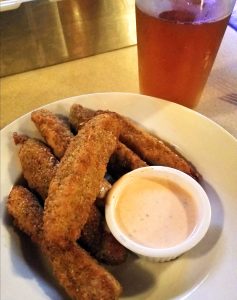 Tuesday dinner: CampusJAX
I was a fan of the old JACKshrimp restaurant, and was sad when they closed their last remaining location on Coast Highway several years ago. However, I was happy when CampusJAX opened on Campus Drive in the old Hoagy Barmichael's location across from John Wayne Airport. Same company, similar menu, different ambiance.
The Restaurant Week dinner menu for $20 is three courses—first course choices are Creole deviled eggs, jalapeno tuna dip, or fried green pickles, signs that you're not in Kansas, or California. I went with the fried green pickles, and was rewarded with a basket of six slices of dill pickles, battered and deep fried, and served with a spicy dipping sauce. My server said they're very popular, and I can see why. Definitely a different and fun way to start a meal.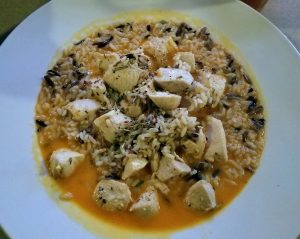 Second course options are kale Caesar salad, southern house salad or gumbo. The gumbo was hearty and a nice transition to the entrée course: choice of JACKrice, jambalaya or salmon & ancho chili bowl. It had been a while since I last enjoyed the JACKrice, so I welcomed the large bowl of rice in a spicy broth with generous chunks of chicken—plus bread for dunking in the sauce.
For my beverage of choice, I ordered one of my favorites: Towne Park Blonde, made by Brett Lawrence, who opened his Anaheim Brewery last fall and has been distributing his brews to many Newport restaurants (when he's not busy surfing near the Newport pier).       
CampusJAX offers live music on weekends and a full bar.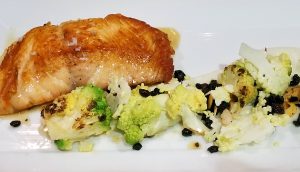 Wednesday dinner: Lighthouse Bayview Café
Lighthouse: The $30 three-course dinner includes a starter of soup or salad, a choice of three entrees, and one of two desserts. I chose the New England clam chowder, and savored the hearty chowder with bits of bacon. For an entrée, the maple glazed, cedar plank roasted salmon got my attention. It came with cauliflower puree (and chunks of cauliflower), currants, shaved and roasted romanesco and toasted almonds. The dish was pretty on the plate, and the salmon was perfectly cooked and tender.
For dessert, I selected (over apple pie a la mode) the warm beignets with cinnamon sugar and cream cheese icing. There are 10 beignets on the plate, enough to share but after you taste one, you won't want to!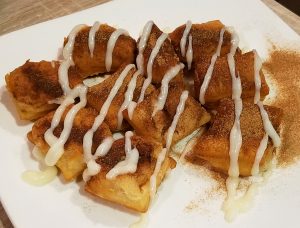 In addition to beer and wine, Lighthouse now serves cocktails. I tried the Thoroughbred ($12) with Bullett rye whiskey, lemon juice, and clover honey syrup, over ice. A perfect sipping cocktail to enjoy before, during or after dinner.  
Lighthouse also has a $10 lunch menu that's a choice of soup or salad, plus choice of two entrees. Dine indoors, or on the dog-friendly patio with heaters and harbor view.
Restaurant Week runs through January 28. Prix fixe lunches are $10, $15, $20 or $25, while prix fixe dinners are $20, $30, $40 or $50. Nearly 60 restaurants are participating in Restaurant Week. Visit DineNB.com for a complete list of restaurants and menus.