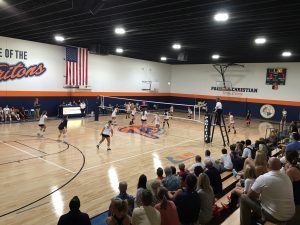 Pacifica Christian Girls Volleyball defeated Carnegie School (formerly Riverside Christian) in three straight sets on Wednesday, Aug. 24 to improve to 2-0 in their inaugural year competing at the Varsity level. 
The Lady Tritons, led by former Newport Harbor alum and Princeton graduate Jennifer Darrow, defeated the Cougars from Riverside in three exciting, tense, action packed sets.
The first set saw the Lady Tritons get out to a big lead and ultimately defeating the Cougars 25-18. It was the second set that produced the most action, with the Lady Tritons falling behind early 2-10. After a brief timeout, the Lady Tritons turned on the heat and went on a 10-3 run to make it a one-point game, 12-13. The Lady Tritons went on to win the second set 25-22.
Leading the charge was sophomore outside hitter Maddie Alaluf and sophomore setter Maddie Gates. Alaluf recorded two aces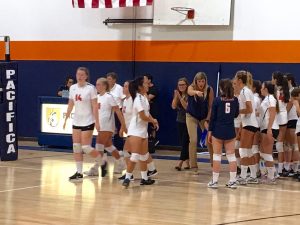 and four kills while Gates recorded four aces and seven assists. On the defensive side, sophomore Katherine Spoolstra recorded six digs, while sophomore libero Sydney Penticuff recorded five digs.
The third set was also won by the Lady Tritons, 25-22.
The Lady Tritons play again on Tuesday, Aug. 30, when they travel to Anaheim to take on the Huskys of Fairmont Prep. Start time is 4 p.m.