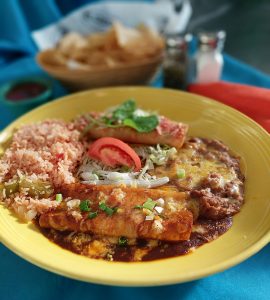 In the often-fickle culinary world, the words "restaurant" and "longevity" are seldom used in the same sentence. There are a few that have survived numerous trends and recessions, such as Five Crowns in Corona del Mar, which several years ago marked 50 years in business.
However, down the street from Five Crowns is another restaurant nearly twice as old yet still going strong: El Cholo, which celebrates its 95th anniversary next week.
Let me clarify—the Corona del Mar location opened three years ago and is owned by Ron Salisbury, who also owns The Cannery restaurant. However, his family's history in the restaurant business goes back much further. Ron's grandparents opened their first El Cholo restaurant in 1923 near the Los Angeles Coliseum. Salisbury's parents eventually opened their own El Cholo. After college, so did Ron. Now, there are six El Cholo Mexican Restaurants in southern California including three in Orange County: La Habra, Corona del Mar and Anaheim Hills.
To mark El Cholo's 95th anniversary on October 23, all El Cholo restaurants will be offering their popular No. 1 combo for only 95 cents.
I met up with Ron recently at the Corona del Mar location to try the No. 1 combo, which includes a cheese enchilada, rolled beef taco, Spanish rice and refried beans. I also tried the green corn tamales and the tableside preparation of guacamole.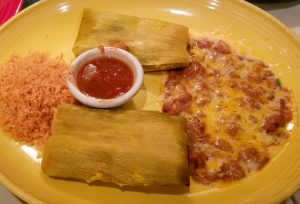 No wonder El Cholo has remained so popular for so many years—the food tastes fresh, the flavors are pronounced and well-integrated yet not overpowering, and the restaurant itself has a fun, upbeat ambiance.
The menu lists the dishes and the year they were added to the menu. The combos were added in 1938, while the green corn tamales are from the original 1923 menu.
Ron also told me about his soon-to-open new restaurant, Louie's on the Bay, an Italian steakhouse set to take over the space briefly occupied by The Ritz Seafood on Coast Highway in Newport Beach.
Louie's is a partnership between Ron and restaurateur Piero Selvaggio, the longtime owner of the Italian restaurant Valentino in Santa Monica, which opened in 1972. Valentino's is scheduled to close at the end of this year so Selvaggio can focus on this new endeavor. Ron told me they'd love to get Louie's open sometime in November. I'll share more details soon.
For more information on the Corona del Mar El Cholo, call (949) 777-6137 or visit ElCholo.com.