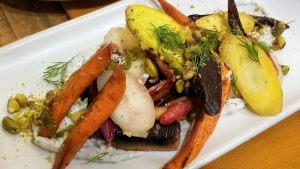 Best-selling healthy-living author Dr. Andrew Weil is a proponent of healthy dining, so it's no surprise that his culinary concepts are behind the menu at True Food Kitchen in Fashion Island.
Opened in 2010, True Food Kitchen offers a globally-inspired menu that's focused on good food that's good for you, with a variety of vegetarian, vegan, gluten-free  and sustainable food options.
We've been fans of True Food from day one, and always enjoy returning to check out new menu items.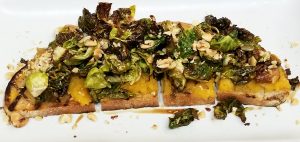 We were invited to True Food this week to taste items from their new fall menu, created by Executive Chef Chris Polley: roasted heirloom carrots ($11), winter squash toast ($10), seasonal ingredient salad ($14.50), butternut squash pizza ($16), Moroccan chicken ($21), and of course the legendary squash pie, which is available by the slice or as a whole pie to go.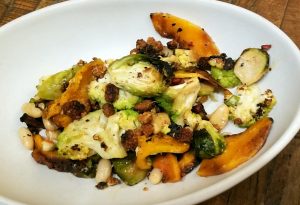 "The fall menu at True Food Kitchen is always my favorite," said Catherine. "This year I have a new favorite menu item—the Winter Squash Toast which has soft roasted squash on top along with brussels sprout leaves, caramelized onion, lemon, saba hazelnut and a touch of maple syrup. The combination of flavors is wonderful and the addition of brussels sprout leaves helps balance the sweetness of the squash."
The bread for the squash toast – organic whole wheat made in a style similar to sourdough – comes from La Brea Bakery. It's lightly brushed with olive oil and then grilled, which gives the toast a nice smoky flavor.
"The bread is able to hold up the ingredients without having to be completely crisp so it's easy to eat and share without making a mess," noted Catherine.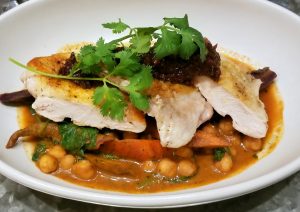 "The Seasonal Ingredient Salad is a must try," added Catherine. "I've never been a huge salad fan, but this is a fabulous medley of veggies with brussels sprouts, butternut squash, cauliflower, white bean, pomegranate, toasted mulberry (which I seldom see as an ingredient) and a horseradish vinaigrette. I loved the pop of sweet from the pomegranate mixed with the smoke from the toasted mulberry and the savory of the other ingredients."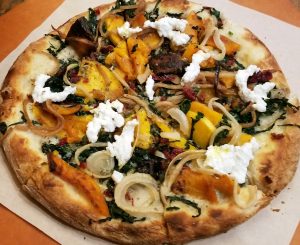 Catherine is a pizza lover, so she relished the Butternut Squash Pizza with smoked onion, squash, organic kale, dried cranberry and vegan almond ricotta. If needed, you can request a gluten free crust which is a certified Pita Bread.
The squash pie has easily become our favorite holiday dessert. It's made with a graham crust and coconut whipped cream.
"This vegan and gluten-free pie is a must for Thanksgiving and wins over any pumpkin pie I've ever had," stated Catherine.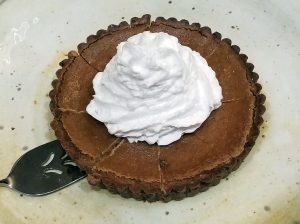 "I agree," said Christopher. "A terrific pie. And I liked the Moroccan chicken—it's very tender, and the flavors of mission fig, heirloom carrot, chickpeas, olive and spinach blend well together."
We also sampled three new beverages: Pomegranate mojito, orchard bourbon sour, and pressed apple soda. All met with our approval.
For more information, visit TrueFoodKitchen.com.