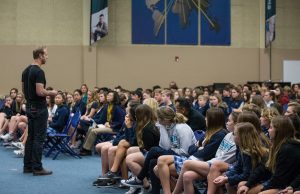 Jake Harriman, a Bronze Star recipient and founder of Nuru International, spoke to 350 middle school students, parents, and teachers at Mariners Christian School to kick off the school's "Difference-Maker" chapel series.
"It was wonderful," said Ali Bray, Community Connections liaison and coordinator of the "Difference-Maker" series. "Jake's message captivated students, but was relatable and inspiring.  Students have been buzzing in the hallways, during study hall, and around their dinner tables, about Jake's message."
Jake graduated from the US Naval Academy and served seven years in the Marine Corps as a platoon commander in both the Infantry and a Special Operations Unit called Force Recon.  He led Marines in four operational deployments through Southwest Asia and the Middle East, Africa and Southeast Asia, including two combat tours in Iraq.  Jake was awarded the Bronze Star for actions in combat during his second tour in Iraq.
After Jake left his job as platoon commander he was inspired to begin Nuru International in 2008 after seeing the effects of extreme poverty in war-torn regions.  He believes that many problems, including terrorism, can be eradicated by ending extreme poverty.
Nuru International is a U.S.- based social venture working to end extreme poverty by training and equipping leaders in remote areas to design and implement solutions to their community's needs.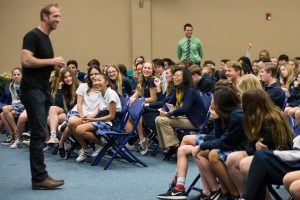 Nuru means "light" in Swahili.  Nuru currently works in Kenya and Ethiopia.  Nuru's vision is "to create a world where every person has the ability to make meaningful choices to improve his or her life in a lasting way."
Jake is a Stanford University Graduate School of Business alum, has been honored as a White House "Champion of Change," as well as a Dalai Lama "Unsung Hero of Compassion."   He's been featured on CNN, ABC News, Fox News, Forbes Magazine, and the New York Times.
In 2015 Jake delivered the graduation speech for the inaugural class of the Presidential Leadership Scholars in front of President Clinton and President Bush at the George W. Bush Presidential Center.
"The Difference Maker chapel series is designed to help students identify tangible problems or needs they can step into as a solution as a living, breathing difference makers in their world," Ali explained. "A leadership grant of $500 has been set aside as seed funding for one idea, one solution to a social issue from middle school, and one from elementary."
Elementary students heard from Jessie Simonson, co-founder of 31 Bits Jewelry in Costa Mesa.  Eight years ago Jessie and four college roommates worked with six artisans in Uganda who were creating jewelry out of old magazines.  The young women began selling the jewelry. Today 31 Bits is a thriving company employing artisans in Uganda and Indonesia, providing a sustainable income and holistic education including financial, health and business training.
Students are busy submitting ideas.  A team of teachers and staff will select winners and provide mentorship to the grant winners as they implement their solution.
"Immediately after chapel, three groups of students came wanting to do something now," said Middle School Principal Heather Harrison. "One group didn't know what to do but wanted to begin seeking God's will and asked how they do that. Another group feels called to spread kindness and stop bullying, and another group feels called to minister to kids who are in the hospital long term by visiting, hanging out, playing games, and praying with them. The heart behind that is so beautiful and it's definitely a need.  Since then more students have come in to process, pray, and dream. That's where it all starts—with prayer and a dream from God. Next comes action."
For information, visit marinerschristianschool.com.
Cindy can be reached at [email protected].