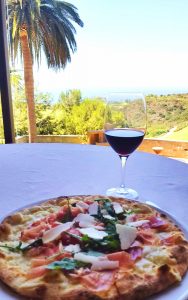 Another year has come and gone already, and with it 52 weeks of memorable dining experiences.
We often dine out two to three times a week, so trying to reflect back on our favorites this year was rather challenging. However, we managed to come up with a list of our top 10 dining experiences of 2017, plus Top 10 honorable mentions.
The list is in alphabetical order.
 Andrea Restaurant at Pelican Hill Resort: Chef Troy Mendoza was recently promoted to Chef de Cuisine at Andrea, and is continuing the restaurant's reputation for superb cuisine. Last time there, he prepared a classic prosciutto and arugula thin-crust pizza for us, along with two seasonal specials: duck ravioli and scallops. The duck ravioli is his own recipe, while the scallops were a daily special. The pizza is as perfect as you can get—the flavor combination is insanely good. They also have staples like parmesan wheel risotto, and the service is still impeccable. One of the finest dining spots in OC.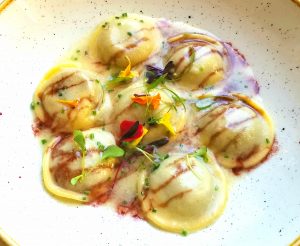 Crack Shack: Celebrity Chef Richard Blais brings his chicken concept to Costa Mesa's 17th street and is an immediate hit. Why? Fun upbeat atmosphere, friendly staff, and terrific food that matches the ambiance. The French fries are some of the best in town, the biscuits are delicious, the poutine a must, and the sandwiches all creative and a lovely mess to eat.
 Lighthouse Café: A still-hidden gem on Balboa Peninsula, Lighthouse Café is owned and operated by Ruby's Restaurants, although you'd never know it because the menu is as far from Ruby's burgers and fries as you can get. The seasonal menu offers plenty of options such as short rib grilled cheese sandwich served with tomato soup, and the addicting beignets (Christopher's favorite in OC). Since opening a year ago, the restaurant has really perfect its cuisine, which is served in a casual setting overlooking Newport Harbor. The dog friendly patio is a terrific place for breakfast.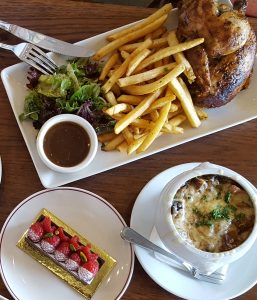 Marche Moderne: We can't say enough good things about Marche Moderne, which closed its South Coast Plaza location earlier this year but reopened in the Crystal Cove Shopping Center last fall. The menu has plenty of new items plus classic Marche favorites and a trio of dishes from Chef/Owner Florent Marneau's long culinary career. On our last visit, the experience was over the top—our butter tasting was unique and interesting, the specials were elevated and so well done by a staff that is knowledgeable about the menu and food in general. The ambiance is upscale but unpretentious. Can't wait to go back.  
 Mix Mix Kitchen Bar: We were devoted fans of Chef Ross Pangilinan when he helmed the kitchen at Leatherby's Café Rouge at Segerstrom Center. For more than five years, Chef Ross created clever menus that excited the senses. He left Leatherby's last year and opened Mix Mix Kitchen Bar in downtown Santa Ana—well worth the short drive. We dined here several times in 2017, and each time was an exciting experience. The menu changes frequently, and Chef Ross pays attention to details in his dishes, creating works of culinary art that are both fun and series. From Sunday brunch to weekday dinners to a multi-course chef's table experience, Mix Mix just keeps getting better. Oh—and the cocktails are also elevated beyond the norm.
 Moulin: We've dined at this Newport Beach bistro several times together, but Christopher has breakfast meetings at Moulin several times a month and is admittedly addicted to the croque madame. This is as French as they come, and as delicious. Normally open for breakfast and lunch, Moulin also offers special prix fixe dinners on Tuesday and Thursday nights that are fun and a great value. Their Beaujolais Nouveau wine dinner in November was a blast, as is their steak frites night. A Laguna Beach location opened earlier this year and while smaller offers crepes and French-style hot dogs. No matter which location you try, c'est magnifique!
 Royal Hen: Taking over the Amelia's Restaurant spot on Balboa Island, Royal Hen opened earlier this year and has been a local go-to spot for fun home-style cuisine. Last time we dined here, the off-the-menu offerings were more interesting than the menu dishes. We had a burger (not on the menu) and the chicken pot pie (again not on the menu), which Christopher declared was the best he's ever had—not that you see chicken pot pie on many menus. The restaurant is cozy, and makes you want to wander around town after dinner and maybe grab a balboa bar across the street.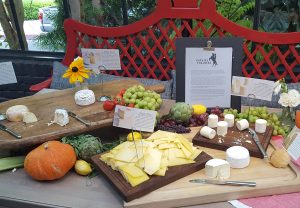 Side Door/Five Crowns: Five Crowns and the adjoining Side Door are both consistent with their respective food and beverage programs. Five Crowns continues to experiment and evolve its menu, and has added wine dinners and other special events. Side Door has added a cheese event once a month, and in January they'll host a special tasting party of the previous four month's worth of cheeses (plus gourmet charcuterie and breads). These are two restaurants where we always anticipate a great experience–and always get one.
 Water Grill: We've been here for both lunch and dinner, and have been impressed with this restaurant that replaced Scott's Seafood near Segerstrom Center and South Coast Rep. Lunch is less crowded and more relaxing, with sunlight streaming through the windows to highlight the nautical décor. The seafood is fresh (the fish and chips are fabulous) and the sauces are a perfect accoutrement. Catherine dubbed this a "sea to table" restaurant instead of farm to table. Good wine list and good service.
 Zinque: The first restaurant to open in Lido Marina Village a year ago, Zinque offers good food with a view. Catherine has bene here several ties and says it's an easy spot to meet up with friends for a drink and appetizer at the bar—or even a full dinner. Catherine loves the unique menu options, including the interesting flatbreads. As she notes, "different options for different palates."
 HONORABLE MENTION
 Andrei's: In Irvine near John Wayne Airport, Andrei's consistently delivers an excellent dining experience thanks to a creative menu.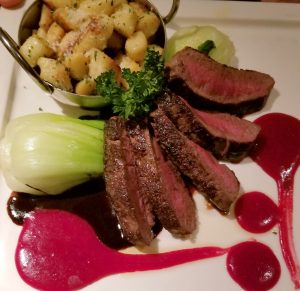 Bayside: Christopher dined here many times this year, and will keep returning thanks to the consistently excellent service and dishes, and the nightly live music (the great Ron Kobayashi plays piano there most Thursday nights, and the Friday night jazz jam session is always a great time).
 Chianina: We snuck over to Long Beach to try this upscale steak house. Our opinion—WOW! Expensive but worth every penny.
 Fig & Olive: Yes it's loud at night, but lunch and early dinner reveals delightful menus in a classy setting. 
 Las Brisas: A surprise this fall was a new chef doing some wonderful things in the kitchen to make the cuisine match the fabulous view. Don't miss the new burger with foie gras aioli!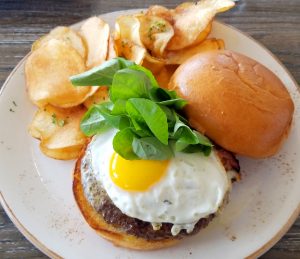 Lido Bottle Works: Another Lido Marina Village newcomer that is chef driven and creative.
 Montage/Studio: Christopher has dined here several times and attended special food events, and cannot say enough good things about the culinary program at the Montage, and Studio.
 Provenance: Tucked away in a small shopping center, Chef Cathy Pavlos is constantly creating amazing cuisine. The warm biscuits alone are worth a trip.
 Sushi Roku: Our favorite sushi spot. Inventive menu includes more than just sushi. Christopher loves the saki flights, and the over-the-top desserts.
 The Winery: This restaurant has garnered numerous awards for its cuisine and wine list, and with good reason. Chef Yvon Goetz loves his wild game, and has a menu focused on hearty fare as well as seafood. Terrific view matches the service.