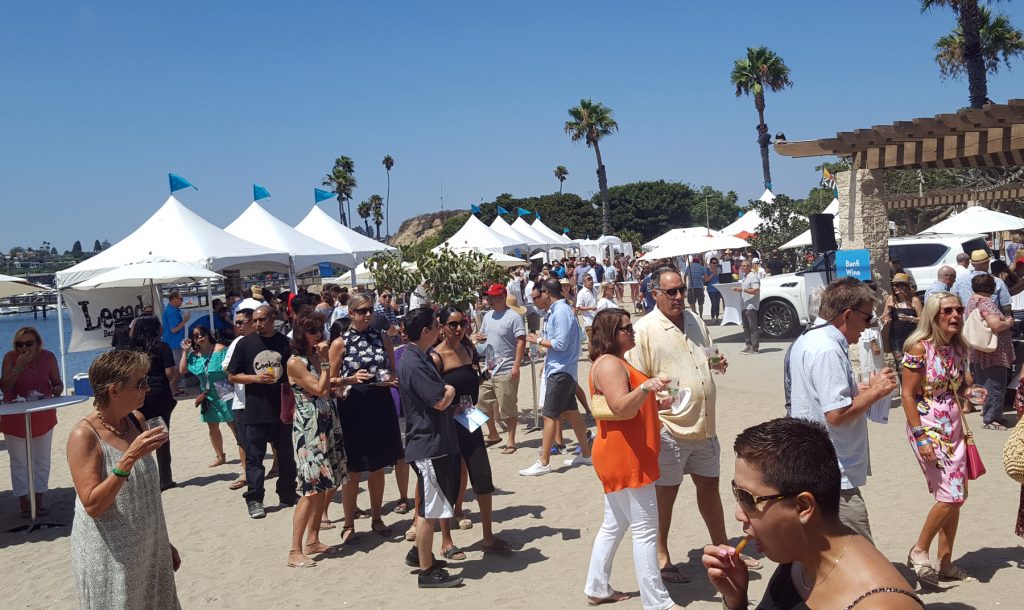 The inaugural Pacific Wine & Food Classic at Newport Dunes has come and gone, but the flavors still linger on our palates. We were impressed with the quality and creativity of the cuisine served at the event, and the fact that most of the restaurant chefs were actually there preparing and serving the food.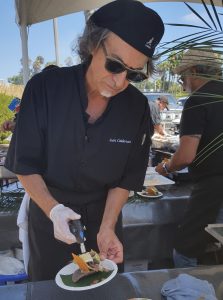 We said hello to Chef Ivan Calderon of Taco Rosa, who was using a blow torch to melt cheese on his petite tacos (which were sensational), and to Brett Lawrence of Towne Park Brew Co, who was pouring samples of beer from his soon-to-open brewery.
We watched Chef Pascal Olhats, Chef Jamie Gwen, and Chef Wing Lam (Wahoo's Fish Tacos) perform fun cooking demos, and sampled several wines (although we found the varietals available for tasting a little underwhelming).
Among our favorites: veal, beef and pork meatballs with chorizo gravy from Panxa Cocina in Long Beach, short rib tacos from SOL Cocina in Newport Beach, and incredibly tasty meringue cookies with special fillings from Mixed Bakery (Mixed-Bakery.com), whose owner and chief baker Elyssa Fournier lives in Corona del Mar.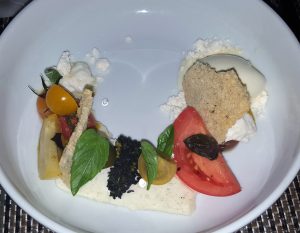 But even more impressive was the Pacific Wine & Food Classic kickoff event held at Fig & Olive in Fashion Island and hosted by Food Network star Simon Majumdar and prepared by George Neyra, Chef de Cuisine of Fig and Olive (Neyra was most recently executive chef at The Ritz Prime Seafood, which closed earlier this year).
Christopher attended the dinner, which was priced at only $95 for five courses, with an optional wine pairing for each course for an extra $38—a bargain considering the venue and wines.
The dinner began with a tomato sundae (with olive oil gelato) followed by seared foie gras with peach melba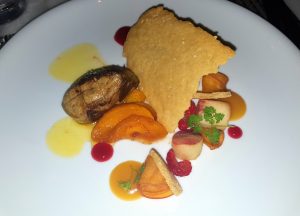 and vanilla Gran Marnier gastrique, both of which were works of art on the plate and on the palate.
The sweet corn soup had generous chunks of butter-poached Maine lobster, and was so delicious that Christopher was tempted to lick the bowl clean.
The prime beef featured a topping of bone-marrow butter with wild mushroom fricassee and Langres cheese potato puree, and was a decadent indulgence when accompanied by a Napa cabernet sauvignon.
The meal was capped with pineapple mille-fueille.
After dinner, Christopher asked Chef Neyra his inspiration for the menu.
"These are the greatest hits from throughout my career," explained Neyra. "I worked with Michael Mina so you have to love tomatoes, which is evident in the tomato sundae. We have extra sweet corn right now, so the sweetness of the corn soup balanced out the lobster. And the filet is a simple steak and potato dish."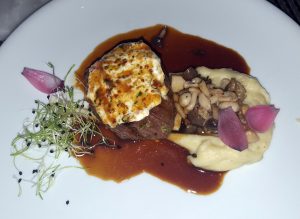 "Not so simple—that was elevated a few notched above the norm," replied Christopher.  
Chef Neyra said he has bene at Fig & Olive for about four months, just long enough to put his own culinary stamp on the menu.
"I've been changing the kitchen and mentality—it's a good time to reinvent the wheel," he said. "I'm proud of my kitchen."
Chef Neyra noted that he was a bit constricted at The Ritz due to the nature of the restaurant, but Fig & Olive gave him carte blanche to do whatever he wanted, which resulted in the creativity displayed in the evening's menu.
For more information, visit FigandOlive.com.