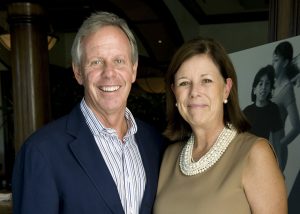 John Markley loves wine. Really good wine. And the Laguna Beach resident (a recent transplant from Newport Beach) enjoys sharing his wine, especially if it's for a good cause.
This month, he and his wife, Janice, are the honorary chairs for a special wine tasting event to be held on Sept. 14 at Big Canyon Country Club in Newport Beach to support The Wooden Floor, a nonprofit organization that offers year-round dance, academic, college and career readiness, and family service programs for low-income youth.  
The Markleys have collected and donated over 350 bottles of exquisite (and even rare) wines to be uncorked at The 11th Annual "Keep the Promise" Wine Tasting Benefit, which features a dozen highly-rated wines from France, Italy, Spain, Australia, Oregon, and California. This year's collection features wine averaging 97 points, including one wine valued at $200 per bottle and rated 100 points (2010 Clos du Caillou Chateauneuf du Pape Reserve from France).
The event features a strolling blind wine tasting competition, a variety of appetizers and cheese displays, auctions and opportunity drawings, and success stories shared by Wooden Floor students, most of whom come from extremely low-income backgrounds and are usually the first in their families to go to college.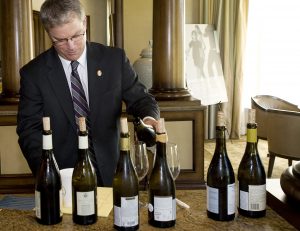 "We are very proud that The Wooden Floor continues to see a 100 percent high school graduation and college enrollment rate from our alumni." says Chief Executive Officer Dawn S. Reese. "As the size of our graduating classes increase, so has the need for the tools and resources we provide for these young people to be successful in school and in life. We are grateful for the support we receive from sponsors and attendees, so we are able to keep the promise we make to each of our students: from here, you can step anywhere."
The "Keep the Promise" wine tasting also has a remarkable success rate. Last year the event raised more than $400,000, and over the past decade has brought in more than $2 million for the organization.
"The first year we made maybe $30,000, but it kept getting bigger and started to bring in some really good money," noted John Markley, who launched the wine tasting event while serving on The Wooden Floor board of directors. "Wine is one of my favorite subjects, and I wondered how we could raise money with wine."
So how does Markley obtain these amazing and often highly allocated wines?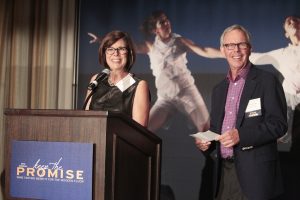 "I read the Wine Advocate and Wine Spectator every month, study them, and circle the wines rated 95 and above," explained Markley. "I choose them based on which wines I think everyone would like, rank them, and then start calling the wineries. The winery owners are really generous people, they give a lot back to the community, but some of them don't think I'm going to keep 36 bottles of wine. They think I'm going to flip them and resell them, but after I send them information on The Wooden Floor, they call back and say you got it."
Markley has been so successful in obtaining wine that he already has everything he needs for the next seven years of the "Keep the Promise" wine tasting.
According to Markley, the wines made in California since 2012 have been exceptional, and he has wines rated 98 to 100 stored and waiting for a future event.
The Wooden Floor also has an exceptional track record, noted Markley.
"To see where The Wooden Floor was when we started this event and to see how far they have come is remarkable—they get better and better every year," said Markley. "And the attitude of the students is so positive. The staff is fantastic, they make it easy for me to put in a lot of hours on this event."
Tickets to the "Keep the Promise" wine tasting are $350 per person, $250 of which is tax deductible. RSVP at (714) 541-8314 ext. 124 or at TheWoodenFloor.org/WineTasting.
 And for the wine aficionados curious as to which wines Markley has gathered for this year: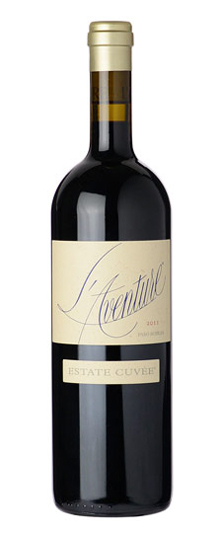 Red wines include 2008 Antinori Guado al Tasso Bolgheri from Tuscany, Italy (98 points), 2005 Cellar Vall Llach, Vall Llach from Priorat, Spain (96 points), 2010 Clos du Caillou Chateauneuf du Pape Reserve from Rhone, France (100 points), 2010 Domaine Serene Pinot Noir Evenstad Reserve from Willamette Valley, Oregon (95 points), 2011 L'Aventure Winery Estate Cuvee from Paso Robles, California (98 points), 2010 Terlato & Chapoutier Syrah de Malakoff from Victoria, Australia (97 points).
White wines include 2012 Aubert Chardonnay Larry Hyde and Sons Vineyard from Carneros, California (96 points), 2009 Chapoutier Saint Joseph les Granits Blanc from Rhone, France (98 points), 2012 Cullen Wines Chardonnay Kevin John from Margaret River, Australia (96 points), 2010 Domaine Bonneau du Martray Corton-Charlemagne Grand Cru from Burgundy, France (96 points), 2011 Paul Lato Chardonnay Le Souvenir Sierra Madre Vineyard from Santa Barbara, California (97 points), 2010 Domaine William Fevre Chablis les Preuses from Burgundy, France (97 points).