Lido Marina Village has been attracting attention ever since its remodel nearly two years ago. Since then, three popular restaurants have opened: Zinquè, Lido Bottle Works and the world famous Nobu.
Make that four restaurants. Circle Hook opened its doors this week in a small 1,000 foot space between Zinquè and Lido Bottle Works, and already people are flocking to this fast-fine-casual eatery that boasts a variety of fresh seafood dishes served in an upbeat nautical atmosphere with views of Newport Harbor.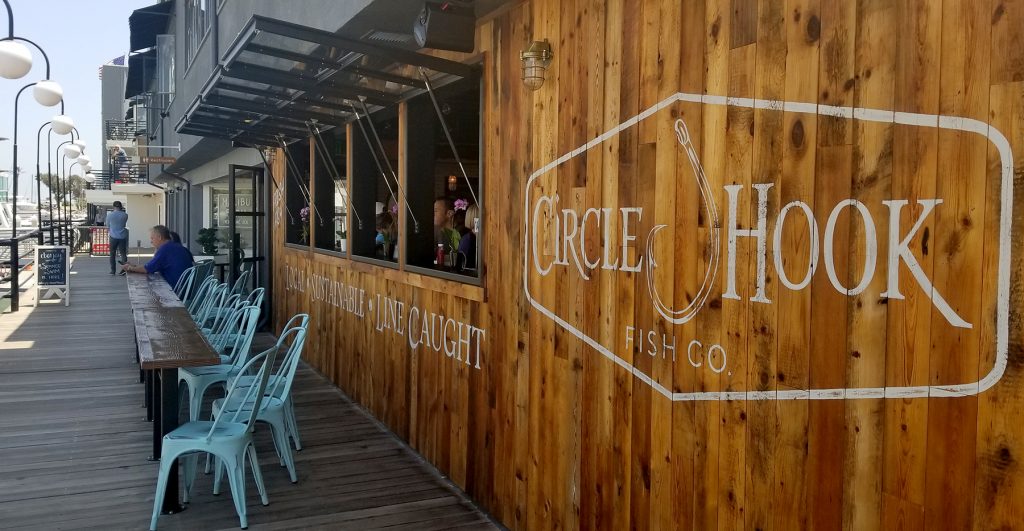 Circle Hook (named for the type of fish hook that allows for easier catch and release) comes to Newport courtesy of Thos Carson, founder of the ever-popular Bear Flag Fish Co. and Wild Taco, and Scott Breneman, a fourth-generation Dory Fleet fisherman and the man behind West Caught Fish Company.
"We're both fisherman," Scott told me last week while getting the restaurant ready to open. "Four generations of my family have done commercial fishing, and Thos has his own fishing operation. That's why we came together—we can put two names to one restaurant."
Scott explained that Circle Hook is "a fish and chips oyster bar concept, with an Asian fusion twist on a lot of the items. It's a different menu than Bear Flag."
The restaurant has 22 seats out front, 21 inside, plus the common area, although Scott expects many people will order to go.
The menu features fish and chips, clams, muscles, calamari, crab chowder, lobster bisque, lobster rolls, po boy and other seafood items.
"I have four boats from Ensenada to Santa Barbara, and I know every fisherman on the coast, so we can source whatever is seasonal. It's line caught, local, sustainable, traceable—those are all things we are paying attention to.
And about the fish and chips—Scott said they use vodka in the batter, which shocks the fish and keeps it crispy longer.
So naturally, on opening day I was in line with other seafood lovers to try the fish and chips ($15), which I found out includes three pieces of fish plus fries and one side. I opted for the organic forbidden black rice, which sounded exotic.
After placing my order, I sat down outside on a chair facing the bay and watched the boats until my order was delivered.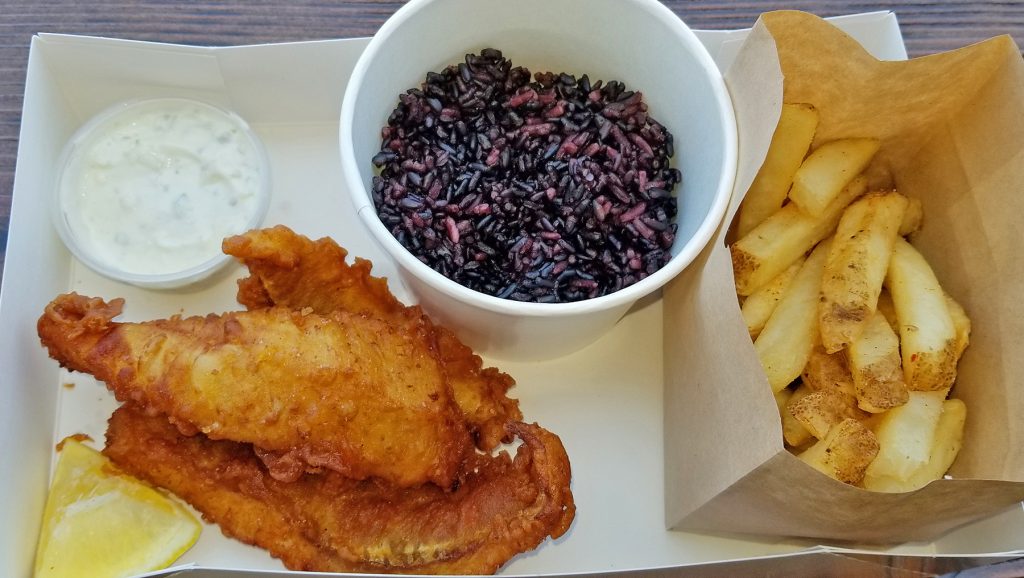 The fish and chips were indeed delicious—obviously fresh fish, lighter than most other fish and chips I've had due to the tempura style. The fries (served in a small paper container) were tasty, but the rice was oddly dry and tasteless and came out lukewarm, as opposed to the fries which were piping hot. Chalk it up to opening day. I have no doubt the restaurant will be a hit. I'll be back soon to try some of the other items.
Circle Hook is at 3432 Via Oporto, Ste 104. No website or phone number that I can find, but they're open for lunch and dinner so check them out next time you're in the Lido area.