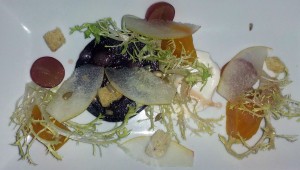 By Christopher Trela & Catherine Del Casale | NB Indy
This year, Five Crowns – a true icon of OC's culinary world – celebrates its 50th year of serving fabulous food at its charming restaurant in Corona del Mar.
This month, Executive Chef Steve Kling launches his fall/winter menu and beverage program. We had the chance to preview several new menu items last week, and came away truly dazzled by the new dishes.
This is not your old-school Five Crowns, although many of the more traditional items (roast beef, creamed corn, etc.) are still on the menu. However, it's the new menu items that we think are the most intriguing, and pleasing.
We started with a lovely roasted beet and pear salad with goat cheese crème fraiche, frisee, grapes and sunflower seeds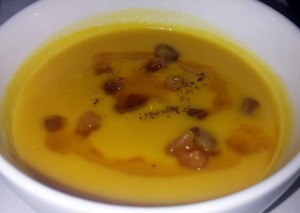 that hinted at creative things to come.
We were blown away by the butternut squash soup with maple glazed pancetta, which was paired with a Roederer estate champagne.
"The dish was perfect for this cool weather, and the champagne helped cut through some of the heaviness you would normally find when eating a bowl of soup," noted' Catherine. "Not a drop was left of either the soup or champagne when we were done."
"I agree, this is like eating pureed squash—the flavor pops out," said Christopher.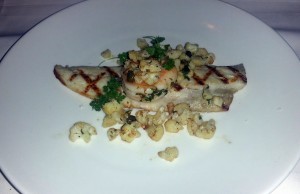 Christopher loved the Mediterranean sea bass with shrimp and cauliflower florets, while Catherine thought the Tolosa Pinot Noir from Edna Valley and the pan roasted duck breast was another wonderful pairing.
"The earthiness of the pinot complemented the juicy and gamey flavors of the duck," she pointed out.
We agreed that you have to save room for dessert, because the pumpkin cheesecake with candied walnuts is a must—it's smooth and creamy without being too rich. We enjoyed it with the Elio Perrone Moscato d'Asti, which drinks like a late harvest but has a slight evanescence that is perfect for heartier desserts.
Five Crowns had a reputation of being a special occasion restaurant, but with the new and exciting direction the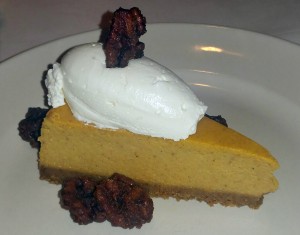 restaurant is headed, Five Crowns is now an all-occasion dining experience that successfully blends the old and the new.
For more information, visit lawrysonline.com/five-crowns.
Dining News
Fig & Olive is also celebrating fall with new menu items, which we'll write about in next week's column (although we'll tease you with these two items: silky Butternut Squash & Chestnut Velouté accompanied by shaved chestnuts, onions, toasted squash seeds, and a drizzle of Arbequina olive oil, and Poached Pears in Spiced Orange Juice for dessert).
But to celebrate Fashion Island's Tree Lighting, Fig & Olive is offering guests  two complimentary items beginning on Saturday, Nov. 7 and running through Nov. 15.
Adults can enjoy one glass of house wine or Piscine, while children can select one    entrée from the Kid's Menu.
For more information, visit figandolive.com.
Juliette Kitchen + Bar is hosting an exclusive wine tasting this Saturday, Nov. 7 from 12:30 to 3:30 p.m. featuring 2011 Lokoya Howell Mountain Cabernet (rated 96 by both Robert Parker and Galloni). Guests can expect a mixed red wine tasting with a total of 13 beautiful vintages.
The afternoon's selections will give those participating an opportunity to explore fantastic wines from Napa, Sonoma, and Paso Robles, as well as other states and even other countries.
Cost is $45 per person, and includes wines, cheese & charcuterie. Space is limited.
Christopher attended a Juliette wine tasting earlier this year and was impressed with the selections, which included several wines you would not normally saple at a wine tasting.
To reserve a spot, email owner John Hughes at [email protected]