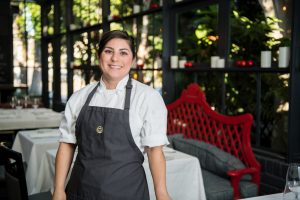 "You've been chopped."
That was a phrase that new Five Crowns Executive Chef Alejandra Padilla was dreading to hear when she competed on the Season Six premiere episode of Food Network's "Chopped" in 2011.
"That was a really long day, and more emotional than I thought it was going to be," Chef Padilla told me during a recent interview at Five Crowns. "All the questions they ask you—are you proud of yourself, what do you love about cooking, and after every round they ask how you feel or what could you have done differently."
To Chef Padilla's surprise and delight, she won the "Chopped" challenge, which proved to herself that she had the chops to exceed in the culinary world.
Chef Padilla, who also helms the Side Door kitchen, was the Sous Chef at La Fonda Del Sol in New York before moving to LA to be a Sous Chef at Nick & Stef's Steakhouse. She quickly moved up the ladder to Executive Chef, a position she served at two different Market Café locations in LA. Before coming to Five Crowns late last year.
"This is not my first rodeo, but I feel like I am still settling in," she said. "We're constantly changing, I want to be constantly changing. I want this restaurant to be better every day. I want to be maintaining the legacy. The restaurant has items that have been on the menu for decades, so it's as simple as leaving them alone and make sure you are doing them right. That they taste good day in and day out. It's not just about being creative, it's about being consistent. But we've also embraced the changes in the culinary world, and maybe even bring past dishes back in a more contemporary style."
Chef Padilla has brought her mark to the new spring menu that she launched last week.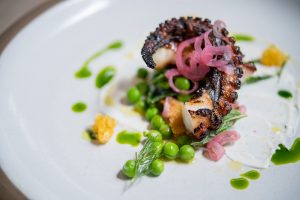 "Spring is my favorite" she said with a smile. "I love spring, I love the colors. The produce is tender. Everything is new. I love rhubarb, strawberries, baby garbanzos, mustard green, endives. They do not need a lot of handling. That's why I thought I would be a good fit for Five Crowns. I like to keep things simple and classic, and for Five Crowns that is a good fit. They want something that is respectful and modern, sophisticated, and that's what I want on a plate."
Chef Padilla said that among her favorite dishes on the spring menu are the octopus ("one of my favorite dishes to cook") and the short rib, which she said is presented like a steak but is very tender.
Fellow foodie and NB Indy columnist Shelly Zavala accompanied me to a spring menu tasting at five crowns, and we both came away impressed with the dishes.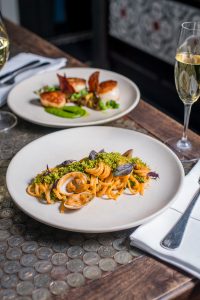 "My heritage is English and always have a soft spot for traditional English food," said Shelly. "Five Crowns still offers those comfort foods, however the restaurant is now serving succulent new flavors such as coffee-rubbed short ribs that melt in your mouth.  The octopus is smoked and served with meyer lemon and spring peas. Best of all is the cheesecake with carrot cake crumbles that is rich in flavors."
"I agree, the octopus is fabulous, some of the best I've had, and octopus is not an easy dish to prepare," I added. "The entire menu is like a gastronomic ode to spring. Tough to pick a favorite, although the Foie Gras brûlée with rhubarb and savory madeleine was superb, and a nice twist to a typical foie gras pate."
Other Five Crowns spring menu highlights: Grilled Artichoke with caper aioli, Bone Marrow with bordelaise, Crab Cake with celery root remoulade, Cauliflower Soup, Beets and Citrus with horseradish and goat cheese, Beef Fat Cauliflower, Seared Salmon, Housemade Pasta with mustard greens and clams, and Almond Meringue with poached rhubarb and strawberries.
Visit lawrysonline.com/five-crowns for more information.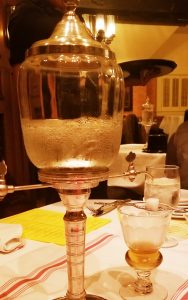 Secret Club in Five Crowns
"What's the password?
If you can answer that question, and you have a reservation, you'll gain access to a secret speakeasy called 352 Poppy inside Five Crowns Restaurant in Corona del Mar.
The Five Crowns speakeasy has been around for a couple of years, but they recently began to serve themed menus and drinks, with décor to match.
Because I'm on the 352 Poppy email list, I receive regular invitations to the secret club, and promptly make reservations as they sell out fast (they're only available two nights a month).
So far this year, I've attended the Star Wars night (to gain entrance I had to make the sound of a Wookie), the Monopoly night (our party had to don adhesive moustaches), and the Raiders of the Lost Arc night (I wore my Indiana Jones outfit). Each evening featured staff dressed in proper theme outfits, and the décor was immediately recognizable.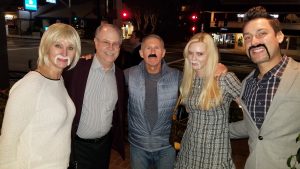 One of the more interesting aspects of the 352 Poppy club is the extensive absinthe menu–11 different absinthe varietals in all, served the way it was more than a century ago in Europe.
The absinthe is brought to the table as a 1.5 oz pour, and goes through the La Louche ritual, which is a process of adding iced water to absinthe, which dilutes the drink and slowly transforms its color from the original emerald green to a lighter shade. The water comes from a large glass container on the table, which has several spigots that slowly let the water drip out and over a lump of sugar placed on a perforated spoon that rests on the top of the glass.
I'll be attending another speakeasy this weekend, this time with a Willy Wonka theme. I'm told you can send an email to [email protected] to be added to the invite list, but shhhh…you didn't hear it from me.