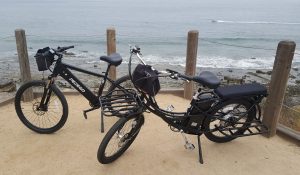 By Christopher Trela & Norm Bour | NB Indy
Once a novelty, electric bikes have become so popular that they're being used for everything from delivering pizzas to catching criminals, not to mention the scores of bike enthusiasts who love the ease of use and convenience of electric bikes.
The bikes have become so popular that on January 1 the Electric Bike Law (AB 1096) took effect, which allows electric bicycles such as the Pedego brand on various types of bike paths throughout California.
Under this new law, California has designated three types of legal electric bicycles. Pedego electric bikes have been assigned the Type 2 distinction because they have a throttle and a motor that is governed to a top assisted speed of 20 miles per hour. Type 2 bikes can now be ridden on virtually all bicycle paths and lanes in the state, including the Crystal Cove back country, Back Bay bike trail, and other nearby areas where bicycle enthusiasts gather.
The bill was co-authored by Matthew Harper of the 74th District (which includes Newport Beach), who said in a statement, "This opens up the bike paths officially to riders who might not have been able to enjoy cycling in the past."
Christopher and Norm had tested Pedego bikes earlier this year, and both were impressed at how easily the bike maneuvered and responded. We quickly discovered why the store sells so many Pedego bikes: they are FUN!
After learning that Pegedo Stretch Cargo bikes are used by Gina's pizza to deliver hot pies to the greater Corona del Mar area, and that the Newport Beach Police Department uses Pedego Ridge Riders (Pedego's version of a mountain bike) to help with enforcement on the Balboa Peninsula, we decided to borrow one of each model from the CdM Pedego, ride them down to Crystal Cove for a couple of hours, and learn why those bikes were selected for their respective uses.
Norm used the Stretch Cargo, while Christopher rode the Ridge Rider.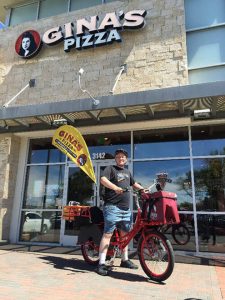 Norm Bour: Stretch Cargo Bike
While I rode the Stretch Cargo Bike and Trela rode the larger Ridge Rider Mountain Bike, and I had smaller tires and a smaller battery pack, we both were able to hit top speeds of 22 miles per hour and never broke a sweat—traits that work well for Gina's Pizza delivery.
Phil Pisano, who wears several hats at Gina's Pizza – the oldest pizza restaurant in Newport Beach – told me his title is Director of the Biking Program. After decades of delivering pizza, they knew the realities of navigating busy summer streets, and instituted their Pedego bike program last year. Not only can they deliver faster, they can also cater to an underserved but hungry market: beachgoers and lifeguards!
"We currently have three bikes, but mostly use them at the peninsula location," Pisano said. "And we actually helped design the Cargo bikes with the Pedego team."
Our test ride along the coast was a pleasure on an overcast morning, especially because we didn't have to ride on the busy Coast Highway but instead used sidewalks and trails.
One great feature about riding a bike, electric or otherwise, is that you can look at things more slowly. Riding through interesting neighborhoods and admiring the beautiful homes is a great way to pass the time.
Entering the north end of Crystal Cove, traffic is nonexistent. These bikes can ride anywhere a bike does, so we visited several of the scenic overlooks, took a break at the Crystal Cove Historic District, and then walked up to the Shake Shack for refreshments.
The ride of almost three hours was relaxing and invigorating, and when we returned to the Pedego store, my power gauge showed almost 40 percent of battery power available (most bikes get 15-30 miles per charge depending on the battery, and bike use).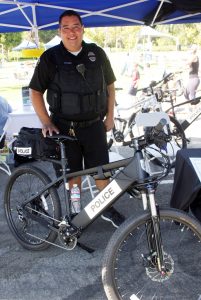 Christopher Trela: Ridge Rider
I own a standard non-motorized mountain bike and enjoy riding the back bay trail and other areas less frequented by motor vehicles, but after two hours on a Pedego Ridge Rider, I was ready to convert to an electric bike. The Ridge Rider's capabilities (48-volt battery, 500-watt motor) made me want to spend a day riding the bike on the dirt trails above Crystal Cove.
I also understood why the Newport Beach Police Department would want to use the Ridge Rider as a police bike: it's big, sturdy, fast, and responsive—and stealthy, making it perfect for sneaking up on criminals.
"They come in handy when you're chasing down somebody, you're able to catch up to someone with the electric assist," confirmed Sgt. Brandon Benjamin Rodriguez of the Newport Beach Police Department. Sgt. Rodriguez runs the Peninsula Enforcement Team, and said that Pedegos are superior to a police car because they can get into the nooks and crannies that a police car can't.
"They're also a blast, a lot of fun—they are built really well, and will get you where you need to go," said Sgt. Rodriguez. "They top out at about 24 miles per hour, and you can't beat that whether you are going after a violator who is on a regular bike or a Pedego bike. They are a great ride."
Another benefit, said Sgt. Rodriguez, is that he has everything in the bike bag that would usually be carried in a police car, only in smaller portions. The bikes officers also ride with all the usual equipment including protective vests, but Sgt. Rodriguez noted that "the bikes are so steady I don't feel all of the heaviness."
So how effective are the bike patrols? Over the past year, Sgt. Rodriguez said the bike patrols made 187 arrests and issued 1,219 tickets.
"A lot of thieves and narcotic issues, boardwalk issues, smoking, thing like that," said Sgt. Rodriguez. "You are able to see so much with the bike. These Pedegos are incredible."
Pedego Details
Pedego makes a variety of styles and sizes of bikes. They are available to rent by the hour ($20 to $30) or by the day, but beware: once you ride one, you'll want to own one. The bikes start at around $2,500, but Pedego has easy payment plans.
Pedego electric bikes are sold in more than 800 stores in 40 countries, which means that Pedego is a brand that's here to stay.
For more information, visit the Corona del Mar store at 2515 East Coast Hwy (near Sherman Library & Gardens), or go to pedegoelectricbikes.com.