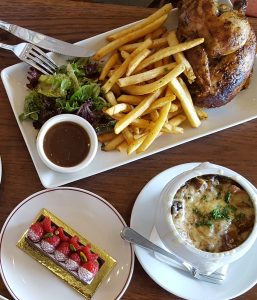 By Christopher Trela & Shelly Zavala | NB Indy
"Plastics."
Just that word alone conjures images of the classic 1967 film "The Graduate" starring a young Dustin Hoffman as a naïve college student who allows himself to be seduced by the wife of his father's best friend—played in the film by Anne Bancroft.
Last weekend Laguna Playhouse opened the stage version of the movie, starring Melanie Griffith as the alcoholic wife.
We were invited to opening night, but before the show decided to enjoy an OC Restaurant Week menu at Moulin in downtown Laguna Beach (Moulin also has a location in Newport Beach).
The restaurant week deal: for $20 lunch or dinner, enjoy a bowl of French onion soup, le poulet frites (half chicken with fries and salad), and dessert.
When we arrived at Moulin, owner Laurent Vrignaud was behind the counter taking orders. Christopher selected the restaurant week menu, then asked him what else we should try. Upon his recommendation, Shelly ordered the salmon with asparagus.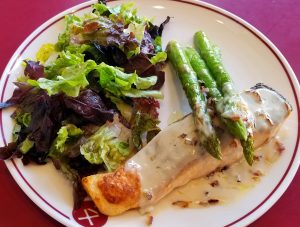 "I am not a fan of French onion soup—except at Moulin," stated Christopher. "Here, the onion and cheese and crouton flavors blend perfectly. The chicken is perfectly cooked, the generous portion of fries perfectly seasoned, and the desserts are always delicious."
Shelly remarked that the salmon was perfect—Christopher agreed after stealing a bite.  We also had some nice French wine to accompany the meal.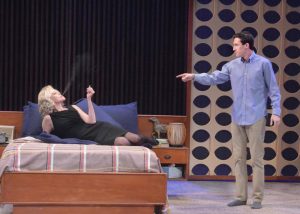 Then it was on to Laguna Playhouse. "The Graduate" on stage is at times very faithful to the screenplay, and at other times veers off into other directions. The ending is unexpectedly different than the film, which left viewers musing on the meaning. Here, it's wrapped up a little too neatly, and cute.
While "the Graduate" is funnier than we expected, we agreed that the characters are not very sympathetic, making it hard to root for anyone. It also makes it difficult for Melanie Griffith, who plays her character one drink away from inebriation, to lift her character beyond one note until the end.
Kudos to the handful of Chapman University theater students who did the set changes in character with aplomb.
Despite the play's limitations, the opening night audience cheered the cast and went home happy, as did we.
Visit Moulin.com and LagunaPlayhouse.com.