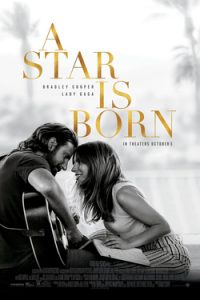 I have been a Lady Gaga fan since her first album and initial appearance on Saturday Night Live back in 2009. I have all her albums and have seen her live twice, most recently at The Forum last December when I was about 20 feet from the stage.
I'm also gaga about Olea restaurant, which opened one year ago on Westcliff Drive in Newport Beach.
Both Gaga and Olea have been wildly popular, so when I went to see the new movie musical "A Star is Born" starring Lady Gaga and Bradley Cooper, it made sense to dine at Olea before the movie.
My friend Della Lisi had never been to Olea, so I was anxious to share the restaurant's wine country cuisine with her before we watched "A Star is Born."
We snagged a 5:30 reservation last Saturday evening at Olea and were seated in the small dining area, where Della could admire the décor—including the timber hung in rows along the ceiling above the bar.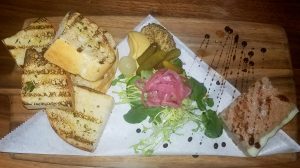 We started with cocktails while we perused the menu, although I knew what I wanted to order: the signature crispy Meyer lemon & honey duck wings ($15), the duck liver with pickles, mustard and toasted cibatta bread ($16), and the famous jidori chicken schnitzel with wild mushroom ($24), updated for fall with the addition of sugar pumpkin spaetzle, baby rainbow carrots, and maitake mushroom gravy.
The duck liver pate was even better than I remembered, and I generously coated the chunks of bread with the liver. The chicken was, as always, the size of Texas. The seasonal ingredients worked perfectly with the chicken. We split that entrée, but still could not finish it, mainly because we saved a little room for dessert: dark chocolate chunk and fromage blanc cookies ($10) with peanut butter cup gelato and Spanish peanut crumble. A sensationally-decadent treat.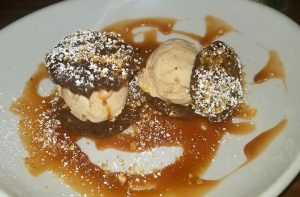 Della was suitably impressed with Olea, which was packed by the time we left and drove down the street to The Triangle theaters.
Having seen the other three versions of "A Star is Born" I had an idea of the plot, but was not prepared for the memorable songs by Cooper and Gaga, which fit perfectly into the story of an older singer-songwriter (Cooper) who takes a budding young singer-songwriter (Gaga) under his wing and watches her career take off while his begins to fall apart.
The acting is natural and sincere by both Lady Gaga and Bradley Cooper. Gaga insisted that all the songs be performed live and not lip-synched, and it makes a huge difference in the overall experience. Sam Elliott is also terrific as Cooper's brother. All three deserve Academy Award nominations, as does Cooper for directing this near-perfect musical.
For Olea reservations, visit OleaNewportBeach.com.