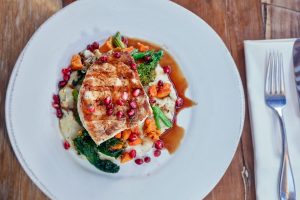 Farmhouse at Roger's Gardens has been open just over two years, and the restaurant appears to be as popular as ever. Of course, when you have a lovely setting at Roger's Gardens and a culinary expert in Farmhouse owner/chef Rich Mead (formerly of Sage and Sage on the Coast), you've got a recipe for success.
Chef Mead is known for his farm to fork dishes. He makes regular trips to local farmer's markets to find the best seasonal ingredients for his creative dishes.
Now, with fall finally here (although you wouldn't know it from our perpetually warm weather), Chef Mead has introduced a new autumn menu full of seasonal ingredients.
Highlights include three new salads: a Farmhouse Market Salad ($11) with persimmons, raisins, radish, Persian cucumbers, cherry tomatoes, lettuces, balsamic vinaigrette, pistachios, and goat cheese; Grilled Pomegranate Glazed Salmon Salad ($26) with roast butternut squash, pink lady apples, roast leeks, cherry tomatoes, quinoa, mixed lettuces, dijon vinaigrette, candied pecans, and pomegranate seeds; and a Seared Albacore Salad ($25) with avocado, shaved fennel, carrots, radishes, persian cucumbers, tehachapi grain project sanora grain, mixed lettuces, soy rice vinaigrette, pickled red onions, wasabi and ginger.
Among the new entrees: Grilled Prime Sirloin Steak, Three Onions and Root Vegetables ($27) with roast beets and carrots, cipollini onions and peewee potatoes, little gem lettuce, charred red onion vinaigrette, horseradish yogurt, red wine jus, crispy sunchokes, and pickled red onions; Shrimp, Sea Scallop and Vegetable Ribbons ($34) with butternut squash and carrots, caramelized cauliflower, arugula, raspberry vinaigrette, pureed satsumaimo sweet potatoes and cauliflower, and pomegranate seeds; and Grilled Pomegranate Glazed Swordfish ($34) with rapini and roast butternut squash, potato leek puree and pomegranate seeds.
For a mouthful of fall, try the Farmhouse Vegetable Bowl ($26) with roast spaghetti squash with cilantro pesto and oven dried tomatoes, braised greens and white beans, roast chimichurri cauliflower with satsumaimo sweet potato and cauliflower puree, blistered guajillo glazed brussels sprouts and cipollini onions, cauliflower tortillas, persimmon and pomegranate relish, and pickled red onion.
Farmhouse is open for lunch and dinner daily. I'll be sampling the fall menu soon and will report back later this month.
Visit Farmhouserg.com.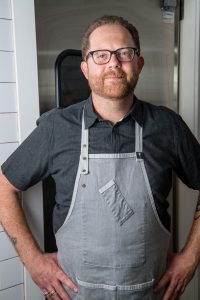 Revolving Restaurant Scene in Laguna Beach
Summer is a busy time in Laguna Beach, but fall has been even busier in Laguna's culinary qworld.
First, Chef Ryan Adams closed his Three Seventy Common restaurant to focus on his other endeavors: Parallel Pizza in Dana Point and Buttermilk Fried Chicken in downtown Orange. Both of those concepts have been popular, so count on Chef Adams opening more locations of both restaurants.
Three Seventy Common is not sitting empty. Adams sold his restaurant to Chef Greg Daniels, former chef-owner of Haven Gastropub and Provisions Market in Old Towne Orange, and the creator and chef behind Taco Asylum in Costa Mesa.
Chef Daniels opened his new concept, Harley, this week.
Harley is focused on creative, seasonal menus and memorable hospitality. Notable dinner menu items include Rockfish ceviche with plantain, lime, chili, and coconut; grilled avocado served with avocado leaf and a grilled and grated pit,
lemon, and Terrace Hill olive oil; Gonestraw Farms duck breast with fig mustard; Wild boar loin with a coffee rub, grilled grapefruit, and oregano; and French cruller with a foie gras glaze, warm maple syrup, and berries.
"I have had a lot of fun developing the Harley Laguna Beach menu," said Chef
Daniels. "We are focused on providing the best experience possible for our guests,
from how we welcome our guests to the food they eat – and I think we've kept an
eye on innovation when it comes to the culinary side while returning to what I
would call 'real hospitality' which is rooted in kindness, warmth, and a focus on the guest. I am so excited to welcome the community into Harley."
Down the street from Harley, former Studio at the Montage Laguna Beach executive chef Craig Strong has opened his new restaurant, Ocean at Main, in the former Taverna Restaurant location. His restaurant has both indoor and patio seating, and a menu that ranges from pasta to pizza to steaks and seafood.
I sampled several Ocean at Main dinner items and plan to return for lunch. Look for my reviews of Ocean at Main and Harley next week.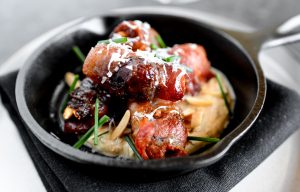 Mixing It Up at Terrace
I first met Chef Ross Pangilinan eight years ago when he was the new kid in town at Leatherby's Café Rouge at Segerstrom Center for the Arts. He created themed menus for each Broadway musical that came to Segerstrom Center, researching each show and using song titles in his themed dishes.
Two years ago, Chef Pangilinan left Leatherby's to open Mix Mix Kitchen Bar in Downtown Santa Ana. That endeavor has been such a success that Chef Ross was lured back to open a new restaurant, Terrace by Mix Mix, on Level 3 of the Crate and Barrel Wing of South Coast Plaza.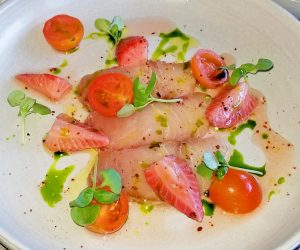 The Terrace menu is reminiscent of Mix Mix Kitchen Bar, which focused on seasonal small plates with a mix of Filipino, French and American influences.
"It's similar to Mix Mix in that the menu lists snacks, small plates, large plates, and desserts, but the only items on both menus are the pork cheeks and the tostados," Chef Ross told me. "The menu will change and evolve. I always design dishes that I would want to eat."
I have bene to Terrace by Mix Mix several times and have enjoyed everything from the bacon wrapped dates with yogurt and parmesan to the Hamachi crudo with juice from macerated berries and tomatoes plus chive oil.
My favorites so far: roasted mushrooms with oyster sauce and sesame seeds, and the pork rillettes toast with house pickles and mustard cream.
Terrace by Mix Mix has a prix fixe lunch special served Monday through Friday: choose three courses from three menu sections (salad, snack and main) for $15. Visit TerracebyMixMix.com.
Cheers for Literacy
The Literacy Project is hosting a USC versus UCLA cocktail battle called "Cheers for Literacy" on Wednesday, Nov. 14 from 6 to 8 p.m. at The Winery Restaurant in Newport Beach.
Guest bartenders from USC and UCLA will be doing battle to darn the most tips and raise the most money for The Literacy Project, which helps at-risk kids learn to read.
Mixing cocktails on behalf of USC are Stephanie Argyros, President of The Argyros Group, and Mike Salmon, partner in Madison Street Partners. Representing UCLA are Tim DeCinces, a real estate broker from Pacific Sotheby's, and Cory Brandt, sales executive with Granite Escrow.
The bartenders that raise the most cash tips win a prize, and of course bragging rights.