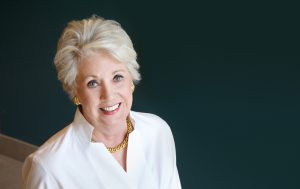 Hoag Hospital Foundation officials announced two major philanthropic gifts that will be used to establish endowed chairs in developmental cancer therapeutics and aortic care. These important gifts bring Hoag's total number of endowed chairs to 13, underscoring both its national leadership in innovative treatment and clinical research, and the vital role community philanthropy plays in making them possible. 
In her last of many significant gifts to Hoag before her passing last August, Margaret Larkin, a long-time Hoag supporter and director on the Hoag Hospital Foundation Board, established an endowed chair in developmental therapeutics at Hoag Family Cancer Institute. The chair will be named the Margaret Givan Larkin Endowed Chair in Developmental Cancer Therapeutics in her honor.
Decades-long friends and long-time supporters of Hoag, Martha and Jim Newkirk gave $3 million to establish the Newkirk Family Endowed Chair in Aortic Care.
"Through the extraordinary generosity of people like the Larkins and the Newkirks, endowed chairs at Hoag are providing an important source of funding for physician leaders to bring medical advances to our community," Hoag President and Chief Executive Officer Robert T. Braithwaite said.
"Margaret believed in Hoag's mission to bring the very best care to her much loved community," said Karen Linden, chair of the Hoag Board and dear friend of Margaret. "Every day, Hoag physicians and nurses show their deep commitment to serving our community through the compassionate care they provide. Margaret was very pleased to fund this endowed chair which will help Hoag provide increased access to the latest innovations in cancer treatment. I'm pleased that it will serve as a lasting tribute to an exceptionally generous and extraordinary woman."
Martha and Jim Newkirk's connection to Hoag goes back to its earliest days. Martha was a nurse at Hoag and Jim's mother, Alta Newkirk, joined the first group of hospital employees as a nurse's aide in 1952. All of the couple's children and grandchildren were born at Hoag.
Visit hoag.org for more information.