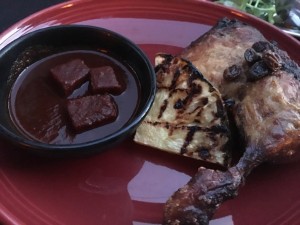 By Christopher Trela & Catherine Del Casale | NB Indy
SOL Cocina Executive chef Deborah Schneider has been one busy woman. In between opening a new SOL restaurant in Playa Vista and preparing to head to Colorado to open SOL Cherry Creek, Chef Deb is looking forward to the second annual SOL Mole Festival at her flagship Newport Beach restaurant on Coast highway April 6-13.
Last year's inaugural Mole Festival coincided with the release of Chef Deb's sixth cookbook, "Salsas and Moles." This year, guests will be able to try a few of the most noted dishes from the cookbook, while Beverage Director Colin Pflugradt features mezcal cocktail specials.
"We introduced this mole festival last year and it was met with rave reviews, so we had no choice but to follow it up this year with an event that allows our guests to try unique moles and mezcal-based cocktails," said Chef Schneider, who is a James Beard Award-nominated cookbook author. "We make more than 30 salsas fresh daily in our kitchen, so I'm not surprised when I hear that salsa has surpassed ketchup as this country's favorite condiment. Along the same lines, mezcal, which is becoming very popular in Mexico, is gaining attention here in the U.S. SOL is excited to be at the forefront of the local OC movement."
Mole specials include shrimp mole verde, mole poblano, roasted vegetable mole, and coconut empanadas with hot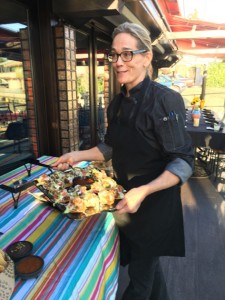 chocolate (Chef Deb's special dessert).
The mescal cocktails include Sabe Fuerte (pineapple, mint and chile con limon) and Vino Sangre (mezcal, ginger ale, and red wine).
Catherine attended a media tasting of the mole and mescal specials, and came away impressed with the menu.
"Chef Deborah Schneider sure knows how to make amazing moles," declared Catherine. I enjoyed everything from a green mole to a chocolate dessert mole. I liked the shrimp mole verde, which has a lighter flavor profile. I would get this along with the agave-roasted vegetable mole. If you haven't roasted vegetables with something sweet, you have to check it out—your palate will thank you.:"
Catherine is a sangria fan, so it's no surprise she loved the vino sangre cocktail.
"It was a mixture of Mezcal, ginger ale and red wine (Liberty School Cabernet). The slightly aged Mezcal evens out the oak and leaves the drink with less smoke for a balanced taste with the red wine. The rim is lined with cinnamon that really completes the flavors of this sangria-like drink."
For more information on Chef Deb's cookbook or the mole festival, visit solcocina.com.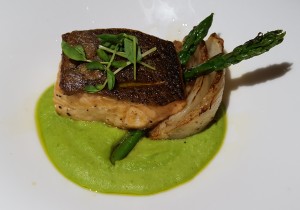 Fig & Olive Spring Menu
Fig & Olive Executive Chef Wilfrid Hocquet has launched his spring menu featuring dishes that practically shout spring, including ingredients such as peas, asparagus, vibrant green vegetables, and citruses.
We attended a media tasting this week to sample the new menu items. While the portions were purposely petite, the flavors, colors and textures were big and bold.
Highlights from the spring menu include:
–Burrata & Asparagus: burrata, asparagus, snow peas, hazelnuts, arugula, and micro-basil with a blood orange dressing (Catherine is addicted to anything blood orange). The crunch of the hazelnuts and semi-crispness of the asparagus were perfect counterbalances to the softness of the burrata cheese, and the blood orange dressing added a bit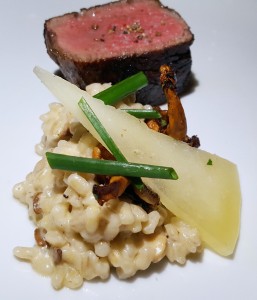 of zing.
–Crab Salad: jumbo lump crab, celery, celeriac, snow peas, green apples, lime, cilantro, scallion, horseradish, and pink pepper. Christopher's favorite dish, a perfect blend of ingredients that still lets the crab shine through.
–Primavera Risotto: Arborio rice, asparagus, green peas, pea shoots, parmesan, garlic, and shallots. Keeping with the peas and asparagus theme, this dish delighted Catherine with its range of flavors, and its cheesiness.
–Filet Mignon: marinated with rosemary, thyme, garlic, barley risotto with hedgehog mushroom, manchego, and mascarpone cheese with olive oil béarnaise. Catherine loves a good filet, so of course she loved this dish.
–Riviera salmon: seared salmon, grilled asparagus, braised fennel, pea puree with olive oil emulsion and lemon zest. Christopher dubbed the dish a "delicate yet sturdy combination of flavors and textures."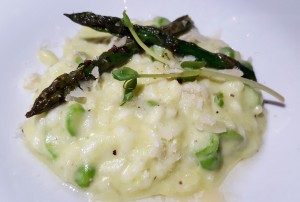 –Clementine Vacherin: blood orange coulis, clementine sorbet, white chocolate mousse, and meringue. An unusual yet well-executed dish with an excellent combination of flavors.
For more information on the restaurant and its new spring menu, visit figandolive.com.