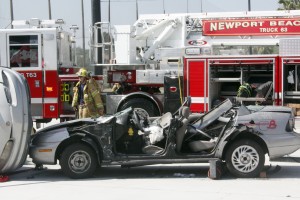 The Newport Beach Fire Department and the Newport Beach Firefighters Association celebrated Fire Service Day last Sunday with an open house and live demonstrations of firefighting activities at Fire Station 7 on Acacia Street in Santa Ana Heights, one of eight fire stations scattered at strategic locations throughout the city.
Several hundred residents turned out between 11 a.m. and 2 p.m. to learn fire safety tips, check out various firefighting apparatus (including a vintage fire engine), meet firefighters and lifeguards, and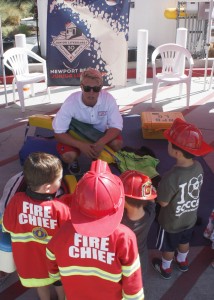 enjoy free hotdogs and beverages hosted by the Newport Beach Firefighter Association.
The event included demonstrations of how firefighters respond to vehicle crashes and structure fires (the latter included using the hook and ladder engines so firefighters could access the structure from the roof).
For more information on the NBFD, visit newportbeachca.gov.