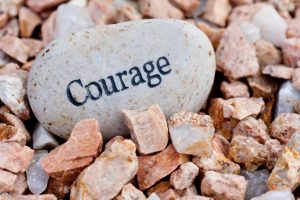 When I think of courage, I think about having to dig deep down inside to find resources we may not know we had. It is sometimes going through difficult times and finding this strength that we learn so much more about ourselves.
I can look back at my own life and see my times of growth have come out of finding courage. Just one example was in high school, when I was told "Don't go to college, you won't make it" by more than one teacher.
I have learning disabilities that made school difficult, but it did not mean I could not make it through college. I listened to those teachers for a few years, then "defied the odds" and went to college.
One of my proudest moments in my life was completing my degree against what others thought I could, or could not, do. Not only did I get my degree, but my masters and doctorate as well. Imagine if I had listened to those teachers or other people who were judgmental of my ability to go to college.
Last week the Newport Beach Film Festival was in town. The theme this year was "Go Deeper." However, so many of the films I saw were about courage—the courage to overcome what at times seemed insurmountable obstacles. If you get a chance to see any of these films you will see what I mean.
"Losing Sight of Shore" was an enthralling documentary of a four women team rowing from America to Australia. Each of these women hit a point in their rowing where they wanted to quit, where they felt like they could not do it anymore, yet each one of these women found a piece within themselves that pushed through the fear, the exhaustion, and the obstacles. Each of these women had good reason to quit, but each found the courage inside themselves that we only know is there when you are in a difficult situation.
It was such an inspiration watching these women find courage inside themselves at different stages of their journey. It made me understand that we could all find our own piece of courage.
"Don't Tell" was an incredible story based on an 11-year-old girl, Lyndal who had been abused by a teacher at a prestigious school in Australia. This teacher had abused many other girls, but that abuse was never brought up in court due to the power of the church and school.
However, Lyndal, now in her 20s, decided she was going to fight this school no matter what, not for the money but to stand up for herself and what happened to her and the other 19 girls. She kept going when the odds were against her, when she doubted herself, when she struggled with her own demons. It was her courage that not only allowed her to win this case, but it has now changed the laws in Australia regarding sexual abuse.
"Heaven's Floor" is a beautiful true story of a woman, Julia, who adopts an abandoned Inuit child that she met while on a photography adventure in the Canadian arctic. Julia could have easily walked away from this child rather than having to go against the wishes of her husband, the courts, and even the child at times and bring them to L.A. where there is a lot of cultural adjustment.
"I'll Push You," which I reviewed in my last column, is about two friends hiking the Camino de Santiago trial. The catch is one of them is in a wheel chair. The trail is 500 miles. Need I say more about courage?
Often when we are needing courage the most, just like my experience with going to college, we are going against the odds, going against what others think, stepping out of the norm.
I agree with Dale Carnegie when he says, "Most of us have far more courage than we ever dreamed we possessed."
Sometimes we just have to believe we can, dig a little deeper and hold our goal in mind.  This is what each of these people in these films showed.
What is so wonderful about courage is that when we show up and pull on our internal strength, we are an inspiration to others that they too can deal with their challenges and find courage.
Contact Dr. Shelly Zavala at DrZavala.com or [email protected]