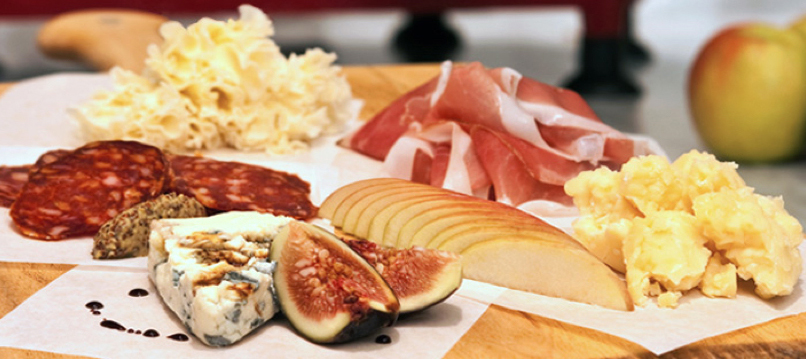 We've been raving about the new Five Crowns menus, but just around the corner is another restaurant joined to Five Crowns but vastly different in tone and cuisine: SideDoor.
This English gastropub features creative cocktails and craft beer, as well as an impressive selection of charcuterie and cheeses, among other culinary offerings.
Starting on Wednesday, May 17, SideDoor will dedicate one evening a month to boutique creameries and specialty cheeses. For the May "cheese takeover," the pub will showcase a select portfolio of artisanal cheeses from Cowgirl Creamery of San Francisco.
SideDoor's own certified expert and cheese monger, Tracy Nelsen, will be at each cheese takeover to educate diners on the various cheeses presented and recommend the perfect pairings. The featured cheeses will also be included in select SideDoor menu items for that evening only. Upcoming cheese takeovers: Redwood Hill Farm Creamery of Sonoma County (June 21) and   Willamette Valley Cheese Co. of Salem, Oregon (July 19).
On Wednesday, Aug. 16, SideDoor offers the ultimate cheese takeover showcasing By George, Cowgirl, Redwood Hill Farm, and Willamette Valley Cheese Co. The evening will offer cheese, charcuterie, passed appetizers and beverage pairings.
These Wednesday cheese takeovers being at 4:30 p.m. Cost is $28 for a five-piece cheese board. The Aug. 16 event is $125 per person.
Visit sidedoorcdm.com for more information.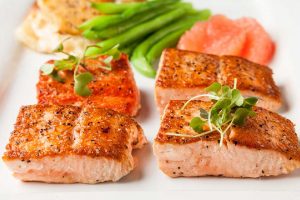 Salmon Enchanted Evening at Bluewater Grill
We've been fans of Bluewater Grill for many years, and love their monthly tastings. Starting May 10 and running through the end of the month, Bluewater brings back its popular "Inside Passage" menu of seafood and shellfish harvested from waters from the Pacific Northwest to Alaska. Executive Chef Jason Mazur combines Alaskan Smoked Salmon Cakes and freshly shucked oysters on the half shell from Washington and British Columbia with Bluewater's signature Cedar Plank Salmon and Pan-Seared Alaskan Halibut. Bluewater's sommelier has paired the menu with Northwest wines. Cost is $34.95 per person.
But wait—Bluewataer has added a bonus event to celebrate National Shrimp Day on May 10. Bluewater's popular Jumbo Prawn cocktail, served with housemade cocktail sauce and typically $13.50, is just $6.25 on National Shrimp Day. The special offer is also valid on May 11.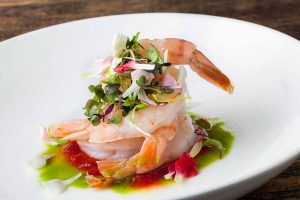 And May 25 is National Wine Day, so customers at all Bluewater restaurants pay just 50 percent for their first bottle of wine. The offer is an extension of Bluewater's everyday no-corkage-fee policy. The half-off wine deal is also valid on May 24.
"Every day is National Wine Day at Bluewater Grill," said Jimmy Ulcickas, co-founder of Bluewater Grill. "We want our customers to fully appreciate how well certain wines pair with our seafood and shellfish so we wave the corkage fee 365 days a year."
For more information, visit BluewaterGrill.com.