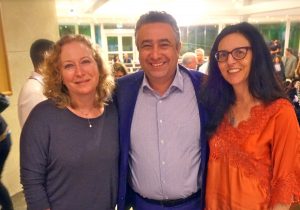 The Multifaith Alliance For Syrian Refugees held its first Orange County fundraiser recently at Temple Bat Yahm.
"It went great," explained Jackie Menter, member of OC Multifaith Alliance. "It was heartwarming to see the support. It was also very successful. We exceeded our fundraising goal, which we are obviously very excited about. We anticipated raising $20,000, but raised $30,000 to provide direct humanitarian aid to Syrian refugees and those displaced within Syria's borders."
Jackie, who also serves as Chair of the Social Justice Initiative of the Jewish Collaborative of Orange County, said that participating local faith organizations included St. Mark Presbyterian Church, Temple Bat Yahm, and the Jewish Collaborative of Orange County (JCoOC).
Jackie organized the event along with Deborah Siminou, board member of Jewish Federation and Family Services. Members of the community attended the event as well.
According to its website, The Multifaith Alliance For Syrian Refugees (MFA) is the United States' leading interfaith response to the Syrian refugee crisis. Its mission is to raise funds in support of organizations that provide direct services to Syrian war victims, heighten awareness of the growing dangers of inadequate responses to the Syrian humanitarian crisis, and plant seeds for future stability in the region by fostering people-to-people engagement.
MFA is enlisting the moral authority of religious and civil society leaders to address the ongoing suffering of Syria's war victims.
Jackie said that the JCoOC is one of over 80 interfaith groups around the United States that are part of MFA. MFA includes diverse groups such as Jewish, Christian, Muslim, Buddhist, and Sikh organizations.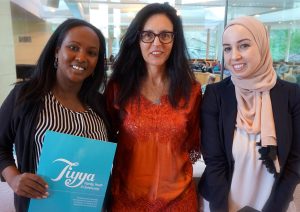 The speaker for the event was Mr. Shadi Martini. Mr. Martini had been the General Manager of a hospital in Aleppo in 2011 when the Assad regime cracked down on those providing aid to anyone suspected of fighting. Mr. Martini worked covertly to provide aid to wounded and ill civilians, but the secret network was discovered and Martini was forced to flee. Martini is now an American citizen.
"I live in Michigan, but I am a Muslim from Syria," he said. "There, I committed a 'crime' that was punishable by death, and not just any death – a slow torturous death.  My offence was helping wounded civilians deprived of their right to medical treatment because of their political views."
"The most important thing in our work is to put a face to the Syrian refugee crisis," he explained. "People see the huge numbers of refugees, but they don't understand the human suffering behind these numbers until they meet a refugee that can talk to them and explain it in his/her own words. They they start understanding that it could happen to anyone. This is when people start changing their attitudes."
In addition to Mr. Martini, there were other inspiring speakers, music, and refreshments. Local school, churches and synagogues also participated in a Diaper Drive to help benefit several hundred locally resettled refugee families.
"It was effective and encouraging because we definitely increased awareness about the issue," said Menter, who will be leading her third volunteer mission to a refugee camp in Greece this June. "Many more people want to get involved in some way. It was very gratifying."
For further information, visit multifaithalliance.org.
Cindy can be reached at [email protected].