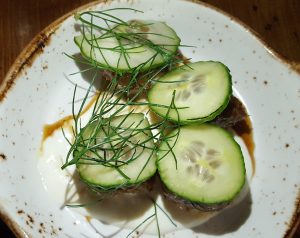 By Christopher Trela & Catherine Del Casale | NB Indy
Between the various venues at Segerstrom Center and the two theaters at South Coast Repertory, we usually find ourselves attending performances several times a month.
For us, that also means dining out at a nearby restaurant so we can enjoy a meal before walking to the theater.
Readers know we're fans of Leatherby's Café Rouge which is adjacent to Segerstrom concert hall, but we've also been exploring other nearby restaurants near the theaters, including Vaca and Pizzeria Ortica.
Vaca
Vaca is the newest restaurant from Chef Amar Santana, a finalist on "Top Chef" and owner of Broadway by Amar Santana restaurant in Laguna Beach, and despite being open for a year it's still difficult to get a pre-theater reservation at Vaca, which is on the ground floor of an office building a few steps from South Coast Rep. Fortunately, we made our reservation on a weeknight a week in advance, and were promptly seated at 5:30 p.m.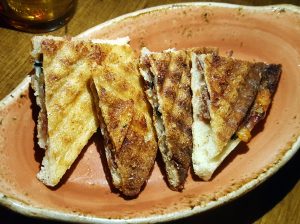 Vaca's extensive menu specializes in the cuisine of Spain, which means everything from tapas to full entrees done with a Spanish flair.
"I love the idea of ordering a handful of tapas to share with friends at the table," said Catherine. "Chris and I split the bikini sandwich ($13) and the lamb meatballs ($12). The bikini sandwich was a nice crisp panini that took grilled cheese to the next level with paleta iberica, manchego and truffles."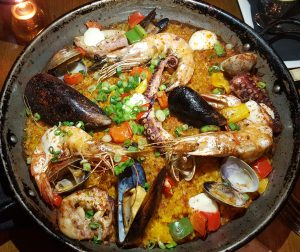 For entrees, Christopher ordered one of the specialties of the house: seafood paella ($42). Catherine went with the prime skirt steak ($28).
"This is amazing paella, maybe the best I've had," marveled Christopher. "It's enough to share between two or three people, but I'm hogging it to myself."
"Go right ahead—I'm cleaning my plate," said Catherine happily. "This steak is juicy and flavorful with a nice crisped edge on the outside. And I love that it's served with two different dipping sauces, one a chimichurri and the other a steak sauce."
Christopher brought a bottle of Riverain Syrah, which went surprisingly well with everything.
For more information, visit VacaRestaurant.com.
After dinner we strolled over to South Coast Repertory to take in a performance of "The Roommate" on the Argyros Stage.
"This was a really fun play that focused on two women as they moved forward in their lives after their children were grown, and the new experiences and growth of character they found within themselves," said Catherine.
We'll be attending the West Coast premiere of "Moby Dick" on the Segerstrom Stage at SCR next week. Guess where we'll be dining?
For info on South Coast Rep, visit SCR.org.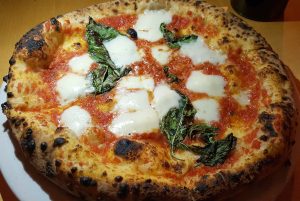 Pizzeria Ortica
It's been a while since we dined at Pizzeria Ortica, and were pleasantly surprised to see that they added some creative new dishes to their menu.
We tried a few items from the "menu special" including the Tahitian squash arancini filled with truffle rutabaga puree and plated alongside wild watercress ($12).
"This delicious antipasto was a perfect dish to split between two people to kick off a meal," said Catherine. "I also loved the braised short rib and polenta filled ravioli ($17) with beef au jus and shaved oyster mushrooms. The ravioli was al dente and I loved the concept of having a perfect bite of a braised short rib meal rolled all into one in a delicate pasta."
We also ordered a margherita pizza ($15) fired in a wood-burning over. It came out perfect, with a nice char around the edges.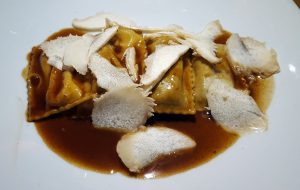 "If you are looking for some outside of the box desserts, you've come to the right place," said Catherine. "Alongside some traditional items such as tiramisu and cannolo, you will find the semifreddo and the torta di cioccolato. Each dessert was something I hadn't experienced before, which is very unusual. The semifreddo had pistachio butter, persimmon jam sweet breadcrumbs.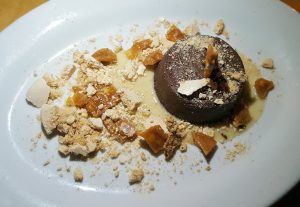 For information on Pizzeria Ortica, visit Ortica.com.
After dinner, we walked to Segerstrom Center for the touring production of the musical "RENT." It's the official 20th anniversary tour that's crisscrossing the country, and is faithful to the original staging, down to the set pieces and costumes. We highly recommend the production if you can catch it while on tour.
If you're going to see "Matilda," which runs through this weekend, or any of the others concerts and shows at Segerstrom Center, Ortica is a great dining option—just be sure to make a reservation ahead of time, because the restaurant is very popular.
Visit SCFTA.org for Segerstrom Center tickets.